As POPSUGAR editors, we independently select and write about stuff we love and think you'll like too. If you buy a product we have recommended, we may receive affiliate commission, which in turn supports our work.
Target is one of our favorite places to shop, whether it's trending products or the stylish home section. We're obsessed with the wide assortment of decor, from lamps to throw pillows. However, Target has some seriously good furniture pieces that will make any home look elevated and feel comforting. Whether it's dining sets, sofas, side tables, or media centers, Target's furniture lineup has something for every aesthetic. We're pretty impressed with the retailer's selection of coffee tables, so we had to let you in on the best ones.
Coffee tables, in addition to a comfortable sofa, are essential to any living space. They complete the room and serve as a place for entertaining. The right coffee table can instantly change the look and feel of any living room, transforming the vibe from drab to elevated and chic. Whether you want something sleek and modern or little more farmhouse chic, we've got you covered. We found plenty of options that will fit in with your interior aesthetic, including some glam options with golden accents, contemporary, faux stone styles for a sculptural look, and traditional options for a timeless feel. There are even a few with amazing storage features. Shop our top picks ahead.
— Additional reporting by Angela Elias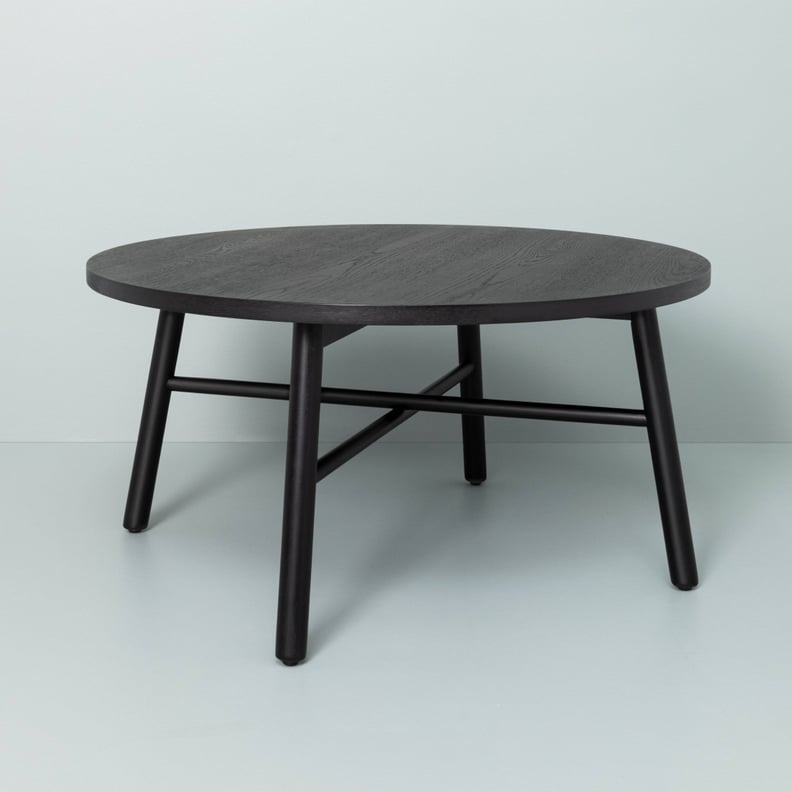 Best Shaker Coffee Table
Hearth & Hand with Magnolia Shaker Coffee Table ($190)
This coffee table is perfect for a simple, minimalistic space. The black tone adds drama and contrast to a neutral or light space, perfect as a statement-making piece. It's clean-lined and bold, working perfectly with various decor styles. The round shape great for entertaining and gathering around for a cozy night in.
Best Farmhouse Coffee Table
Hearth & Hand with Magnolia Pedestal Wood Coffee Table Natural ($220)
If you're living space embraces those boho farmhouse vibes, this coffee table is the finishing touch. The rectangular shape easily fits in front of a sofa or loveseat. The natural tones bring brightness and an airy vibe to your space making it feel comforting and cozy. Greenery will shine on top of this coffee table.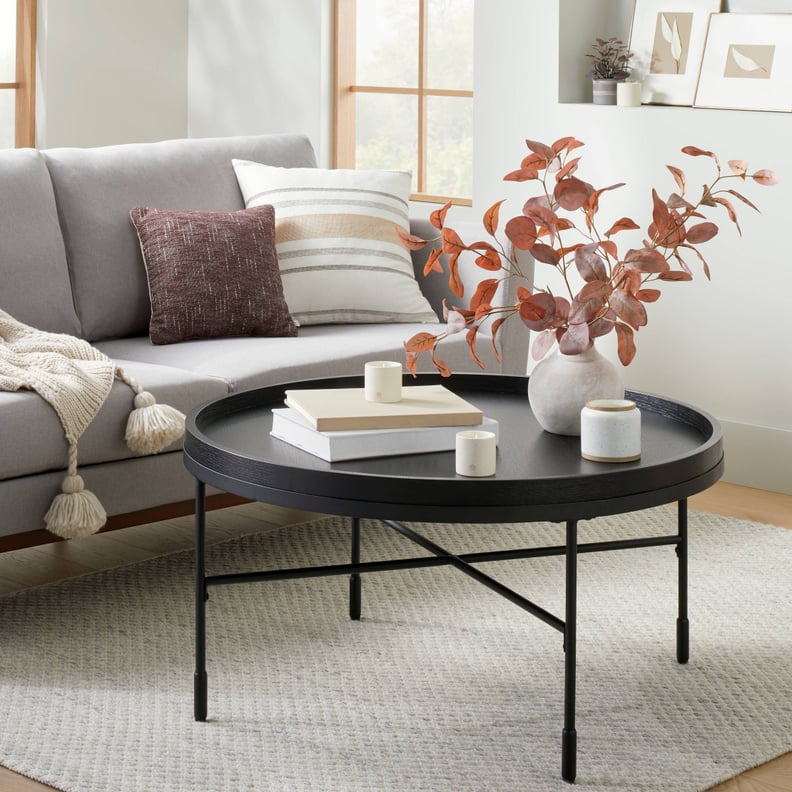 Best Industrial Coffee Table
Hearth & Hand with Magnolia Wood & Metal Coffee Table ($200)
This coffee table is perfect for an industrial vibe or contemporary home. It comes with a removable wooden top with slightly raised edges that makes it easy to serve appetizers and drinks on. To make it feel cozier, add textural decor pieces with natural colorways, candles, and greenery.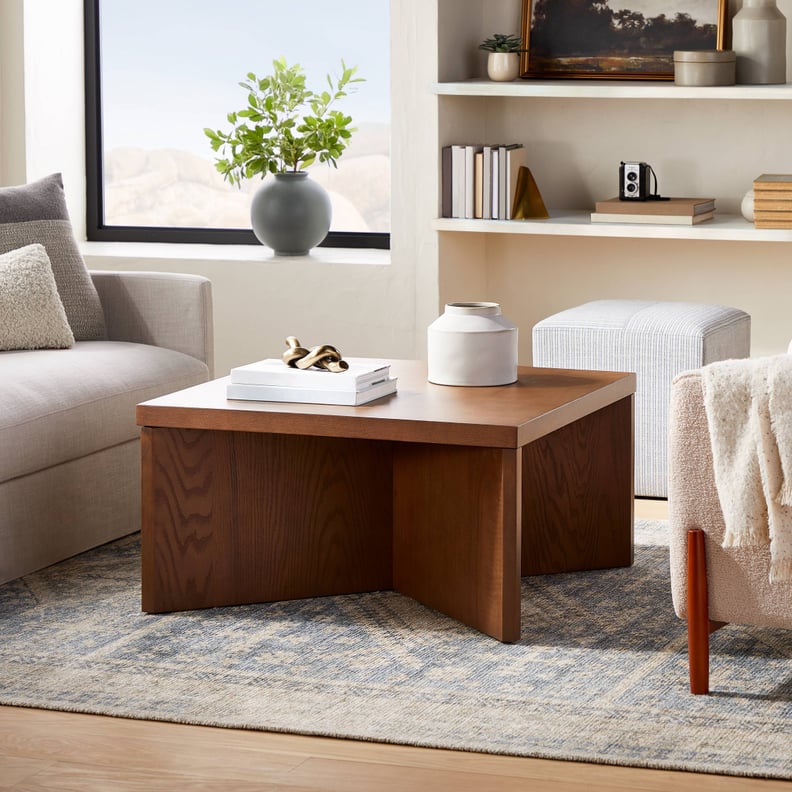 Best Contemporary Coffee Table
Threshold Designed With Studio McGee River Heights Coffee Table ($250)
Make a statement with this coffee table. It's a stunning square shaped coffee table that looks like a work of art. The crisscross wooden legs gives it a sculptural flair. It's a bold, contemporary piece that will elevate your space. The natural brown tone is timeless, fitting various decor styles.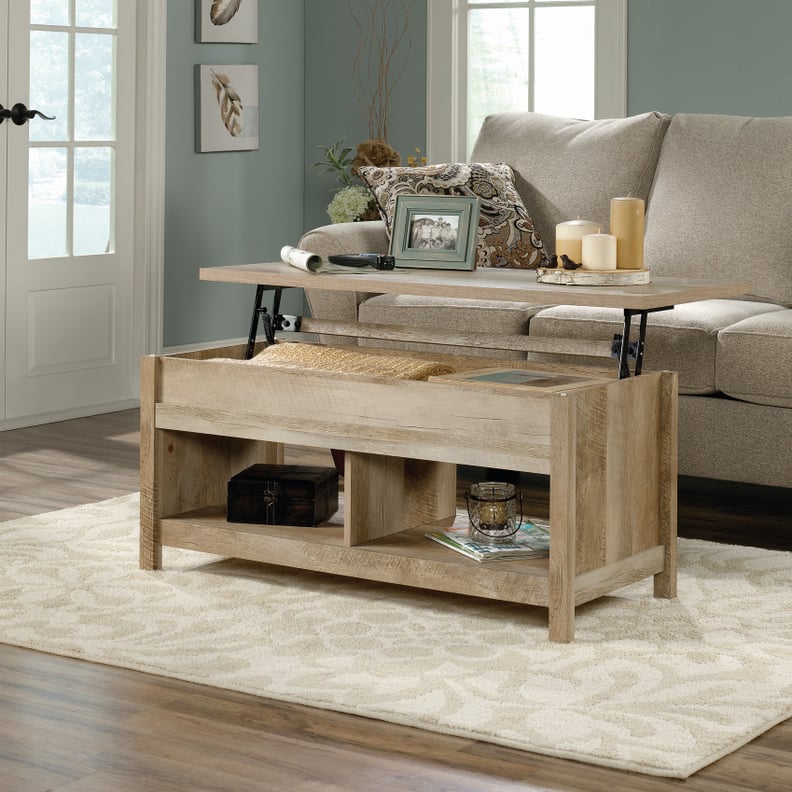 Best Lift Top Coffee Table
Sauder Cannery Bridge Lift Top Coffee Table ($280)
We love the versatility of this coffee table. The lift-top feature is great for working from home. Plus, the extra storage is so useful. This is perfect for those with smaller spaces. It comes in a variety of wood-toned natural colors as well as black.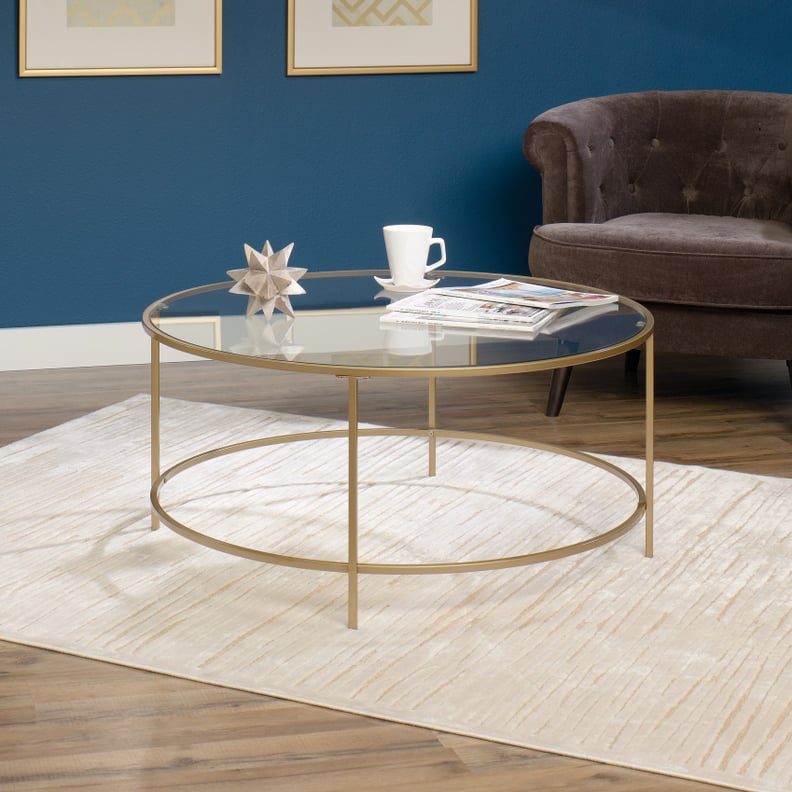 Best Gold Coffee Table
Sauder International Luxury Coffee Table ($190)
If you like more glamorous finds, then get this coffee table. The gold finish makes it look so chic and the glass top elevates any space. It has a simple design that's perfect for those who prefer something minimalistic. Decorate it with coffee table books, candles, and even greenery.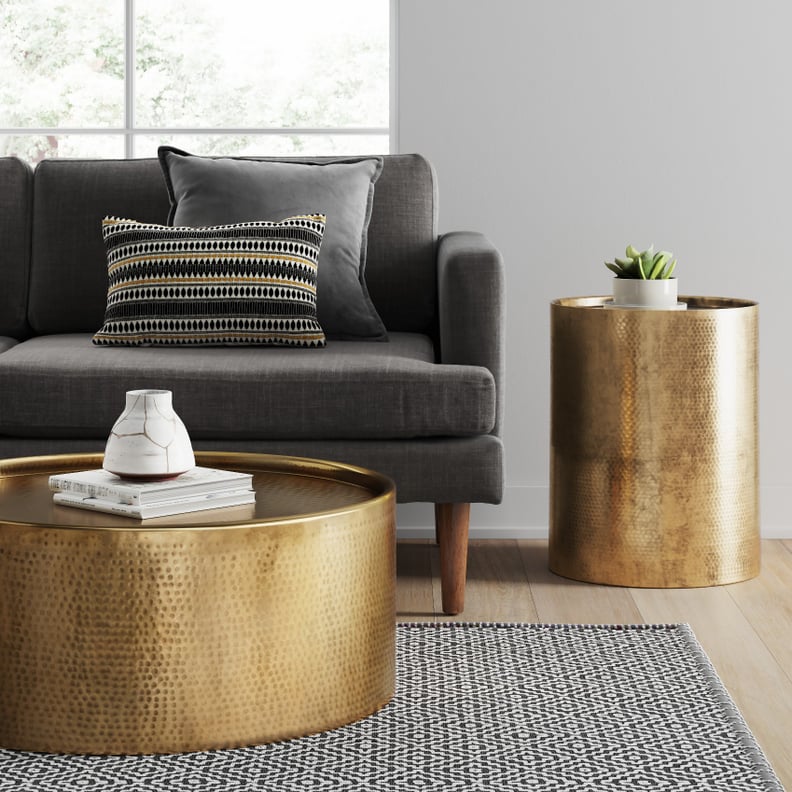 Best Hammered Coffee Table
Project 62 Manila Round Hammered Drum Coffee Table ($150)
Go all out, and get this coffee table for a bold statement-making piece. The hammered design brings texture to the space while the rounded barrel shape adds a modern flair. It's perfect for perfect for displaying books and decorative accents like vases. This can fit in contemporary, glam, and industrial homes. It pairs well with a curved couch.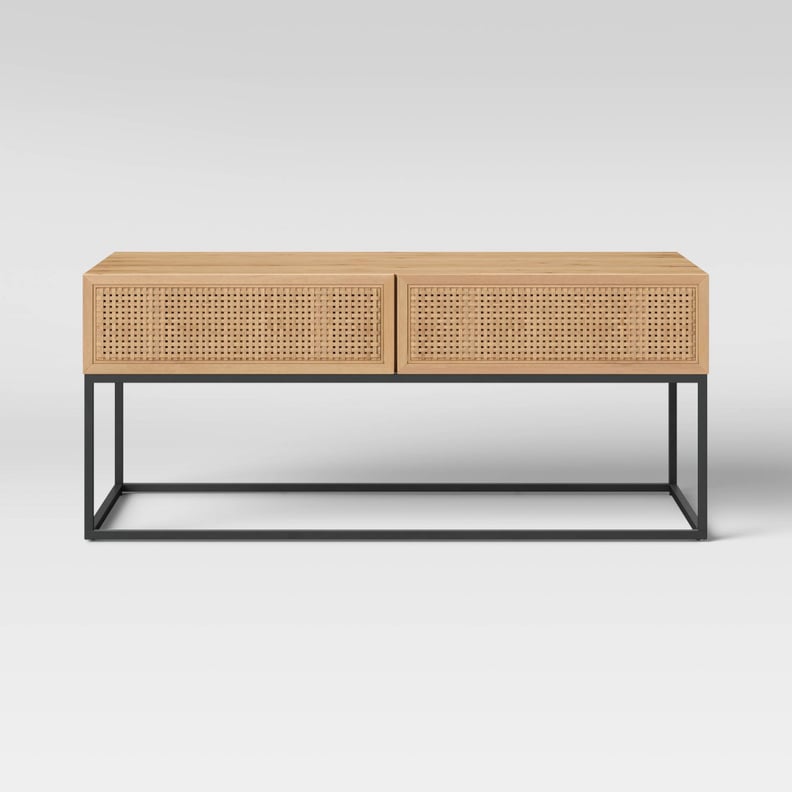 Best Cane Coffee Table
Project 62 Belmar Woven Drawer Coffee Table ($230)
This coffee table is the perfect blend between boho and contemporary. The cane-inspired design brings texture and warmth whereas the black metal legs add a modern flair. It's euqipped with drawers for seamless and easy storage as well.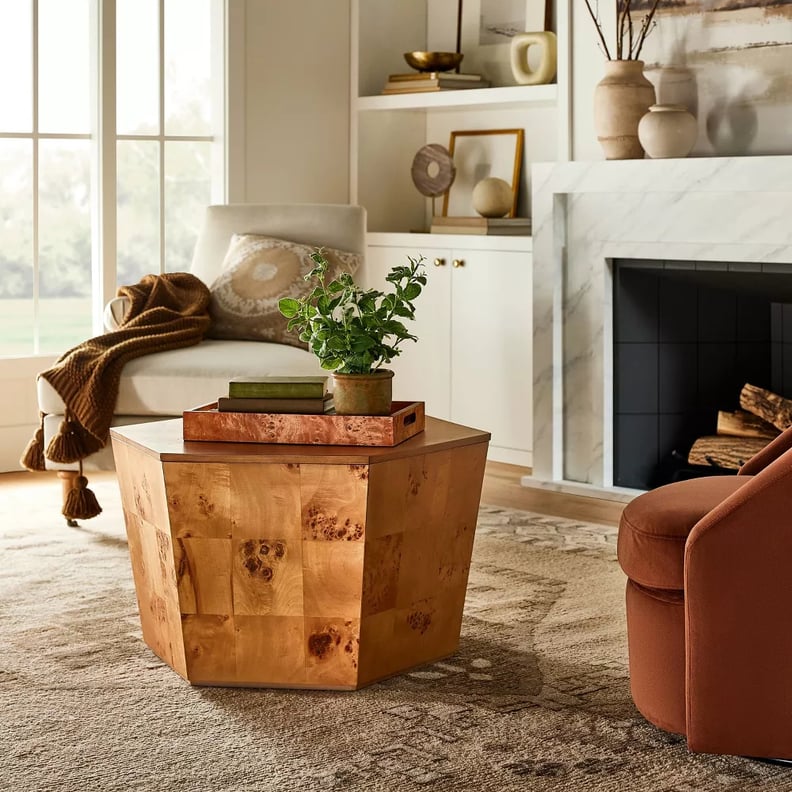 Best Burled Wood Coffee Table
Ogden Burled Wood Coffee Table ($200)
This burled wood coffee table from the Threshold collection designed with Studio Mcgee looks like it costs quadruple the price. The hexagonal shape and burled wood are a striking combination that will blend easily with any decor.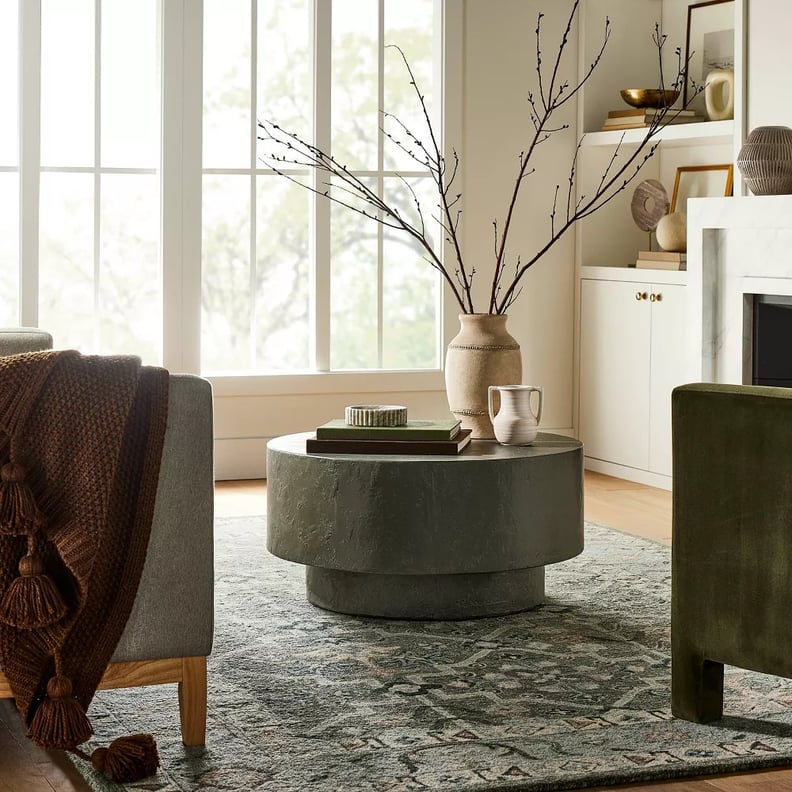 Best Concrete-Inspired Coffee Table
Arbon Coffee Table ($300)
Made to look like concrete, this coffee table is actually under 50 pounds so it's easier to move. The round pedestal shape gives it a modern edge.