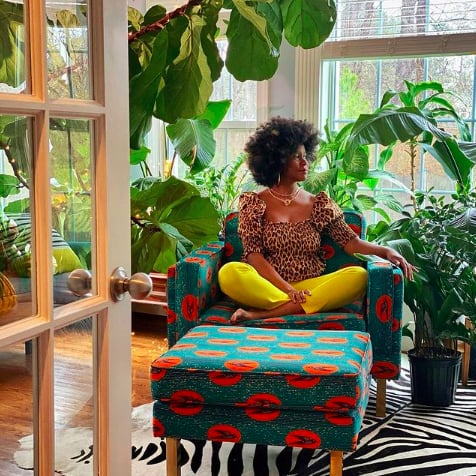 If you're anything like me, being at home a lot more than usual this past year has made you rethink a lot of things in your home that you see every day, like the clutter (oh, the clutter), the keepsakes, and the bedspread you've had for years. But in addition to just looking at my stuff a lot more closely, I also moved, which made me go through everything with a more critical eye. Your home is meant to be your safe space, a true oasis, and a place that sparks joy, and finally having a new space that I could call my own meant that I could really decorate to my liking (and my partner's, of course . . . kind of).
It wasn't just a room in a house full of roommates and hand-me-down furniture anymore. I now had an apartment to decorate and a lot of design to rethink, so I began to do some digging. Pinterest has always been my go-to for inspiration, but I've found that Instagram also has some really amazing home-decor influencers. As I was scrolling through and searching for new people to follow, I noticed that among the hundreds of popular and verified accounts of white interior designers and home stylists, there weren't that many Black women.
It was important for me to find my inspiration and enjoyment of home decor from these women. Yes, everyone's home should be their safe space, but sometimes for Black women, it's our only safe space. And I wanted to see how other women like me transformed their homes. No kidding, I really had to dig to find them. But I'm so glad I did. Once I found a few, my world of home decor on Instagram opened up to more and more Black women who are killing it on the home-decor front. What we can do with a space is magical.
This simple act of scrolling showed me that there is, like in so many areas of the world, a lack of representation. But these 11 amazing Black women ahead are changing the game (and helping my apartment) for the better. Keep reading to learn more about them and why you'll want to hit the follow button immediately.
01
Ajai Guyot (@truehome_)
Ajai is an LA-based interior designer who frequently features her husband and son on her dreamy Instagram account. Her home is like a neutral dream — her white couch and bedspread look like giant clouds, and every room has the perfect accent furniture! If you're a minimalist (and in need of adorable nursery inspo), you'll love Ajai's Instagram feed.
Follow Ajai on Instagram: @truehome_
02
Tanika Rottura (@tanika_nyclifestyle)
Whether you need decor inspiration, recipes, or outfit ideas for weekend plans, Tanika has got you covered. Her content and home will literally brighten your day with splashes of bold pinks, vivid blues, and a leopard pillow that I'm dying to find for myself. What I love most is that her big pieces like her couch, bed, and dining table are all neutral colors like white or gray, and she lets the accents do the talking. Her walls, chairs, pillows, and shelves are filled with bold colors, and it works perfectly for her Manhattan apartment!
Follow Tanika on Instagram: @tanika_nyclifestyle
03
Lowe Saddler (@hotsundayhome)
Lowe proves that renters can make the most out of their homes, too. Even with limitations, her small LA apartment is full of life and superunique decor. She admits to loving statues a little too much, but I think they fill her home perfectly! And who doesn't love disco balls all over the house and shining in the sun?
In a recent post, Lowe acknowledged the lack of representation in the home community: "Representation in the home space is so important. And it's still incredibly rare to see people who look like me."
Follow Lowe on Instagram: @hotsundayhome
04
Elena Lohse (@thishouse5000)
If I could replicate any home on this list, it would be Elena's. She's been working with her husband to renovate her Toronto home for a while now, and the progress has been impeccable! If you love plants, cats, the color terra cotta, and seeing the remodeling process (I happen to love every single bit of it), click the follow button ASAP.
Follow Elena on Instagram: @thishouse5000
05
Dominique Harris (@allthingsonatural)
If you're into dark, bohemian style and gorgeous velvet couches, Dominique should be an instant follow. Her home is filled with unique artwork, geometric shapes and patterns, plants, and wall colors that make a statement and set the mood to cozy. You'll often see her family of six, drinks of choice, and amazingly set dining table throughout her feed.
Follow Dominique on Instagram: @allthingsonatural
06
Sarai Reed (@apron.saint)
"My ethos is about reclaiming the art of homemaking in the context of me being a Black woman," Sarai said in an interview with Apartment Therapy. "[Homemaking] is an art that has been co-opted over centuries by rich white women."
Sarai's Instagram is all about making the most out of your small space. As a home consultant based in Washington DC, she constantly gives advice within her post captions on how to make your home a safe and joyful place for you. If you want to see a little more midcentury influence as you scroll, I'd say Sarai's taste is the perfect inspiration.
Follow Sarai on Instagram: @apron.saint
07
Miki Carter (@plot.twist.interiors)
Miki is a lawyer, a home-design aficionado, and maybe the luckiest Facebook Marketplace shopper on the planet. She doesn't feature herself much on her Instagram and instead lets her love of design take center stage with a mix of her own home and her design inspiration. Her style is colorful, fun, chic, and homey. I wouldn't mind spending my time there, either!
Follow Miki on Instagram: @plot.twist.interiors
08
Janea Brown (@jnaydaily)
Janae gives you outfit and home inspiration on a regular basis. Not only does her new home already look insanely cozy (I can relate to her antique splurges), but her loungewear makes me not want to leave home, either. Her dreamy LA home is sunlit and filled with midcentury furniture, rattan chairs, and the kitchen of my dreams. Just look at those cabinets!
Follow Janea on Instagram: @jnaydaily
09
Nedra Davis (@brickendhaus)
Dare I say . . . DIY queen? A lot of items in Nedra's home are things she's created or redesigned herself, as she's taking on one room at a time in her Maryland home. From redoing the kitchen to painting ceilings, attaching doors, and literally creating her own decor, she truly does it all herself, and that's inspiration enough!
Follow Nedra on Instagram: @brickendhaus
10
Tracey Hairston (@mochagirlplace)
Tracey is an interior stylist, a bohemian-decor enthusiast, and a woman with a green thumb. If you're into wicker, rattan, and accents of green (from her plants, of course), her home is a must have on your Instagram feed. From the lamps to the placemats to the giant chairs in the living room, I absolutely love her style. She's also painted some of her walls with cool designs such as half suns and wavy art.
Follow Tracey on Instagram: @mochagirlplace
11
Stacey-Ann Blake (@designaddictmom)
If this home doesn't make you happy, I don't know what will. Every color of the rainbow is painted on different walls of Stacey-Ann's home, and by the looks of it, her family loves it (I mean, who wouldn't?). Her home is filled with art and furniture as bright as the walls and huge, vibrant green plants in every corner. Her bright personality truly shines through her feed.
Follow Stacey-Ann on Instagram: @designaddictmom