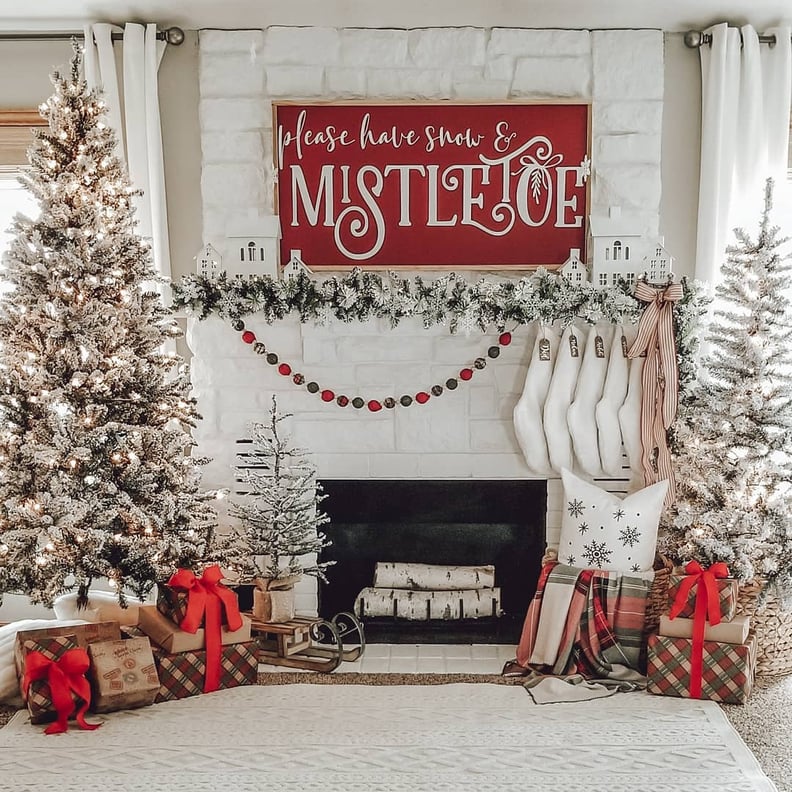 Fuzzy socks, creamy hot cocoa, and crackling fireplaces are the three essential ingredients to a warm Christmas season. Fireplaces in particular have a long history with the holiday — they're featured in many popular Christmas songs, are what Santa Claus slides down, and (most importantly) are super fun to decorate! From fluffy green garlands to dazzling lights — and, of course, stockings hanging proudly — decorating your fireplace and mantle is one of the fastest ways to get in the holiday spirit. Since we all need a little extra joy in our lives right now (thanks, 2020), we scoured Instagram to find the prettiest, most sparkly, holly jolliest fireplace Christmas décor ideas. Lights, ribbons, buffalo plaid, green-and-white color schemes, wooden décor, jingle bells, Christmas houses, and more will give you plenty of options to choose from. Ooh and ahh over these beautiful fireplaces, ahead, then start decorating!
Green Garland With Red Berries
Nothing says Merry Christmas like red and green décor! We love this look, featuring a fluffy green garland over the mantle with clusters of faux red berries. Optional: match your tree to this look by tying silky red ribbons all over the branches.
Over-the-Top Décor
Go all out with your decorations by filling your fireplace with wreaths, oversized bells, stockings, warm blankets and more, then topping it with a wreath over the mantle and some pretty mini trees. There's no limit to what you can do!
Farmhouse Style
Have a farmhouse Christmas by adding a tasteful Christmas tree farm sign over your mantle and hanging knit stockings with wooden name plates for each person. Complete with a green garland (filled with pinecones and berries) and two classy candlesticks.
Neutral Shades
Opt for neutral shades this season instead of the usual red and green. We love this look with white and tan stockings, black and white décor, a frosted garland with white lights, and a pretty sign.
Tiny Christmas Tree Collection
Show off your collection of sparkly, colorful Christmas trees by displaying them proudly on your mantle this season. Complete the look with ornaments and a pretty garland over your stockings.
Cozy Cabin Charm
Make your fireplace feel like a cozy cabin getaway by decorating it with red, white, and green Christmas trees, red and white lights, a green wreath, and a mini lighted tree on the hearth.
Minimalist Christmas
Enjoy a minimalist vibe with a green garland, white stockings, gold and white candlesticks, and pretty gold bells.
Lit Candles and Hanging Garland
Give your fireplace a luxe vibe with an oversized garland that hangs off the mantle and onto the hearth. Complete with a row of tall candles, lit every night for added warmth and coziness. Match your tree to the décor by keeping it to red, gold, and silver ornaments, white lights, and a cozy garland.
Fuzzy Stockings Plus Wooden Snowflakes
We love the rustic charm of this fireplace, decorated with fuzzy white stockings hung on one side of the mantle and wooden ornaments on the other. Finish with a green garland on the mantle, and cozy blankets, lanterns, and mini trees on the hearth.
Glamorous White Beaded Garland
Reminiscent of classy pearls, hanging white beaded garlands over your mantle is simply glamorous. Finish the look with white stockings and a green garland. You can even match your tree to the look by stringing it with the white beads as well!
Woodsy Charm
Add a touch of woodsy charm to your Christmas décor by getting buffalo plaid stockings (in red and brown) and hanging them with buffalo plaid Christmas tree stocking hooks. Then, add a garland made with green leaves, pinecones, berries, and red and burlap ribbons. Finish by adding a lighted fox or other woodland creature to the hearth.
Pink Christmas
You'll feel pretty in pink with this themed mantle. Fill a pink garland with tons of glass ornaments, then add a pink Christmas house, candle, and letter board to your mantle. Hang pink stockings and corresponding glitter letters. (Setting up a pink Christmas tree: optional.)
Red and Black Buffalo Plaid
Santa would approve of this pretty red-and-black buffalo plaid theme, complete with matching stockings, ribbons, and Christmas tree décor. Set up two tiny trees on the hearth, as well as pretty flowers and candles, then fill the mantle with garland, Christmas signs, red and green lanterns, and a big photo of St. Nick himself!
Santa Flying Over a Christmas House
This charming fireplace features a pretty white house centered on the mantle and Santa and his reindeer flying over it. It also has tree branches filled with white lights, green garland covered in lights, and a black and white sign that says, "Merry Christmas."
Tan and Red Color Scheme
Tan wooden Christmas trees go perfectly with red ornaments, making this fireplace simply delightful. Complete the look with tan and red stockings, then put your tree in front of the fireplace with a cozy knitted tree skirt. Add colorful pillows, signs, jingle bells, and other decorations for a perfectly cozy look.
Red, White, and Green Christmas
Decorating your fireplace in red, white, and green will make it totally merry this season. The mantle features a green-and-white garland covered in white snowflakes, with white ceramic houses on top under a huge red-and-white sign. Underneath, a red-and-green banner hangs on one side, with white stockings and a red-and-white bow on the other. Finally, green-and-white trees, red ribbons, presents, sleighs, and blankets fill the hearth.