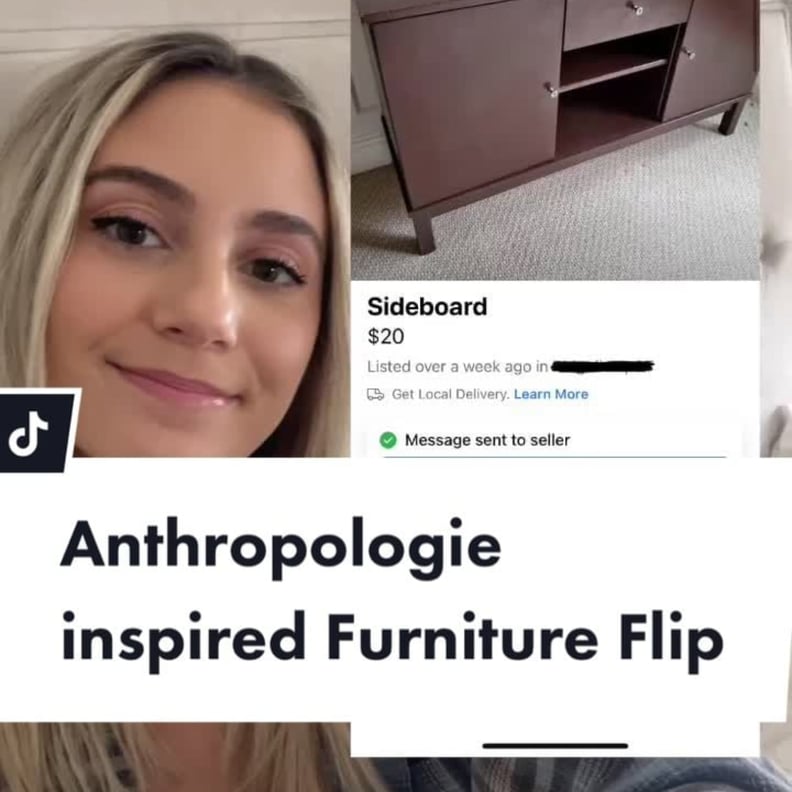 There's been a time in everyone's life when we've all attempted to do a DIY project. Whether it was turning a mason jar into a cute toothbrush holder for the bathroom or using paint chips to transform an old lampshade, DIYs are fun to try out and can (sometimes, but not all of the time) turn into something amazing. But for TikToker user Christina (@flipdaddie), every one of her DIY projects results in a home-decor masterpiece. According to her TikTok page, she flips old furniture in her parents' basement to replicate much more expensive pieces from stores like West Elm and Anthropologie, and to say her work is impressive is an understatement.
In order to save money while still getting the look she desired, Christina decided to use her furniture-flipping skills to re-create the same pieces on a budget. She starts by finding a piece of furniture that's on sale on Facebook Marketplace, purchasing it (sometimes the pieces are free!), and getting to work. Christina has turned old wooden dressers into chic white nightstands, sideboards into buffet tables, and cabinets into full-blown bar carts.
Whether you're looking for DIY inspiration for your next furniture flip or you just want to witness her magic, keep reading to see @flipdaddie in action.
01
Anthropologie-Inspired Nightstand Table Furniture Flip DIY
How cute is the original Anthropologie nightstand? But the price, not so much. Christina revamped an old dresser by using wood filler and sanding tools. She took off the unnecessary hardware and painted the whole piece. She was left with a gorgeous new nightstand that's just as cute as the Anthro one!
02
Bar Cabinet Furniture Flip DIY
OK, this DIY is seriously impressive. Christina turned an old wooden cabinet into a supercute bar cabinet with the help of paint, tools, and maybe even some magic. Yup, we're blown away.
03
Anthropologie-Inspired Buffet Table Furniture Flip DIY
Christina transformed an old buffet table into a chic, Anthropologie-inspired dupe by sanding, priming, and painting the old piece. She also added a mirror and wine racks to give it her own spin.
04
Nightstand Furniture Flip DIY
Take an old nightstand to new heights when you add some paint and primer to the mix. You can also add new handles to the piece to really make it shine.
05
Dresser Furniture Flip DIY
If you want to give a modern piece of furniture a fresh, boho feel, this DIY is for you. Christina used a sander, paint, and new handles to take an old piece to a whole new level.
06
Side Table Furniture Flip DIY
FYI, wood filler works wonders! Christina was able to turn an old wooden, flower-themed dresser into a chic, pink piece for her room. The cabinets allow her to put books, trinkets, and other bedside necessities right where she needs them.
07
Bar Table Furniture Flip DIY
Blue, bright, and beautiful, this bar table is a dream come true. With some wood filler, primer, and paint, this piece was given new life.
08
Side Table Furniture Flip DIY
Black paint can go a long way, and this DIY is proof. Complete with a couple coats of paint and some new handles, this old side table was revived into something much more eye catching.
09
Dresser Furniture Flip DIY
If you want to upgrade an old dresser, all you need are some paint and inspiration. For this piece, she used wood stain and paint to make it come to life. Feel free to swap out the handles for a different design if you so please.