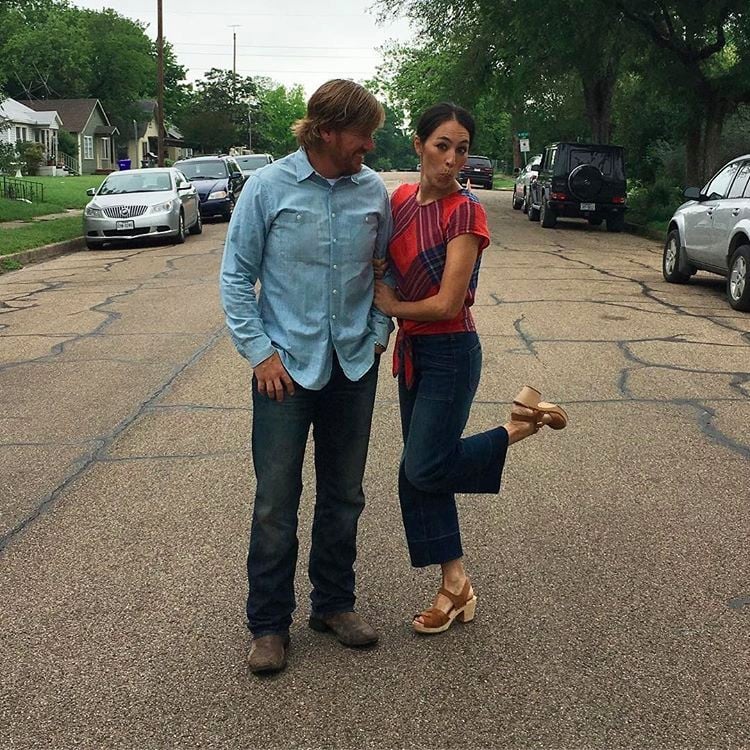 If you're like millions of devoted home design show viewers, you've undoubtedly daydreamed about starring in an episode yourself. Whether you prefer the modern farmhouse look of a Fixer Upper reno or the open, contemporary style of the Property Brothers' makeovers, you've undoubtedly imagined the property you would buy and the big changes you would make to it if you were in the homeowners' shoes. Well, if you're ready to turn your daydream into reality, keep reading, because we have all the info you need to get cast on your favorite HGTV shows (and beyond) listed ahead.
Fixer Upper
Fantasize about getting your modern farmhouse dream home on Fixer Upper? You're not alone. But before you're in front of the camera hugging Chip and Joanna at the Silos, you need to meet a few strict casting requirements. Specifically, you must:
Buy a house in Waco, TX. Chip and Joanna are proud locals, living in and operating Magnolia Homes out of Waco. They want to keep their Fixer Upper clients local, so you must agree to house hunt within 40 miles of the city.
Shell out a minimum of $30,000 for renovations. While a reno budget of $30,000 will get your application looked at by Fixer Upper's producers, they specify that the amount of money you can contribute should be reflective of the amount of work you need done; in other words, if you're looking for a complete overhaul, get ready to cough up even more dough.
Give up design control. Yes, you read that correctly. All you get is an initial discussion with the designer to share your preferences for your home. After that, there is no further contact and all final determinations about style and what and where things are installed are up to the designer and the producers. Gulp. Still want to be on Fixer Upper?
Love It or List It
Having real estate agent David and interior designer Hilary fight over your future domestic bliss on Love It or List It might be closer than you think . . . if you meet the following casting criterion:
Live in North Carolina within 45 minutes of the Raleigh-Durham Triangle.
Have a renovation budget of at least $50,000.
Be part of a duo, with one rooting to stay in the home and the other wanting to move (hence the title, Love It or List It).
Have comprehensive knowledge of your home's core elements, including heating, plumbing, electrical, and even the furnace and be willing to share info about unfinished spaces, such as basements, attics, and garages that Hilary could, presumably, expand into.
Have written proof of permission to renovate from a homeowner association, if you're a part of one, before your application will be pursued.
Know the renovations you want Hilary and her team to complete to improve your quality of life in the house.
Property Brothers
If you've ever seen the before and after shots of a Property Brothers home reno, then you know the real estate and design geniuses that are identical twin brothers Jonathan and Drew Scott. Wanna be the next lucky homeowner featured on Property Brothers? Casting requires you have the following:
A sidekick is required. No solo sally's allowed here. They want a dynamic duo, be it you and your spouse, partner, friend, whomever.
Have a reno budget of at least $65,000 USD. Jonathan might be a magician, but he still needs some moola to work his magic.
Have funding ready to go so you can quickly move on purchasing a home. Drew and Jonathan need more than your word; they need to see exactly how you're going to finance your home.
Pick the four rooms you want made over. With a six- to seven-week shooting schedule, the Pro Bros don't have time to gut whole houses! Applicants must pick four rooms they want their renovation budget to cover.
Throw in a 25 percent contingency fee since things inevitably go wrong (leaky roof, termite infestation, bad electrical wiring). And when they do, the Property Brothers want a homeowner who can survive the budget overages.
Tell them what houses you're looking at — or what home you've already purchased. The application asks you to give the address of a house you're interested in and even provides a space for you to tell them when you're closing on a house if it's already a done deal.
Be free to film eight weekdays in total over the course of the six to seven weeks. If you want the Property Brothers to make time for you, you better make time for them.
Make quick decisions. Dilly-dalliers need not apply; the Property Brothers are busy and they need to keep your reno moving along.
Listed Sisters
Want to get your home renovated to perfection by twin sisters Lex and Alana LeBlanc? Here's how:
Have recently purchased a home (or at least put an offer in on a home) located within 30 miles of Nashville, TN.
While you need to have a house lined up, you can't yet have moved into it. That house has to be empty and ready for reno!
This might be obvious, but it needs to be stated that applicants must be looking for expert design and construction help for aforementioned home.
When it comes to budget, you need to have some money tucked away for renos — a minimum of $40,000, to be exact.
Have a good personality! No boring contestants, please. Lex and Alana want outgoing, fun and enthusiastic homeowners only.
For more info, visit the Listed Sisters casting page.
Trading Spaces
OK, OK, so it's on TLC, not HGTV, but this classic home design show is coming back and, if you're like us, you're itching to find out how to get involved. Luckily, we have all the Trading Spaces casting deets:
You must apply as two pairs. Spouses, siblings, friends, significant others — it doesn't matter how you're related to each other, but you must be paired off and you must apply together with your neighbor. Apparently the dynamics of the show just don't work as well with teams of singletons.
Applicant pairs must live near each other since the show is about neighbors redesigning each other's spaces. To be exact, they must be within a quarter mile of each other. It's worth noting that preference is given to those who live directly next door.
Only the resident and homeowner can apply. Sorry, renters, but TLC isn't in the business of irritating landlords. You have to own and be living in the space you're submitting to be made over.
Actually knowing the pair you're applying with is mandatory. TLC only wants applicants with a preexisting relationship as to add to the authenticity and drama.