How to Cool Down a Room
No AC? These Hacks for Cooling a Room Will Save You Sweat and Tears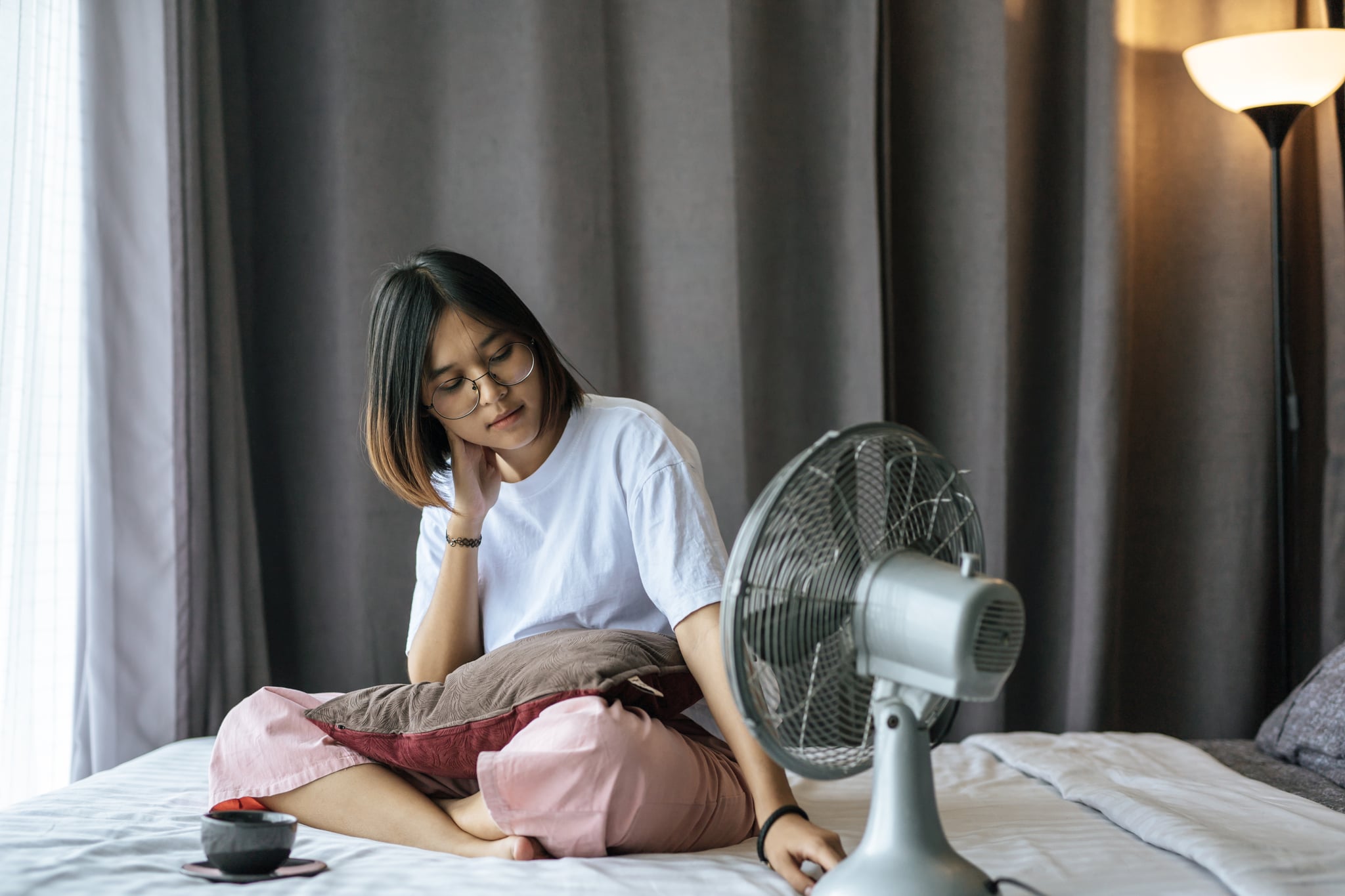 While I love ice cream, cute sundresses, and not shivering under multiple layers, the peak months of summer can be excruciating. This is especially true if you don't have an air-conditioning unit. Rather than deal with being drenched in sweat, it's time to get familiar with some efficient hacks that'll help you cool down a room.
If you don't own an AC and are trying to make the most out of a fan or an open window, we've rounded up instant, long-term solutions for your summertime woes. Keep reading to find helpful tips on how to cool down a room during intense heat.
How To Cool a Room Without AC
If you don't own an AC, keeping the sunlight out of your living area can be a good starting point to cool down your place. Keeping your curtains and blinds shut during the daytime will help your home remain cooler. On a similar vein, blackout curtains can help block out the sun's rays and are very effective at keeping cold air in. To really maximize this, consider opening the doors and windows at night to allow in a cross breeze.
Investing in a cooling mattress or cooling bedsheets is also good idea. If that's a little out of budget, light cotton or breathable linen bedsheets and pillow covers are a great alternative.
How to Cool a Room Down Quickly
Sometimes, you just want instant cooling results. To cut down the hot air coming in through your window, you can spritz cool water on the curtains and place it over the window's opening. The air that passes through the damp fabric should be relatively cool. According to Heritage Heating & Cooling, this method was used in ancient Egypt to help keep rooms cool during sweltering evenings (they used mats instead of curtains). However, if you live in a humid area, you should also consider purchasing a good-quality dehumidifier to absorb moisture from sticky summer air.
How to Make a Fan Blow Cold Air
Barring an AC, your ceiling fan is your instant reliever during summertime. One easy hack is to set your fan-blade in a counterclockwise rotation mode. According to Save On Energy, when your fan blades spin in a counterclockwise motion, the air gets pushed down, creating a refreshing breeze. If you don't have a ceiling fan and own a tower or desk fan, placing a bowl of ice in front of the fan can create an instant cooling effect as air passes through the ice cubes.
How to Make Your Room Cooler for Longer
One easy, lasting fix to making a room cooler is to apply a heat-reducing window film to lower the room temperature. Tinting windows lets in natural light while reflecting much of the solar heat away from your home, helping to regulate the temperature on hot summer days. Without obstructing your outdoor view, reflective films also block up to 99.9 percent of harmful ultraviolet rays, per the Skin Cancer Foundation.
Another way to keep a room cooler is to have plants. Certain types of plants that excel at reducing humidity. Not only will this help keep your room a decent temperature during the summer, it'll also give you plenty of greenery to enjoy.