Just a Friendly Reminder That Mariah Carey Has a Chaise Lounge in the Middle of Her Kitchen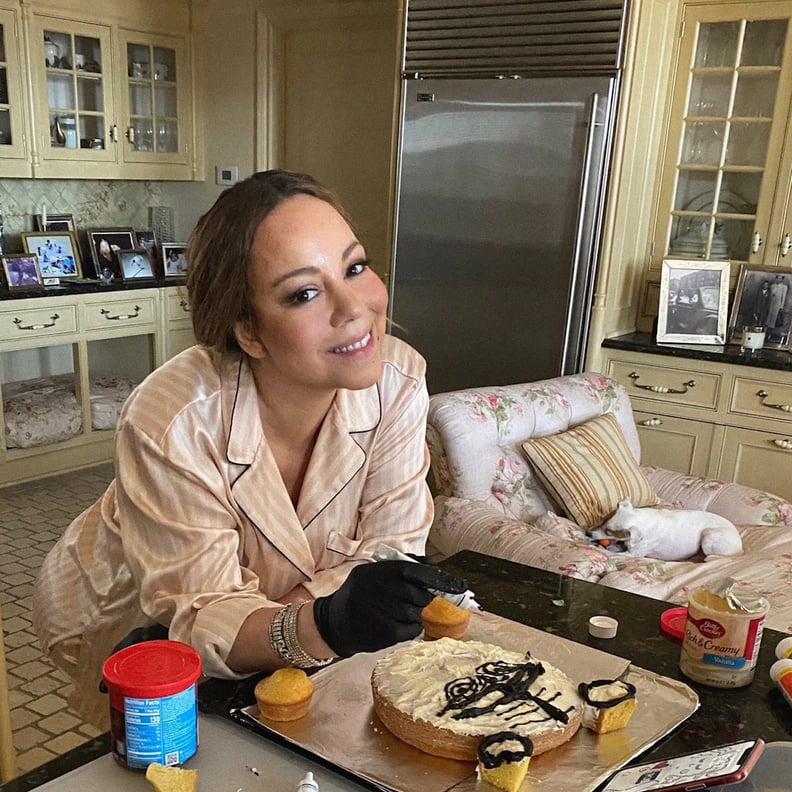 I'm delighted, honored, and fascinated to report that 18 years after first introducing us to her home on MTV Cribs, Mariah Carey still has that chaise lounge in her kitchen. If you happened to tune into that iconic episode back in 2002, you'll recall Mariah donning a variety of outfits, including solely a bath towel at one point, to show off every lavish detail of her New York City penthouse. The butterfly-themed guest room. The soothing entertainment room she dubbed The Mermaid Room. Her absurdly large, color-coded closet. It was all just so much, in the best way.
Now that Mariah's been spending more time in her Tribeca apartment — strictly wearing silky floral robes, might I add — while social distancing with her two kids, she's been sharing more glimpses inside her not-so-humble abode, thus reminding us just how lavish it really is. Ahead, take a look through a few of the recent home snaps Mariah has posted on social media to refresh your memory on her oh-so-posh digs. I don't know about you, but when I grow up, I definitely want to have a freakin' lounge chair in the middle of my kitchen just like her.
If I Could Move Into One Room in Mariah's Apartment, I'd Pick Her Kitchen
It's not just a regular kitchen — it's a cool kitchen.
Those Exposed Brick Walls Give Me Life
If you're looking for a new babysitter, Mariah, you know where to find me!
She's Been Sharing Lots of Singing Videos From Her Little Kitchen Nook
Peep those pretty light-beige cabinets in the background.
There She Is . . . the Famed Middle-of-the-Kitchen Chaise!
It's covered in a pink floral design, natch.
Leave It to Mariah to Choose This Somewhat Odd Piece of Furniture For the Kitchen
Fast Forward to the End of This Video For a Glimpse at Her Photo-Covered Kitchen Wall
She's got some gorgeous pink flowers on the table, too.
Heck, Even Her Fridge Has Excellent Selfie Lighting
And check out that gorgeous bronze exhaust hood above the stove.
Here's a Better Look at Her Bronze Exhaust Hood
She's got a tea kettle to match, natch.
In Another Part of Her Apartment, She Has an Entire Salon
Complete with swiveling chairs they have in real salons.
Oh, and the Walls Are Covered in Jumbo Printouts of Her Various Magazine Covers
I've said it before and I'll say it again: legends only.
That Tiny Golden Sink Is Likely Worth More Than My Life Savings
Are "sink goals" a thing?
Oh, and She Has a Full-Fledged Gym in One Room
For, ya know, working out in sandals.
Here's a Look at Her Sound-Proof Vocal Booth
Perfect for working from home!
This Gorgeous, Plush Seat Is Inside Her Enormous Closet
Fingers crossed she shares more peeks inside said closet soon.
And of Course, Her Rooftop Has Incredible Views of Manhattan
And a (hopefully waterproof) TV, too.