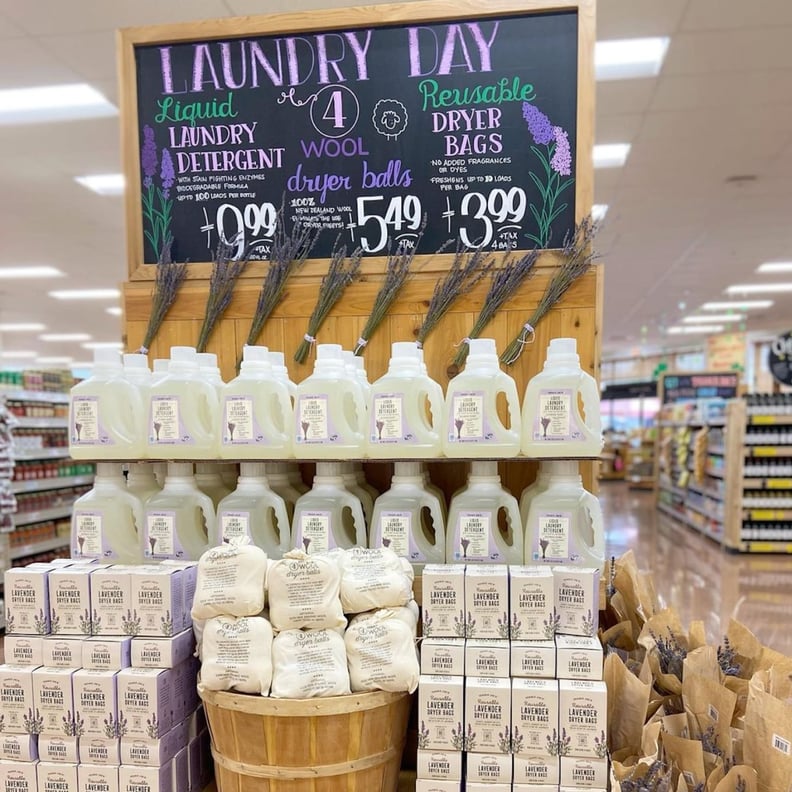 Trader Joe's is the one-stop shop for all things affordable, from food to beauty items and everything in the middle. The beloved retailer has a bounty of amazing products for the home, too, including laundry room staples that keep clothes clean and fresh. These items feature a crisp lavender scent that's both refreshing and reviving, meaning laundry day will be even more satisfying. The best part about these items is that they're better for the environment than the traditional laundry products because they're either not made with chemicals or dyes, can be reused, or are plant based.
Complete with the TJ's Soap Nuts — which feature the fruits of a small tree that have a natural cleaning agent called saponin, a natural antibacterial and antifungal — to reusable dryer balls that eliminate the waste that comes from dryer sheets, using these products will help you save the planet one wash at a time. Between the eco-friendly home goods and the reduction of packaging waste, shopping at Trader Joe's will help you take care of the environment at an affordable price. Keep reading to see the best laundry products you can buy at Trader Joe's for under $10, ahead.
Trader Joe's Liquid Laundry Detergent
This laundry detergent is made with coconut-derived ingredients and is hypoallergenic, free of optical brighteners, dyes, and synthetic fragrances. Complete with essential oils, you can snag this 100-fluid-ounce jug for just under 10 bucks. Dirty laundry, meet your match.
Trader Joe's Lavender Dryer Balls
These Trader Joe's Lavender Dryer Bags last for five to 10 cycles, and feature relaxing floral lavender notes. They're much more eco-friendly than dryer sheets, and have a fragrance that will make you swoon.
Trader Joe's Wild Harvested Laundry Soap Nuts
Cut back on detergent use when you try these cool Soap Nuts. They're safe for sensitive skin, and contain natural cleaning agents that will freshen clothes in no time.