Chicken With Avocado, Tomatoes, and Olives Recipe
The Best Effing Chicken and Avocado Recipe You'll Ever Taste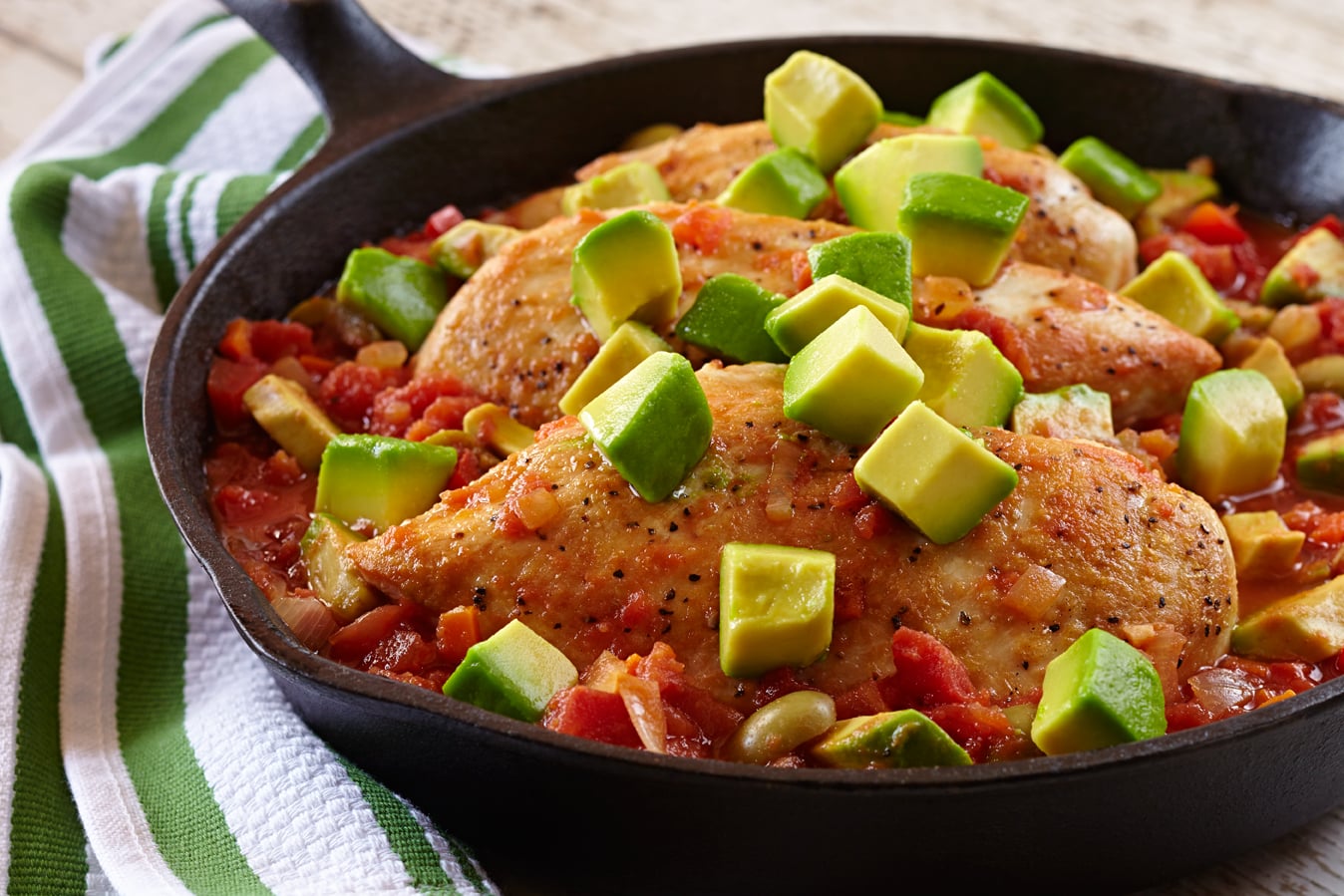 Don't let the long list of ingredients below stop you. This chicken and avocado recipe is worth the few minutes of chopping and simmering.
You'll think that when you cut into the juicy chicken breasts with white wine and tomato flavors mixed with avocado and rice. And then again when you only have one skillet to rinse and wash at the end of the night. Scroll ahead to find the finger-licking how-to, then discover why you should be eating more avos.
Skillet Chicken With Avocado, Tomatoes, and Olives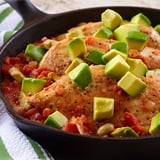 Ingredients
6 boneless, skinless chicken breasts
1/2 teaspoon salt
1/2 teaspoon pepper
1 tablespoon olive oil
1 medium onion, chopped
1 bell pepper, seeded and diced
1 carrot, peeled and diced
2 cloves garlic, minced
3 (14.5 ounce) cans diced tomatoes in juice
1/2 cup dry white wine
1/4 cup pitted green olives, halved
1 ripe fresh hass avocado, peeled, pitted, and cubed
2 tablespoons chopped fresh parsley
6 cups cooked white rice
Directions
Season chicken with salt and pepper.
Heat oil in a large nonstick skillet over medium-high heat. Add chicken and cook until golden on one side, about five minutes. Turn; cook five more minutes until golden brown and almost cooked through. Remove to a plate; set aside.
Reduce heat to medium. Add onion, bell pepper, and carrots. Cook, stirring occasionally for five minutes.
Add garlic and cook for one minute.
Add tomatoes and wine. Bring to a simmer and wait four minutes. Stir in olives.
Return chicken to skillet; simmer uncovered for five minutes. Cover, reduce heat to low, and simmer for 20 more minutes.
Stir in half of the avocado and parsley. Serve over rice.
Information
Category

Main Dishes, Game

Cuisine

North American

Yield

Serves 6

Total Time

44 minutes, 59 seconds