Is Sugar Skull Makeup Offensive?
A Quick Lesson on Why Sugar Skull Makeup Is Actually Not Offensive
The following story was originally published on Salt Spell Beauty.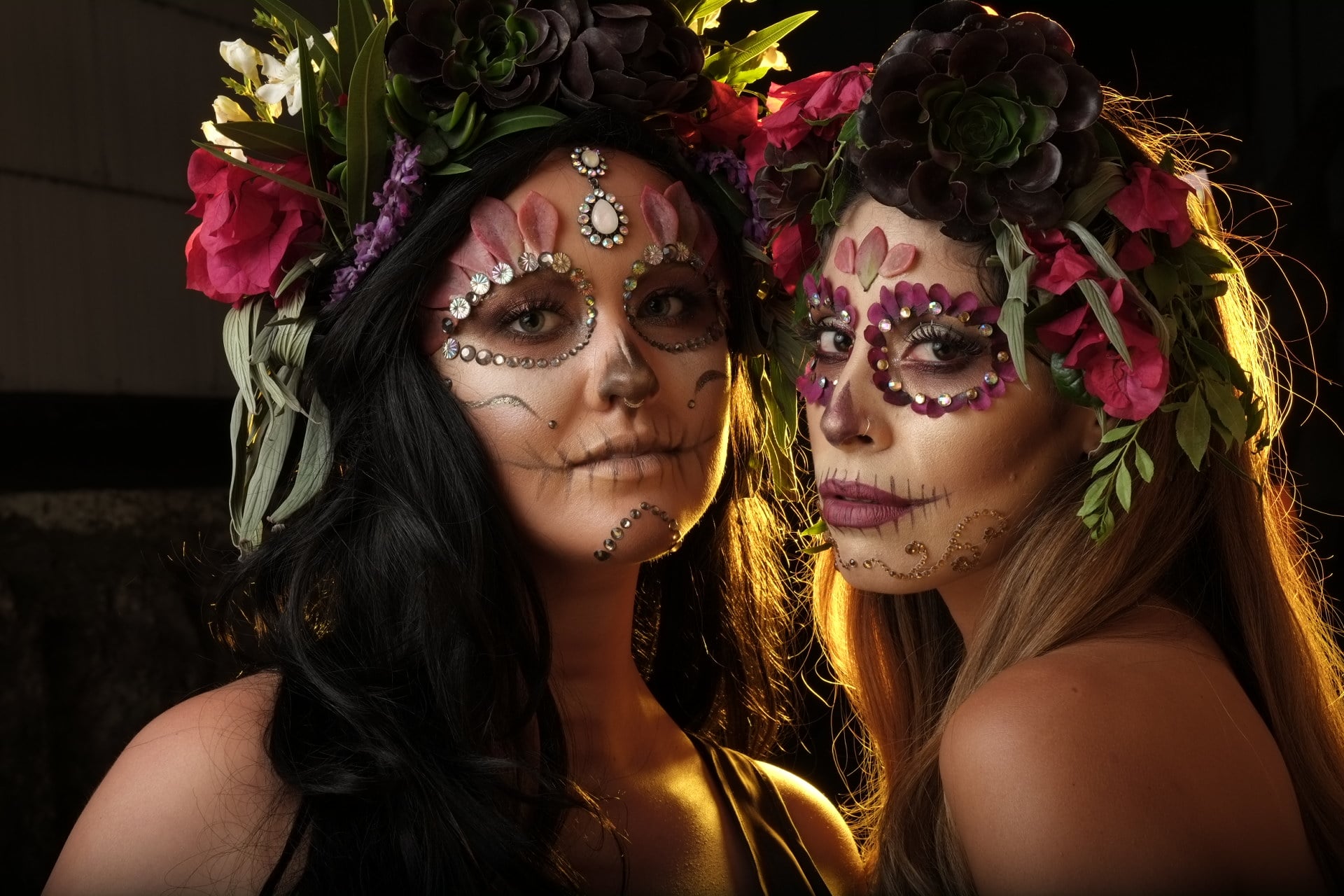 Image Source: Dayne Watai
Recently, sugar skull makeup was banned by a university in Canada — just one of many costumes deemed offensive by the school, alongside blackface and women being molested by Donald Trump and Bill Cosby, to name a few. This story was reported on by the Daily Mail and, to our horror, a photo of us and our work at last year's Día de los Muertos celebration was the leading image for the globally-circulated article.

The Daily Mail article mentioned above, which used photographer Triatan Savatier's photograph of us at last year's Día de los Muertos Celebration in San Francisco.
Here's why we don't belong on that list (much less deserve to be the face of it) — We are Andrea Ortega Costigan and Mariana McGrath, two Mexican-American makeup artists living in San Francisco and the founders of Salt Spell Beauty. Makeup is our medium, and faces are our canvas. Our work does not belong in a roundup of "culturally offensive" Halloween costumes. We understand why a Canadian university and a British media outlet might miss the nuances of why that is, so we broke it down for you:
Sugar skulls are a hallmark of Día De Los Muertos, a Mexican holiday celebrated around the world on November 1st, All Souls' Day — not Halloween.
The purpose of Día de los Muertos is to celebrate and honor friends and family who have passed away; it's a holiday that with roots that go as far back as the Aztec empire.
The holiday is marked by families making ofrendas in their homes to the deceased, surrounding their photo with flowers, their favorite food, and calaveras (aka sugar skulls).
This Mexican national holiday is one of reverence, remembrance and ritual; it's one day of the year where family gathers to look back on those who have graced our lives and left us for the next.
Cultural appropriation seems to be the buzzword of 2016, and with good reason. There are lots of people doing offensive things that pick and choose the "cool" parts of any given minority culture and adopt them for the night, only to toss that culture back into society's margins the next day. That is 100% wrong.

Image Source: Shawn Costigan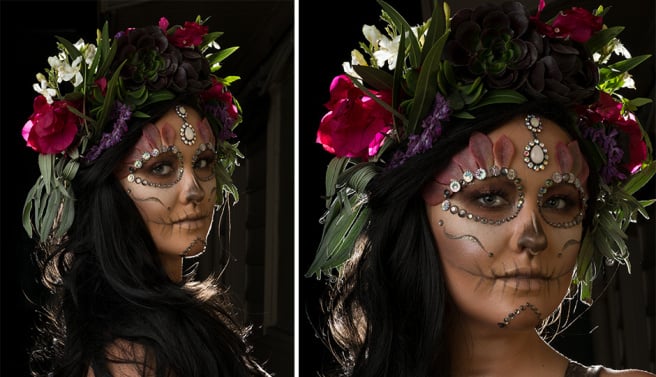 Image Source: Dayne Watai
Here's the kicker, though: It's not cultural appropriation if it's your own culture. (Talking to you, Daily Mail and Canadian university.) As Mexican-American makeup artists, sugar skull makeup is our way of celebrating loved ones through what we do best — beauty. In fact, we love it so much that we do #sevendaysofsugar every year, showcasing a week of intricate calavera makeup looks on ourselves to mark the holiday. We take that sugar skull costume everyone was rocking for Halloween to whole new levels, incorporating jewels, flower petals, heirlooms and a little bit of our own magic. We begin the creative process, which can take hours on end, with a dedication to someone or something who has inspired the look. We do it to honor the dead, celebrate their legacy, and remember their lessons. This is our art, our heritage and our spiritual tribute.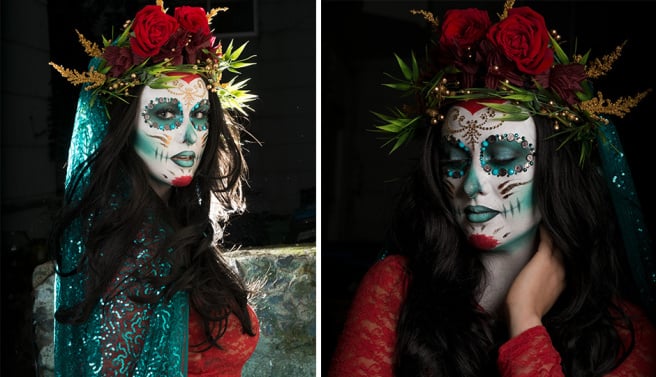 Image Source: Dayne Watai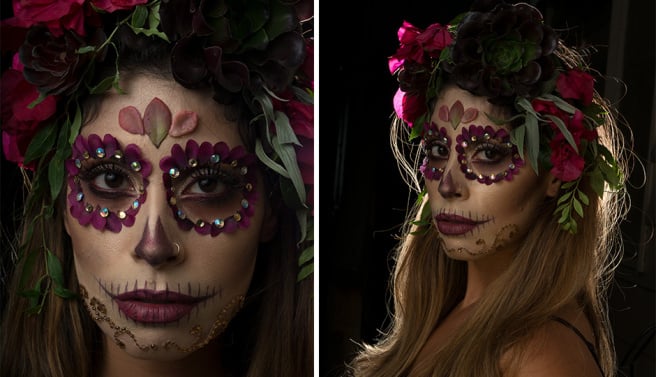 Image Source: Dayne Watai
And guess what? Even if you're not Mexican, we say go ahead and do that sugar skull makeup for your costume party. We hope you're doing one for Día de los Muertos today. (And we hope you tag it with #sevendaysofsugar.) All we ask is that you understand the meaning behind it, you take a little slice of the Mexican way, and you remember the people in your life who have passed on to the next. May the sugar skull art that you create in their honor aide them in their spiritual journey.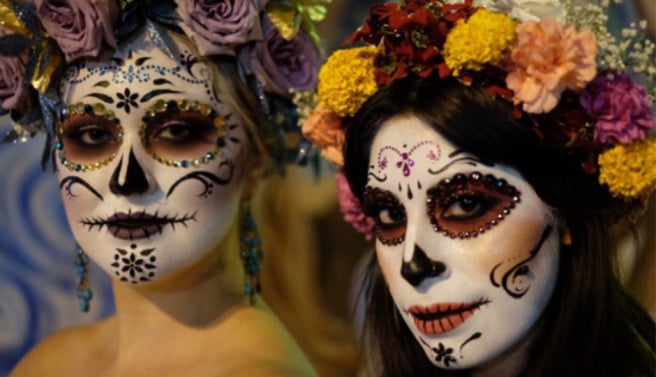 Image Source: Tristan Savatier
To learn more about the women behind Salt Spell Beauty and the work that they do, click here and find them on Instagram at @_marianamcgrath_ and @dreortega.