Ana Serradilla is back with a new telenovela on Univision called Doña Flor y Sus Dos Maridos, based on the Brazilian novel written by Jorge Amado. Produced by Televisa, the romantic comedy was filmed in Mexico and premiered there last month and had its US premiere on April 15. "I'm happy that you will be able to see this project that we've been working on for months," Ana told POPSUGAR.

Ana is best known for her previous role on La Viuda Negra, where she played Griselda Blanco, a real-life character known as the Cocaine Godmother. Her new role as Flor is a complete shift from her previous onscreen persona as it is more lighthearted. "They are two different characters. Flor is a woman that had her wings cut short of her dream of being a dancer. She suddenly finds herself consumed by life, but as soon as she starts pursuing that dream again, she realizes everything starts going her way," the actress said. "She starts dancing again and she finds the love of her life. But when everything starts to flow, life snags it away from her again and that's where we'll be able to see how Flor handles the situation."
The main plot of the series follows Flor as she pursues her passion of dancing. In her journey, she meets Valentín, played by Joaquín Ferreira from Club de Cuervos, a charming scammer who lives life to the fullest. After a torrid romance, Flor's life is struck by tragedy when Valentín suddenly passes away, but her lifelong suitor Teo comes in. Played by Sergio Mur from Cable Girls, Teo is a well-mannered man who has had a crush on Flor since they were kids and stays by her side as she mourns the death of her first love. However, it's not long before things take an unexpected turn.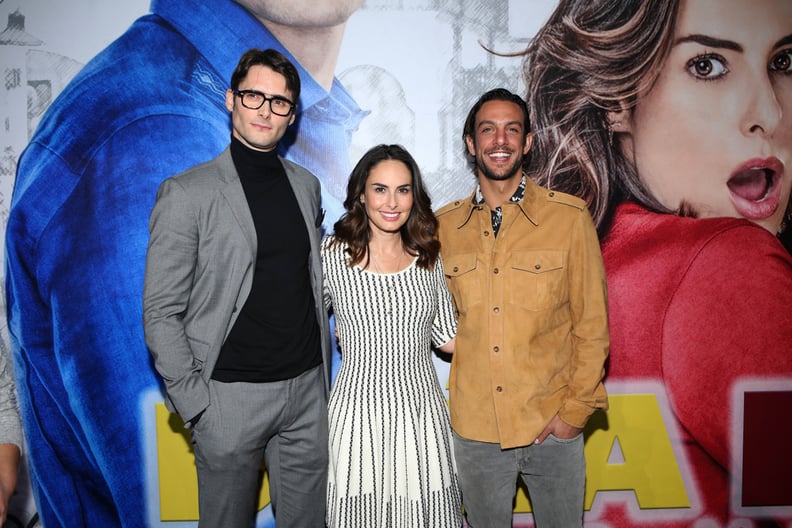 "When she loses the love of her life, she gives her childhood friend a chance after rejecting him because she always saw him as a brother," she said. "But Valentín returns from the dead as a ghost and starts causing trouble."
Unlike her character, who was prohibited by her mother from dancing and following her aspirations, Ana feels fortunate to have had parents that have supported her. "I feel privileged to do what I love the most. I was lucky that my parents encouraged me to reach my dreams in the acting world," the actress said. "I thought I was going to be my own road block because I was so shy. I knew I wanted to be an actress, but I thought I wasn't going to be one because of my shyness. My parents were fundamental for me to overcome my timidity."
Ana also had some advice for people who feel they can't pursue their professional dreams. "I think we can't be victims in this life, and you have to take the bull by its horns. If you believe in something and want to fight for it, you should go for it," she said. "Take Flor, for example. She's an empowered woman who took longer to find her power to strive for what she really believed in, her dreams, her life . . . she took longer but she finally succeeded because she was strong. After losing it all, she got up and was able to start all over again."
As far as Ana goes, she says that she finds her power "day by day, being a good observer, dedicating a lot of time to my life, traveling, nurturing my soul and not getting stuck by looking for characters that will challenge me and make me get out of my comfort zone to continue making films, plays, and television in different genres."
Doña Flor y Sus Dos Maridos airs weekdays at 1 p.m. ET/PT on Univision.