Best Taco de Adobada Recipe
How to Make Authentic and Delicious Tacos de Adobada
As POPSUGAR editors, we independently select and write about stuff we love and think you'll like too. If you buy a product we have recommended, we may receive affiliate commission, which in turn supports our work.
Immigrants or children of immigrants often rely on food as a way to keep our culture alive. But when our parents or abuelos aren't there to guide us through a recipe, we go to the internet. That's what happened to Esteban Castillo.
Castillo, who grew up in Santa Ana, CA — where 76 percent of the population is Latinx — couldn't find the Mexican dishes he grew up loving on any popular food blog, so he decided to create his own. Chicano Eats has become a place where he shares a love for cooking mixed with his experience as a queer Chicano, while providing a much-needed space for authentic Latinx voices and recipes.
Chicano Eats quickly gained popularity and even won the Best New Voice award at Saveur magazine's Blog Awards in 2017. As fans craved more from his blog, Castilo realized it would make sense to gather his favorite recipes — like chicken con chochoyotes, mac and queso fundido, birria, champurrado chocolate birthday cake, and more — and turn them into a book. That's how Chicano Eats ($30) was born: a bicultural and bilingual cookbook that includes 85 traditional and fusion Mexican recipes.
One of Castillo's favorite recipes is "Mi Abuelito's Tacos de Adobada" (his grandfather's adobo pork tacos), which he graciously shared with POPSUGAR. Find the recipe ahead for a taste of what Chicano Eats has to offer.
Mi Abuelito's Tacos de Adobada
Chicano Eats
Notes
From the chef: The tart smell of vinegar mixed with aromatic chiles, garlic, and thyme is a distinct aroma I will always associate with mi abuelito Rogelio — or Papi Heyo, as I grew up calling him — and the small taco cart he'd move around in Colima [Mexico] for many years. It evokes memories of a young Estebitan juggling an ice-cold Fanta in one hand, and a plate of tacos de adobada in another, sitting quietly by his grandfather's side on a crate, as he watched his Papi Heyo do what he did best: nourish people's souls through food. Adobada consists of thin slices of pork — marinated in an aromatic and acidic adobo made with a mix of chiles, apple cider vinegar, fresh thyme, and garlic, among other spices — grilled on a sizzling flattop griddle and served on a tortilla that's been lightly fried and topped with fresh frijoles de la olla.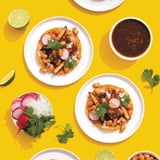 Ingredients
For the Adobada:
6 large guajillo chiles (about 5½ inches long or 1½ ounces), stemmed and seeded
1 ancho chile (½ ounce), stemmed and seeded
1 tablespoon apple cider vinegar
5 garlic cloves, peeled
1 teaspoon fresh thyme leaves
1½ tablespoons Diamond Crystal kosher salt
1 teaspoon dried Mexican oregano
¼ teaspoon paprika
¼ teaspoon freshly ground black pepper
1 tablespoon vegetable oil
3 pounds pork shoulder
For Frijoles de la Olla:
1 pound (455 g) dried pinto beans
¼ yellow onion
5 garlic cloves, peeled
⅓ cup (0.5 ounce) fresh cilantro (about one small bunch with stems included)
2 sprigs fresh thyme
1 bay leaf
1½ teaspoons lard
1½ teaspoons Diamond Crystal kosher salt, plus more to taste
1 bay leaf
For Assembly:
3 tablespoons vegetable oil
Mini corn tortillas (street taco size), warmed or lightly griddled
Frijoles de la Olla (you can find this recipe on page 33 of Chicano Eats)
Chopped fresh cilantro
Diced white onion
Sliced radishes
Salsa
Lime wedges
Sea salt
Directions
To make the adobada:
In a medium saucepan, combine the guajillos, ancho, and enough water to completely submerge the chiles. Bring to a boil over high heat, then reduce the heat to low and simmer until the chiles have softened, about 15 minutes.
Use a slotted spoon to scoop out the chiles and transfer them to a blender. Add the vinegar, garlic, thyme, salt, oregano, paprika, black pepper, and vegetable oil. Blend the marinade until smooth, 20 to 30 seconds.
Cut the pork shoulder into slices ½-inch thick, then use a mallet or the bottom of a heavy skillet to pound them into a ¼-inch thickness.
Place the slices of pork in a one-gallon freezer bag, add the bay leaf, then pour in the marinade and mix together to make sure all of the pork is evenly covered in the marinade. Place in the fridge and let the pork marinate for at least four hours or up to eight hours.
To make the frijoles de la olla
Prep and cook dried pinto beans according to the package. Add in onion, garlic, cilantro, thyme, bay leaf, lard, and salt. Cook until softened. Remove thyme and bay leaf before serving.
To assemble:
On a flattop griddle (or in a large skillet), heat half the oil over medium heat. Place the marinated pork on the griddle and cook until cooked through and crispy on both sides, five-to-six minutes per side. Remove from the heat and let the pork rest for about five minutes, then cut into strips ¼-inch wide. While the pork rests, add the remaining oil to the griddle or skillet and lightly fry the tortillas for 1½ minutes on each side. Replenish the oil as needed.
To serve, place a spoonful of the pork on a tortilla. Place a spoonful of frijoles de la olla on top of the meat, then sprinkle cilantro, onion, and radishes over the top. Serve with salsa, lime wedges, and sea salt.
Information
Category

Main Dishes

Cuisine

Mexican

Yield

4 tacos
Image Source: Courtesy of Chicano Eats