One thing we've learned from Shakira's time in the public eye is while she's someone who values a good, long-term connection, if you break her trust, she'll be done with you. After 12 years of being in a relationship with her former partner and father of her children, Gerard Piqué, the Colombian singer broke things off in the summer of 2022 after reportedly discovering he was cheating on her with a 24-year-old woman named Clara Chia Marti. While Shakira has shared in interviews that the separation was initially "incredibly difficult," she also seems to have moved on since releasing a number of songs inspired by the breakup, including 2022's "Monotonía" featuring Ozuna, her famous diss track "BZRP Music Sessions #53" that broke a number of records, and "TQG" in collaboration with Karol G, which debuted at No. 1 on both the Billboard Global 200 and Billboard Global Excl. US charts (dated March 11).
Since her public split from Piqué, Shakira appears to have remained single and focused on herself. She was recently rumored to potentially be dating Tom Cruise, but a source shared with US Weekly that Shakira "has no interest in dating the actor."
One thing is for sure, her decision not to marry has certainly spared her from ever having to deal with divorce — and we can't blame her. From Osvaldo Ríos to Antonio de la Rúa to Piqué, here's a look at the three greatest loves of Shakira's life.
— Additional reporting by Johanna Ferreira
Confirmed: Osvaldo Ríos
When: Around 1997
Osvaldo, a telenovela star from Puerto Rico, and Shakira reportedly dated when she was 20 years old. Although she only spoke about the relationship publicly once, he has done so on multiple occasions. In an interview with "Show Business," Shakira said the two dated for eight months and they "fell in love." She also went on to say her song "Moscas en la Casa" on her "¿Dónde Están los Ladrones?" album was about him.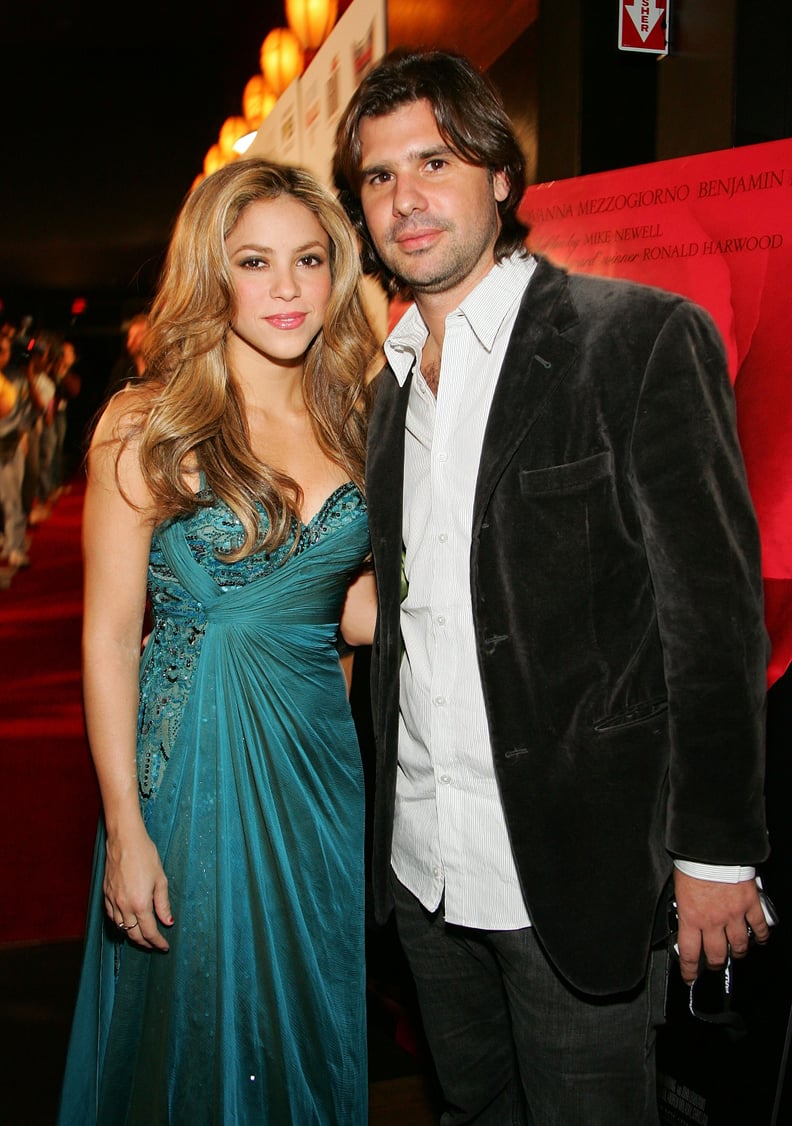 Confirmed: Antonio de la Rúa
When: 2000-2010
Shakira began dating the son of the former president of Argentina and lawyer Fernando de la Rúa right before her crossover career took off. The two separated after almost 11 years together though remained business partners for a little while after. Antonio de la Rúa later sued Shakira for $100 million after she terminated their business partnership. The lawsuit was dismissed, and Shakira moved on.
Confirmed: Gerard Piqué
When: 2010-2022
Shakira met Piqué on the set of the music video for her song "Waka Waka (This Time For Africa)," and according to her song "Me Enamoré," it was love at first sight. They were a couple for 12 years and have two sons together, Milan and Sasha. But during the summer of 2022, Shakira split from Piqué after reportedly learning via a jam jar that he was cheating on her with Clara Chia Marti. Shakira has since been extremely focused on her career.
She was recently awarded at Billboard's Mujeres en la Música event on Saturday, May 6, at the Watsco Center in Miami, where she was honored with the woman of the year award. It was her first public appearance since moving to Miami.
"It's true that when I felt most lost, music puts me in the road back to myself," she said, alluding to her public breakup. "But the most important lessons I learned from other women, and for them I wrote what I wrote and I sang what I sang. Because only a woman can love until she's ripped apart; can speak with the most brutal honesty; can sing with anger; dance in ecstasy and be brought to tears with emotion. Only a woman can do that."