Boost Immunity With This Dominican Red Onion Tea
Stay Healthy All Winter With This Dominican Red Onion Tea Remedy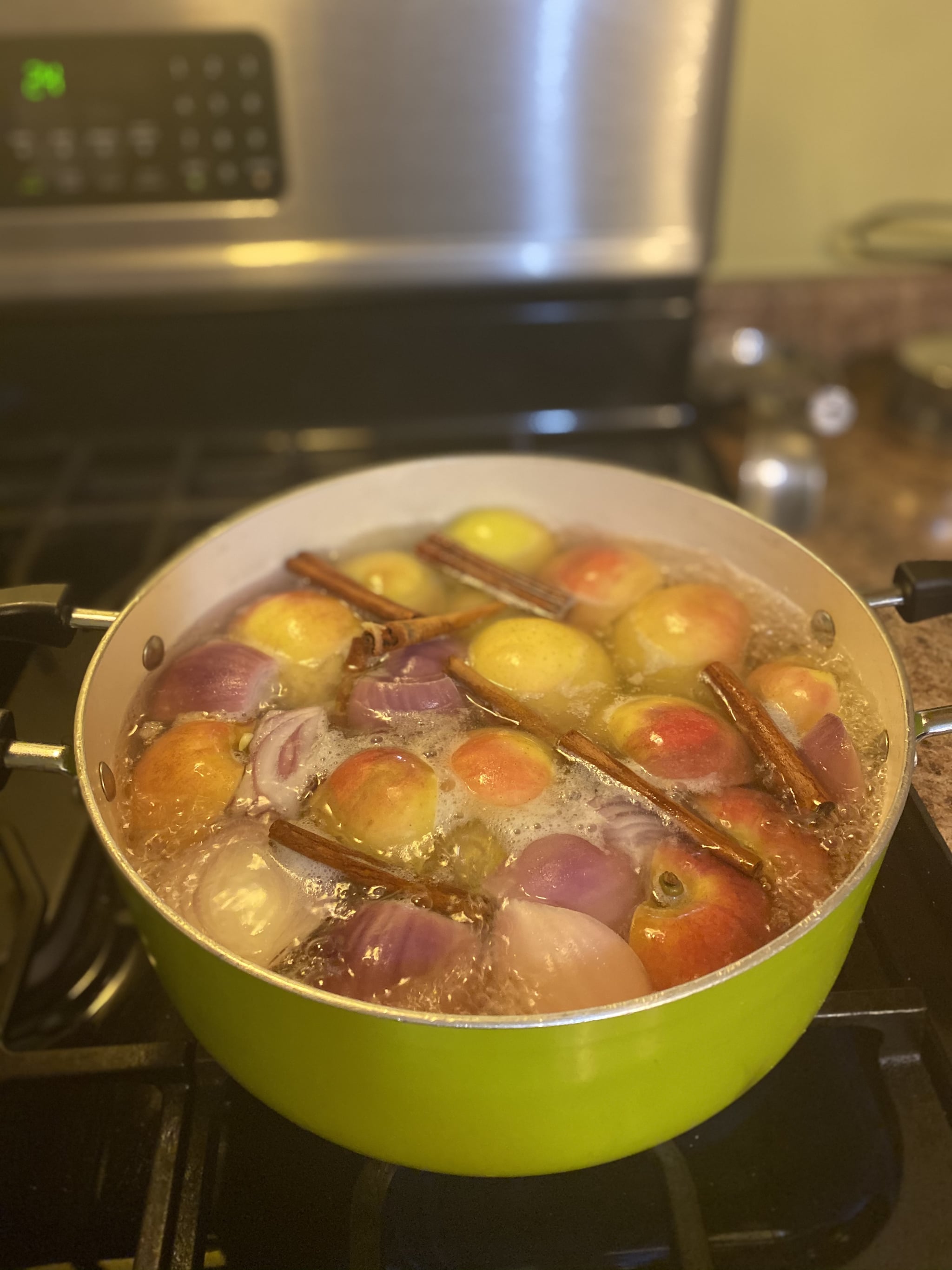 Image Source: Johanna Ferreira
From Washington Heights to Santo Domingo, Dominicans love to use the best of herbs and spices when cooking meals and concocting beverages. Beyond just packing our sustenance with elite levels of flavor, we also use many of these ingredients to nourish our bodies by boosting our immune systems with holistic — and often non-Western — healing. One of my favorites, and perhaps most-cherished crafted drinks in the kitchen of our mothers and abuelas, is the famous Dominican red onion tea.
Dominican red onion tea, which makes a hero out of the purplish-red-skin vegetable notorious for both its sweeter aroma and eye-watering effects, joins forces with a base of ginger and cinnamon and/or cloves for a potent — and delicious — immune-boosting, sinus-clearing, antioxidant-rich, and even air-purifying warm beverage. It's perfect during any season but especially coveted during colder times, and POPSUGAR got the tea on one particular family recipe, thanks to Griselda Rodriguez-Solomon of Brujas of Brookylyn, PhD, a doula, kundalini yogi, and fervent disciple of all things home and handmade.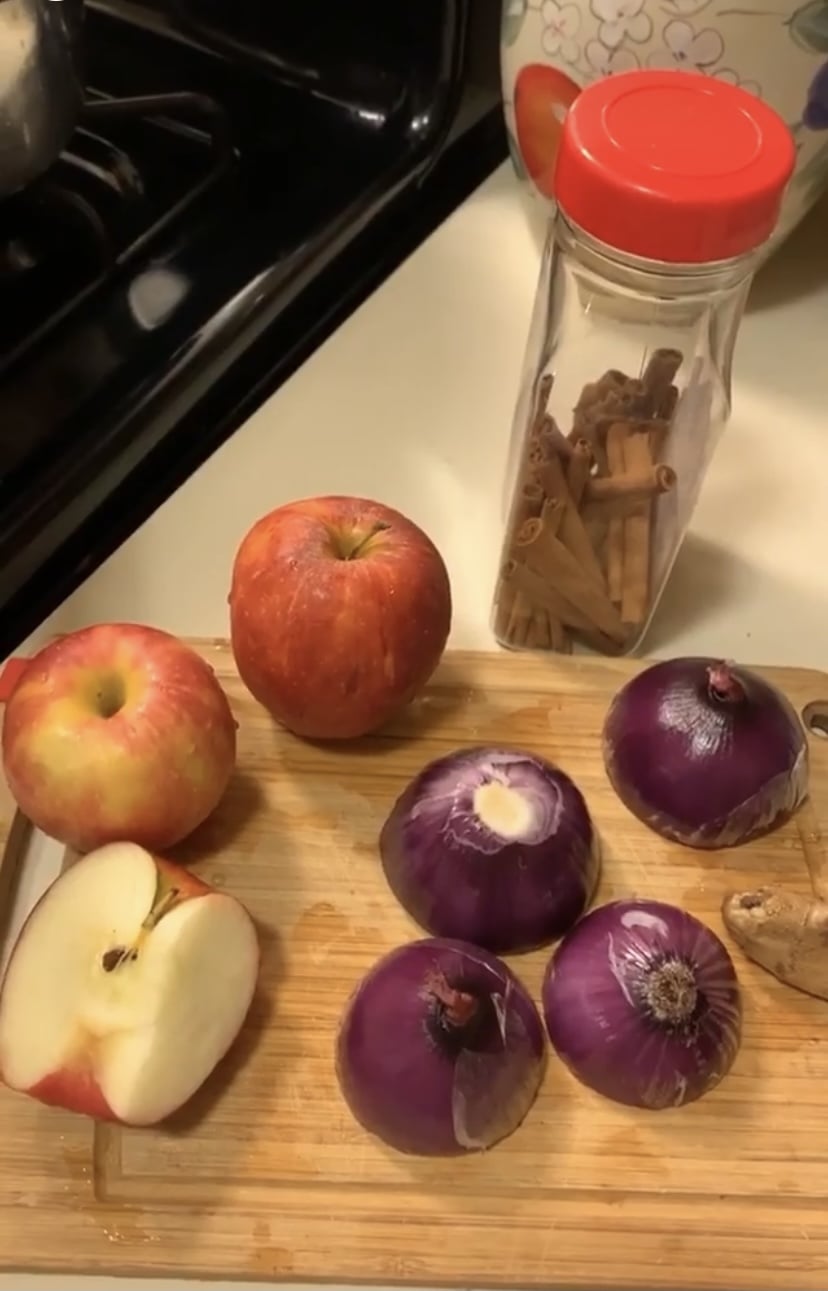 Image Source: Griselda Rodriguez-Solomon
What Is Dominican Onion Tea?
It's a very old formula that has different modifications based on the region you're from in the Dominican Republic or even what generation of Dominican American you are. But it has evolved into a potent flu remedy that uses onion, ginger, and cinnamon as the base.
What Are the Benefits of Onion Tea?
"It increases immunity, and I believe it's related to the production of white blood cells," Rodriguez-Solomon told us. "The thing about onion tea is that it has to be done with a red onion for it to really work, because of a special mineral or enzyme that is found in nature and foods of the color red."
How Does Onion Tea Help Boost the Immune System?
Rodriguez-Solomon noted that adding red apples — a fruit that wasn't commonly eaten in the Dominican Republic back in the day — leverages the power of antioxidants in its own red peel alongside the red onion. That in combination with the anti-inflammatory properties of cinnamon and ginger creates a concoction to reduce inflammation and increases immune response to any flu- or cold-related bacteria or virus that you may have in your body. Inflammation is the root cause of a lot of colds and flus.
What Are Some Side Effects From Onion Tea?
If you suffer from hypertension or heart-related imbalances, you might want to consider scaling back on the ginger. Taking ginger in combination with medications can cause blood pressure to get too low. Cinnamon can also have a similar side effect. When the tea is done, you can sweeten it with honey and squeeze a lemon to really round out the potency. Rodriguez-Solomon's family likes to add a dash of cayenne pepper, because that also helps to break up mucus, but you can refrain from using that if you have hypertension.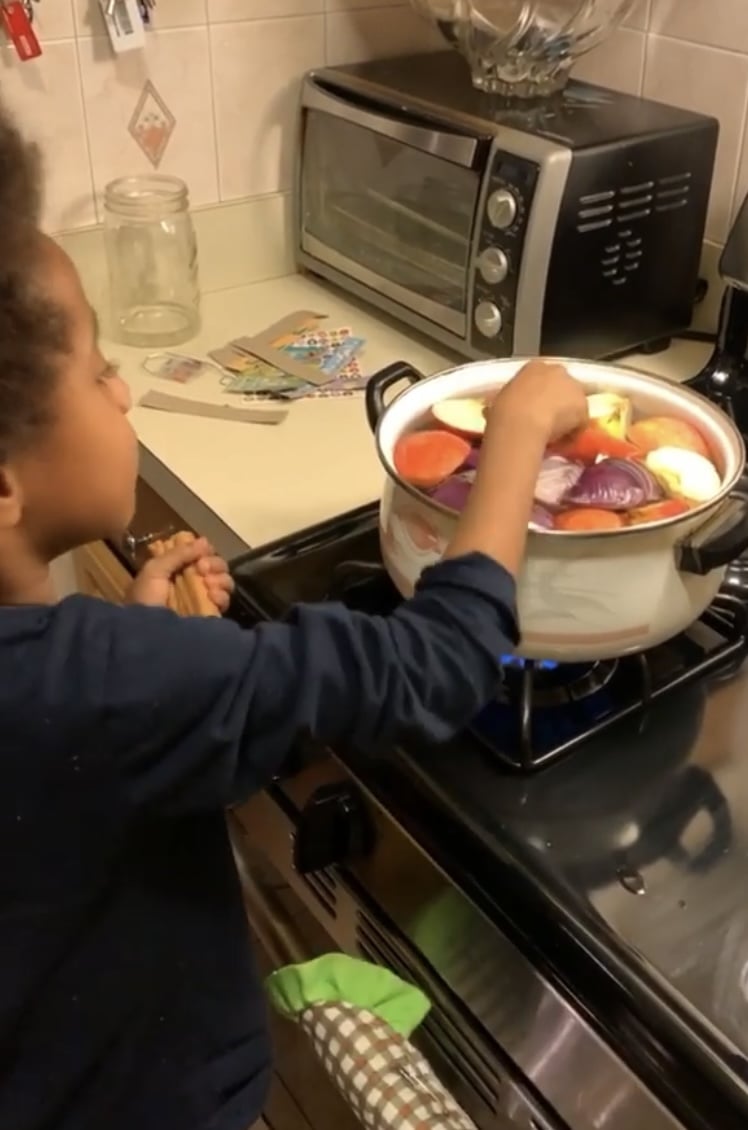 Image Source: Griselda Rodriguez-Solomon
Brujas of Brooklyn's IMMUNITEA
Griselda Rodriguez-Solomon of Brooklyn Brujas, PhD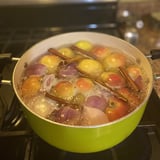 Ingredients
4 cups filtered or bottled water
2 red apples (diced in 4 pieces each)
1 red onion (diced in 4 pieces)
2 cinnamon sticks
Ginger to taste (usually an inch)
1 lime
Honey to taste
Dash of cayenne pepper (optional)
Directions
Place water, apples, onion, cinnamon, crushed ginger, and juice of half the lime in a saucepan over high heat.
Once boiling, allow to cook over high heat uncovered for 10 minutes. Stir occasionally.
Then cover and simmer on low heat for another 10 minutes.
While tea simmers, add honey and the juice from the other half of lime into a mug.
Once done, the tea should be a pinkish/amber color. Sift the tea into the mug with honey and lime juice.
Add a pinch of cayenne pepper.
Stir, and enjoy.
Information
Yield

2 cups of tea

Prep Time

10 min

Cook Time

20 min

Total Time

29 minutes, 59 seconds