Make This Delicious Dominican Potato Salad Made With Beets
Dominican Potato Salad: Make Your Holiday Spread Pop With Ensalada Rusa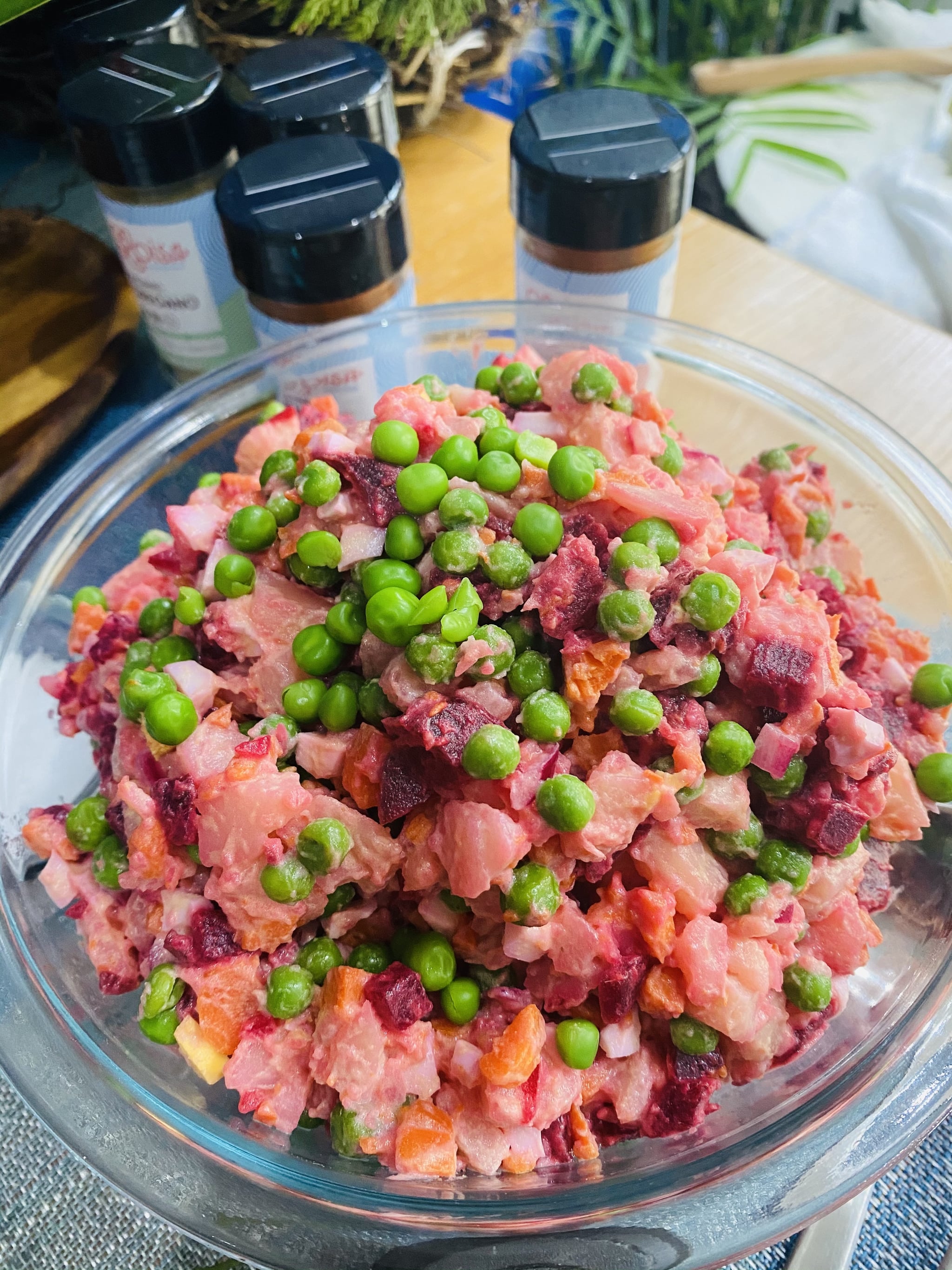 The treasured potato salad and notorious subject of POC debate takes culinary form differently across many cultures and communities. Just about everyone has some recipe or another, with variating ingredients, including carrots, corn, and even raisins. But in the Dominican Republic, and throughout many Dominican households across the US, potato salad is made with beets and called "ensalada Rusa."
"You can spot it a mile away at any festivity and it's a sign Dominicans are here," says Yadira Garcia of Happy Healthy Latina, a certified natural foods chef and educator of Dominican descent. "Its most defining characteristic is the color, because we added beets to the recipe when it came to the Caribbean."
Although "ensalada Rusa" isn't actually Russian, the holiday staple's history is tied to a previous dish created by the late Russian chef (reportedly of French or Belgian descent) Lucien Olivier. "The original version had ingredients like beef tongue, olives, and greens, but we turned it into something different and our own," she adds. "I am really here to say that it's an amazing-tasting salad, but the love we have for it runs much deeper."
For many diasporic Caribeños who are not in the country where our parents originated, these recipes carry memories and create a piece of home wherever we are rooted now. What better time than the holidays to celebrate such a savory legacy. Packed with flavor using key elements like carrots, peas, and beets, try Garcia's beloved family recipe for ensalada Rusa this season:
Ensalada Rusa — Dominican Potato Salad
Chef Yadira Garcia, @HappyHealthyLatina
Notes
Serve chilled or at room temperature.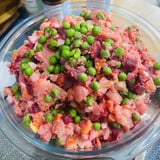 Ingredients
1 pound potatoes, Yukon gold or red potatoes
2 large carrots
3 eggs
2 teaspoons salt, or more, to taste
2 teaspoons coarse ground pepper
1 tablespoon Dominican oregano
1 teaspoon organic Adobo (optional)
1 medium beet, peeled
1 medium red onion
2 tablespoons apple cider vinegar
½ cup blanched green peas or canned
½ cup mayonnaise
3 tablespoons cilantro, destemmed and chopped (optional)
Directions
Place the potatoes, carrots, and eggs in a pot, and add enough water to cover ¾ of the pot. Add a teaspoon of sea salt. Bring to a boil. After 10 minutes have passed, remove the eggs from the water and continue boiling the carrots and potatoes until they are cooked through.
Boil the beetroot in a different pot until it's cooked through, or use precooked beets.
Once cooled to room temperature, peel potatoes, carrots, eggs, and beetroot, and cut into medium diced cubes.
Mince the onion, add vinegar, and let it rest until it's time to mix with the rest of the ingredients (at least 10 minutes). Reserve 2 teaspoons and add to your potato salad, then discard the rest.
Mix potatoes, carrots, eggs, beetroot, onion, corn, and peas. Add mayonnaise and oregano, and mix. Season with salt and pepper to taste. To make it vegan, omit the eggs and use a vegan mayonnaise.
Garnish with fresh herbs
Serving: You can either serve chilled or at room temperature, depending on your preference.
Information
Yield

5–6 Servings

Prep Time

15 minutes

Cook Time

20 minutes

Total Time

34 minutes, 59 seconds
Image Source: Yadira Garcia