Teresa Ruiz Says Her "Father Stu" Character Is So Much More Than a Good Catholic Latina
Dropping during Semana Santa, Mark Wahlberg's latest film, "Father Stu," tells the true story of an amateur boxer turned priest whose introduction to Catholicism comes via his Latina love interest, Carmen. She's a devout Catholic, minding her own business when Stewart "Stu" Long notices her at the grocery store. She initially turns him down, but he persists, going to and eventually joining her church.
Mexican actress Teresa Ruiz ("Narcos: Mexico" and "The Marksman") spoke to POPSUGAR about playing Carmen, her hopes for "Father Stu," and what it reveals about our community. She was initially attracted to the film because of its positive message. She sees a lot of dark scripts and reads the same bad news as the rest of us, so it felt right to use her talents on something that could give light, comfort, and inspiration to audiences, especially now.
Ruiz also appreciates how authentic Carmen is to the story. "It's not a role that was written so that there would be a Latino in a script," she says. Instead, Carmen is based on a real Latina woman who changed the life of the real Stu. And Ruiz plays her like someone she knows. "I see her the way I see my own community, the way I see my mother . . . we are kind, we are generous, we are hard workers . . . but we are also very stern [and] don't let [anyone] get away with anything," Ruiz adds, declaring, "that's who we are as Mexicans [and] Mexican Americans," and I have to agree. I'm sure my fellow Chicanxs know lots of women like Carmen — maybe we are them, or maybe we're descended from them. And it's nice to see them uplifted in this film via this role, which is the rare combination of imperfect, pious, and sexy. Like so many of our tias but so few Latinas on screen.
I don't want to oversell the sexy bit, though; "Father Stu" is a pretty Catholic film, and you should know that going in. In addition to Wahlberg and Ruiz, Mel Gibson stars, and his current partner, Rosalind Ross, wrote and directed the film. And if that doesn't make it clear how religious it is, know that it's primarily about how one man finds his purpose in the Church after drifting aimlessly for most of his life.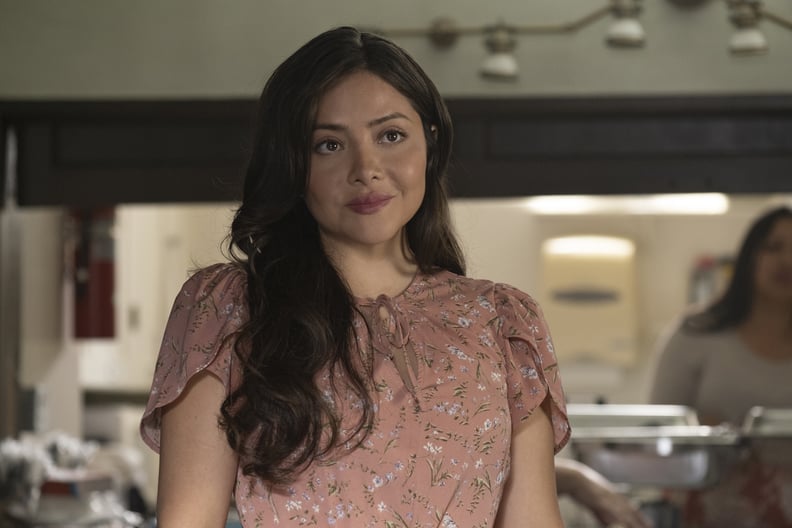 But as those of us with experience with the Catholic community know, having faith doesn't make you a humorless, obedient saint. Indeed, "Father Stu" has lots of funny moments, particularly in the first act when our titular hero is trying to transition from boxing to acting. He moves to Los Angeles, thinking his moxie and charm will make it easy for him to become a star. The furthest he gets, though, is a mop commercial.
And as Stu finds religion, he doesn't completely transform. He uses his street smarts during his parish duties, connecting with incarcerated men in ways his more sheltered, traditional peers cannot. And he doesn't and cannot pretend that the institution he ascribes to be a part of is perfect. When Stu, now in seminary, is diagnosed with a rare degenerative disease, the monsignor informs him he cannot be ordained. The Church doesn't want to take responsibility for his care. Stu calls out the hypocrisy of the followers of Christ refusing to aid "a cripple," but there's nothing he can do. He has fought hard to achieve his vocation, convincing so many skeptics, including himself, that he should be a priest, and now he must put a pause on his ambition, leaving it in the hands of God, as some might say.
But as the title of the film implies and as is clear from the very beginning, the Church changes its tune, and Stu is allowed to serve as a priest until he dies, doing a lot of good along the way. For her part, Ruiz is moved by how the film portrays vocation. It's a loaded term and one she defines as "this thing you have in your heart that you're born with. Something that whispers to you what you want to do."
Father Stu had such a "strong vocation [that] nobody could take it away," Ruiz says. She wants more of us to be that way. She believes that "if we could listen to that little voice in our hearts and then follow it with faith, then the world could become a place where everyone is happy and doing what they're put on the earth to do."