We Need More Central American Representation in Publishing
The Publishing World's Lack of Central American Representation Ends With Me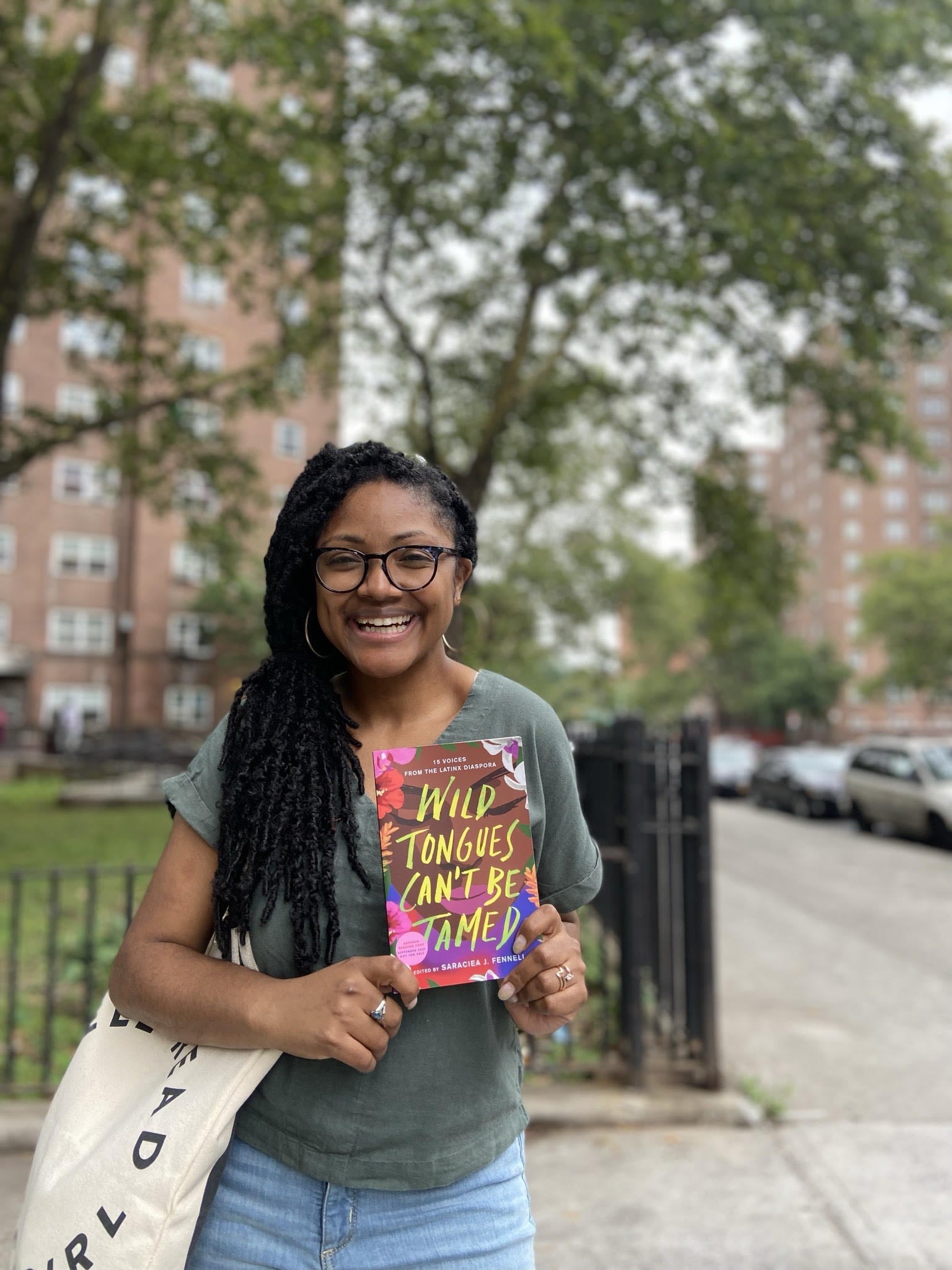 We need to talk about the lack of Honduran American and Central American representation in television, film, beauty, mainstream media, and especially publishing. Hondurans are the eighth largest population of Hispanics living in the US, according to the Pew Research Center — a fact that isn't adequately reflected in media and books. Furthermore, the publishing industry remains predominately white, according to the Publisher's Weekly 2019 Industry Salary Survey: Caucasians make up 84 percent of the industry, while Hispanics — unfortunately and unsurprisingly — make up just three percent. With the industry so hobbled by lack of diversity, it's no wonder books continue to lack representation from communities like my own.
Growing up in the '90s and early '00s, the only Central American representation I ever saw exclusively featured the Mexican community. Everyone else just flew under the radar and likely got slotted into other communities. Take Panamanian actress Tatyana Ali, who played Ashley Banks on The Fresh Prince of Bel-Air. I was obsessed with her as a kid, but I had no clue she was Central American — she was only covered by Black media, and there was never any mention of her Latinx roots.
Later, as a teen, I discovered Honduran American actress America Ferrera on the big screen in Real Women Have Curves, directed by Patricia Cardoso, a Colombian American woman. It was my first time seeing Honduran representation, and I desperately wanted more. Naturally, I began following Ferrera's career and watched almost everything she's acted in — The Sisterhood of the Traveling Pants, Ugly Betty, Our Family Wedding, and more. I've noticed, however, that she's had very few opportunities to play Honduran roles on screen. That's why her Honduran American character on Superstore, Amy Sosa, meant so much to me. Even though her identity wasn't a major aspect of the show, her character was at least allowed to represent viewers like me. There's a moment in season two when Amy mentions that she's Honduran, not Mexican. This might seem like a small throwaway line to non-Hondurans, but for those of us in the community, it means seeing a stereotype often cast on non-Black Hondurans finally being addressed. Once again, I found myself wondering about the continual lack of representation Central Americans face.
Eventually, I found myself looking for representation in other forms of media. While I didn't find much as a teen, I was able to discover more as an adult, thanks to social media. We finally have more Central American actors and media personalities, such as Oscar Isaac (Guatemalan), Colman Domingo (Guatemalan and Belizean), Francia Raisa (Honduran Mexican), Rocsi Diaz (Honduran), and Skai Jackson (Honduran). But there's still work to be done when it comes to representation — especially in publishing.
When I got my start in publishing a decade ago, I was the only Honduran in my workplace — a bright-eyed recent college graduate searching for community within a very white corporate space. My white colleagues didn't understand this desire; to them, I was just another Black woman in the office. While I connected with several other people of color, including other Black, Latin American, and Caribbean folks, I still felt lonely. Workplace racism and microaggressions didn't make acclimating to the industry any easier. I forced myself to focus on the job and promote the amazing books I was working on. One of the perks of publishing is access to various genres of books, from delightful picture books and young-adult fantasy novels to literary fiction and celebrity-driven nonfiction penned by writers from all walks of life.
I've read amazing books by some of my favorite authors, but I've never had the opportunity to work on a book written by a Honduran or Central American writer who isn't Mexican. The publishing industry has faced widespread criticism for lack of diversity both in the workplace and in the books being published. In 2020 and 2021, the publishing industry underwent a racial and equity reckoning as readers, writers, and employees banded together to call on publishers to do better. From the American Dirt controversy and #PublishingPaidMe in early 2020 to Latinx in Publishing and People of Color of Publishing releasing their Workplace Racism Survey "gauging the extent to which BIPOC book publishing employees experienced racism in the workplace," the need for nonwhite industry representation is clearer than ever.
While we've seen an increase in books by Latinx writers, we're still sorely lacking in Honduran and Central American representation. "Publishing's lack of Honduran representation absolutely stems from the fact that the industry and its gatekeepers love to define what authentic rep is and what countries fit within their parameters of what being Latine or Latine American is," Shelly Romero, lead editor at CAKE Creative, tells POPSUGAR. "Latine representation is still in the low single digits [when it comes to children's literature], but Mexican and Cuban authors still tend to dominate, in my opinion. We've slowly seen more Dominican, Puerto Rican, and Haitian creators, but those numbers are still abysmal."
According to NPR, Hondurans represent the largest nationality crossing the southern US border. "Yet it is so discouraging to rarely see calls for Central American rep and to see Honduran creators be dismissed," Romero says. "I was very grateful that before I left Scholastic, I got to coacquire Roy G. Guzmán's debut YA memoir-in-verse, because their poetry collection Catrachos was truly the first time I ever felt represented on the page."
After years of working in the industry, I've finally connected with other book workers of Honduran and Central American descent who are fighting from the inside to help expand the Latinx canon. Take Andrea Morales, a Guatemalan bookstagrammer influencer who works at Macmillan as a junior contracts associate. "I've found that when we have recurring conversations about the lack of Latinx representation in the media, Central Americans are often unacknowledged," Morales tells POPSUGAR. "Though we are here advocating for the amplification of our voices, we rarely see opportunities go to Central Americans to tell our stories or be given a chance to widen the scope of the Latinx experience. In publishing, I can't say we've made much progress in Latinx representation until we see more people in the industry from Central American backgrounds, as writers with book deals and professionals. But right now, in 2022, years after these conversations first started, it still feels like publishers haven't the capability to address this concern and commit to undoing this erasure."
As we kick off this new year, I hope publishers will begin to expand the scope of their acquisitions and aggressively pursue underrepresented voices from the Honduran and Central American writer communities. Editors and agents always say, "These writers don't exist" or "We don't know where to find them," but I know that's not true. That's one of the many reasons I decided to edit the nonfiction anthology Wild Tongues Can't Be Tamed: 15 Voices From the Latinx Diaspora. By bringing together a wonderful group of writers — including myself, Janel Martinez (Honduran Garifuna), Mark Oshiro (Central American), and Kahlil Haywood (Panamanian) — the book aims to center Central American writers and prove that we exist, that our stories are valid, and that there's always room for more representation.
Sure, publishers have had open calls — but most of the language they include in those open calls are for "underrepresented voices," which include so many different communities (BIPOC, LGBTQ+, etc.). I would love to see a call dedicated to Central Americans, with an emphasis on underrepresented voices — I guarantee you those writers will show up. I would also call on other Latinx writers to be more vocal about lack of diversity with regard to experiences and culture in Latinx literature for all ages. When we talk about wanting more of these books and stories, it's important that we don't leave those who are continually underserved (Black, Indigenous, queer, etc.) behind.
We also desperately need more Latinx editors and book workers in the publishing industry. Publishers are the curators of the books that readers consume, and it's important that the people working on these stories reflect the real world. We are experiencing a special moment in publishing, as many companies have become open to remote interns and workers as a result of the pandemic. While this has opened doors for many, there is so much more that can be done. I would recommend that more publishers — especially major players like Penguin Random House, HarperCollins, and Hachette — create fellowships and initiatives like the Latinx in Publishing Fellowship Program. The possibilities are endless — as long as publishers are willing to partner with organizations that serve these underrepresented communities.
Image Source: Saraciea J Fennell