Why Bad Bunny's 2021 Latin Grammys Nominations Matter Today
Bad Bunny Is Nominated For 4 Latin Grammys This Year – Here's Why This Matters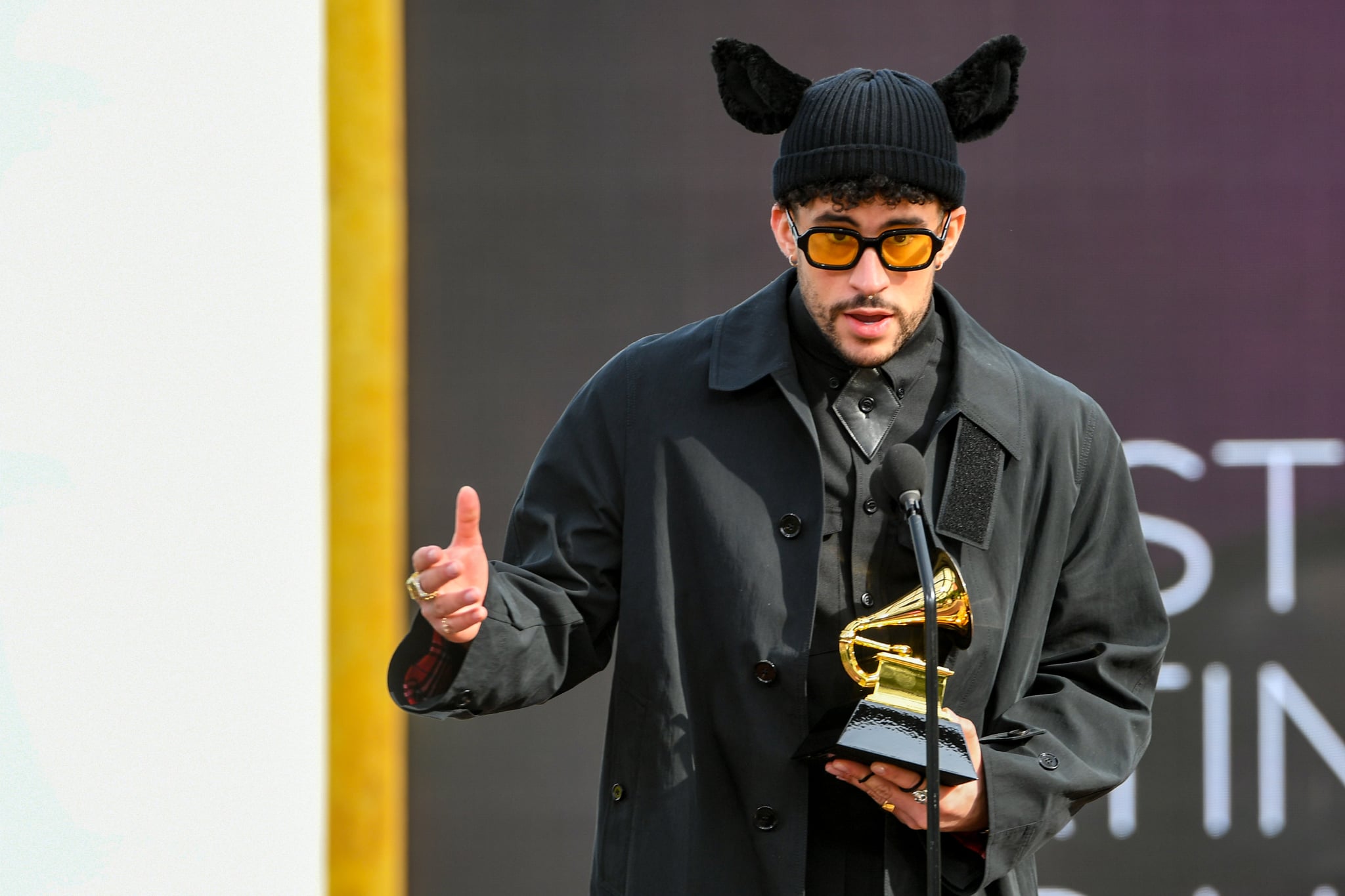 At the onset of a global pandemic in February 2020, Bad Bunny — né Benito Antonio Martínez Ocasio — released his second studio album, YHLQMDLG, an acronym that would spell out his definitive musical ethos and life mantra: "Yo Hago Lo Que Me Da La Gana," which translates to "I do what I want." The follow up to X 100pre not only earned him a coveted gramophone for Best Latin Pop or Urban Album at the 63rd Annual Grammy Awards, it served as a precursor for a body of work that would forever set Bad Bunny apart from his reggaeton contemporaries.
In that same year, in spite of a fast-spreading virus, El Conjeo Malo performed at the Super Bowl LIV halftime show alongside pop empresses Shakira and Jennifer Lopez; became the first so-called urban Latin male music artist to cover Rolling Stone (the first cover to be written and shot exclusively by Latinas); dropped a surprise compilation album Las Que No Iban a Salir (an emo play on words for "the songs that weren't coming out" and his state of being holed up at home during lockdown); and then released his third solo LP, El Último Tour Del Mundo, the first all-Spanish-language album to top the US Billboard 200.
Benito's history-making record is getting ready to compete for the top awards at this year's Latin Grammys (Nov. 18), earning not one but four nominations in the categories of album of the year, best urban music album, best rap/hip hop song, and best urban song. Not too shabby for Tito y Lysaurie's bobito, who was still bagging groceries in Puerto Rico in 2016.
The greater takeaway, however, is one that bears repeating time and again: this Boricua from Vega Baja, in just a handful of years, is helping collapse reggaetón's ancient heteronormativity. With his LGBTQ+ friendly politics, eccentric fashion, and temperamental trap productions, Bad Bunny continues to challenge the genre's deep-rooted musical stylings and its associated misogyny and homophobia.
What's more? Bad Bunny went from SoundCloud rapper to one of the most streamed artists on the planet without any major label backing and all while rapping almost exclusively in Spanish. Cranking out hit records with the likes of hip-hop royalty Drake and Cardi B, and performing at some of our nation's biggest arenas, the 27-year-old remarkably demanded the world to cross over to him.
And, in the words of Drake himself, they don't have no award for that.
Image Source: Getty Images/Kevin Winter