Exactly What to Expect on the Most Popular Dating Apps of 2023
If you are "on the apps" like I am, then you've probably grown accustomed to many of the usual trends — ghosting, catfishing, and even "OnlyPlans," Plenty of Fish's newly coined term that refers to plans repeatedly never coming to fruition. Personally, I can't tell you how many photos I've swiped through featuring men proudly holding a freshly caught fish or "I'll fall for you" prompts that are finished with "if you trip me." It all starts to feel pretty tired after a while. But sometimes dating apps do lead to positive — or at least interesting — experiences that aren't so run-of-the-mill. For example, my best friend swiftly swiped right on a Tinder profile advertising a free front-row ticket to an NYC Paramore concert and ended up at the show that same evening. The dude had flown in from Charlotte, NC, and was seeking a one-night-only-style date with zero expectations, save for full appreciation of Hayley Williams's vocals. But what if she wanted more than that . . . say, a lasting connection without an expiration date? How should she know which dating app is most useful for building a relationship with the type of person she's looking for? How should any of us know?
That's exactly why I began testing the waters, signing myself up for as many apps as I could to get a feel for each one. From taking notes about benefits only available to premium users (aka those who pay to upgrade for a weekly, monthly, or yearly fee) to analyzing my encounters in an effort to come up with a list of pros and cons, I've learned the ins and outs of nine different dating apps that are popular right now. Of course, there are more than nine, and I'm not on Feeld, Lex, Chispa, or HER, so I conducted interviews with current users to write thorough reviews of those apps.
My research has led me to determine which platforms are best for developing long-term relationships, exploring sexuality, and finding quick hookups or even "situationships" (Tinder reported it "saw a 49% increase in members adding the phrase to their bios" in 2022). Some dating apps, like Clover and Plenty of Fish, offer a live-stream feature, where you can connect with new singles instantly, as a nontraditional way of getting to know each other. There are also apps that value stances on social and political issues, with Chispa designing profile badges to help people express their opinions; Tinder reported that activism and voting rights as interests both increased (84 percent and 37 percent, respectively) in 2022.
Ahead, I'm breaking down the basics of each app so you know which one(s) to sign up for, whether it's worth an optional payment plan, and what your profile just might reel in. Thankfully, no actual fish. At least not yet.
01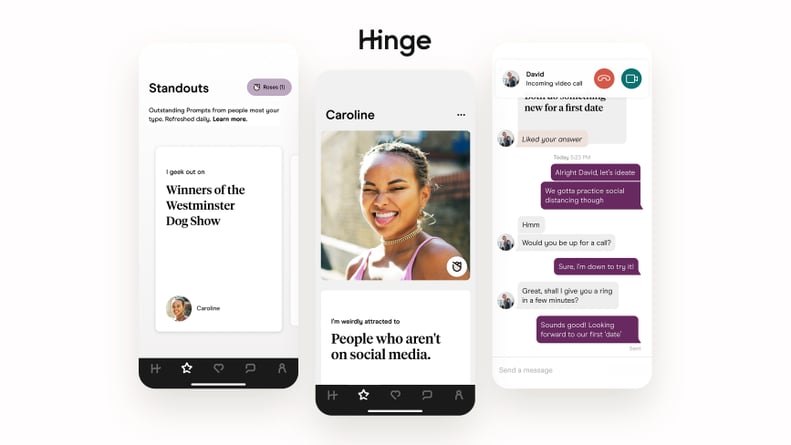 Best Dating Apps: Hinge
Purpose: Launched in 2012, Hinge was the first app to roll out prompts, which allow users to get personal by liking people who are funny and interesting to them, rather than swiping left or right based on photos alone. It's known as the app that's "designed to be deleted," meaning the goal is to find love or a relationship. It's currently the only dating app that assesses how successful users' dates were by following up with a survey that leads to better recommendations. Hinge is setting up a date every three seconds, according to data provided to POPSUGAR by a representative.
Pros: Hinge allows you to send roses, which are viewed as a premium "like," and convey a greater level of interest. Now, you can add voice prompts to your profile (to be honest, listening to a certain someone's sexy narration of a crispy brussels sprouts encounter is what got me to "like" him instantly), as well as voice notes while messaging. You can also showcase your personality through fun features on your profile such as polls and videos. On all other apps (except for OkCupid), you have to upgrade to a premium membership to go back and reverse your decision on a previously viewed profile. But on Hinge, this is a free tool to utilize. Upgrading also allows you to receive a larger standout batch each day (potential partners who are receiving the most likes in your area). I also love that you can swipe in any location, no matter where you are in the world.
Cons: Upgrading to a preferred profile, which costs $35 for a month, does have its limitations, and the perks are a bit underwhelming (i.e., you can set your preferences regarding height, family plans, drugs, politics, and education level, whereas you can't specify these details with a free account). If you opt for the free membership, you are limited to sending out eight likes a day.
02
Best Dating Apps: Bumble
Purpose: From the minds of previous Tinder executives comes Bumble, launched in 2014, which challenges outdated heterosexual norms by allowing women to make the first move. Bumble also offers many inclusive gender options, and now, when two users of the same gender match, either party can message first. Nonbinary users are also able to message people who identify as women first. Bumble lets users swipe right to approve and left to decline. If two users mutually swipe each other right, they are allowed to chat, but here's the kicker: they only have 24 hours to do so before the connection disappears.
Pros: When you upgrade to a premium membership ($40/month), you can see whether someone has already liked or super-swiped you as you scroll through potential matches. Also, your desired specifications stay locked even when you exit the app, so you don't have to reenter them the next time you want to browse.
Cons: You have to upgrade in order to go back and return to a previous profile, which isn't great if you made a mistake while you're under a free subscription (though you may end up swiping past the person again once you run out of contenders). While some people fill out their profile to full capacity, this app doesn't encourage you to showcase your personality like Hinge does, and you'll definitely come across a few people who just post a few photos without any text. While it's great that you can see "new" likes with a premium membership, they aren't sorted by chronological order, so you can't be sure who was your most recent interest.
03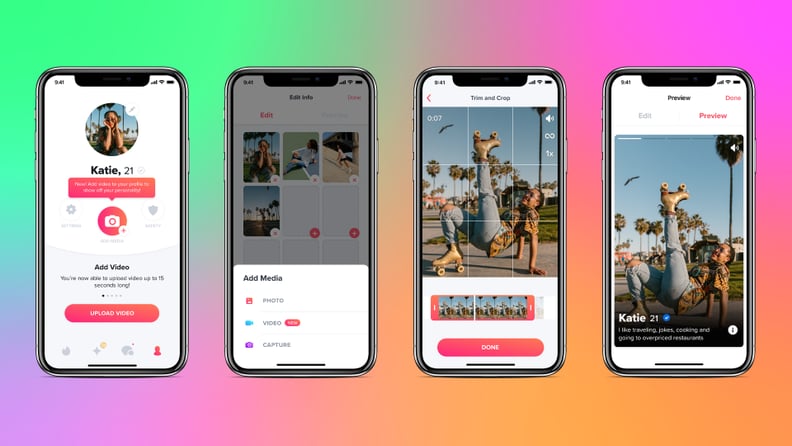 Best Dating Apps: Tinder
Purpose: Tinder, released in 2012, is one of several top free dating apps that allow you to swipe right and left to secure a potential match. No matter your sexual orientation or gender identity, you can specify what you're looking for when you "match, chat, and date," which is the app's mantra. If you decide to upgrade, you can choose between Tinder Plus ($8/month), Tinder Gold ($25/month), and Tinder Platinum ($30/month), allowing you to unlock various features. Tinder has gradually become known for easy matching but less for connecting with people seeking long-term relationships.
Pros: New features allow for verification of profiles to avoid catfishing (a blue checkmark confirms that the user took a selfie in real time to match with the other photos on their profile) and specifying relationship goals to make sure both parties are on the same page. You can send and receive swipe notes, which are extra little compliments that suggest strong interest in someone. When you upgrade to Gold or Platinum, you receive "top picks" that are selected based on your specifications and the person's popularity on the app. You can also whittle through your batch of matches and narrow them down by traits and interests.
Cons: Like most apps, you have to upgrade your membership in order to reverse a decision on someone. In my personal experience, Tinder is also used to plan more casual meetups, rather than involved date nights, which could be disappointing to someone looking for more. However, most people are upfront and honest about their intentions.
04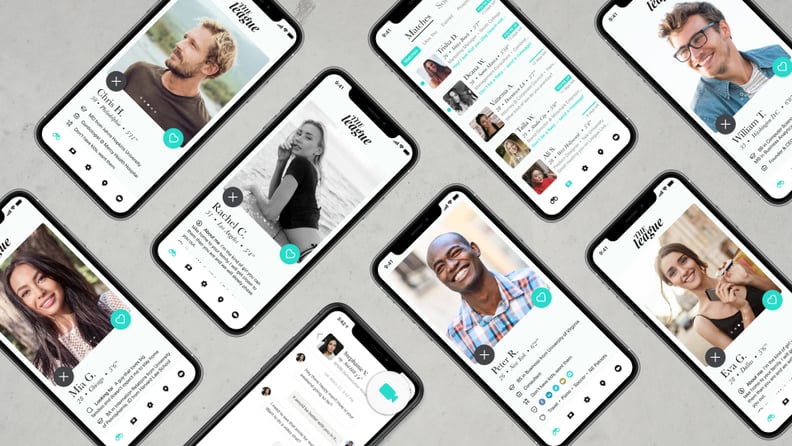 Best Dating Apps: The League
Purpose: For the tenacious lover who is constantly on the climb, The League (launched by Amanda Bradford in 2014) is an app centered on one of its core values: status. By vetting candidates before allowing them on the platform (LinkedIn must first confirm their job title), The League works well for those on a mission to find love because it's almost like old-fashioned matchmaking. The League serves up just a few profiles to run through each day, handing users a veritable checklist they'll be able to happily complete regularly. While the free Guest membership starts you with three candidates every day at 5 p.m., or "happy hour," you receive more as you upgrade to Member ($300/month), Owner ($400/month), and Investor ($1,000/month). Most popular usage cities include NYC, SF, and LA.
Pros: The app promotes higher education and career ambition first and foremost. After you sort through your daily picks, you are also presented with nearby event links that other users are attending and social interest groups you can join on the app. The free concierge service connects you to a real person named Connor, whom you can tap if you have any questions about app technicalities or dating in general. The League also stands out in that there are three-minute video dates every Sunday at 8 p.m., where you can opt in to be automatically connected to one of your matches for a virtual call. When you upgrade to the Owner tier, it's one of the only apps that allows you to scout multiple cities at once, and you'll also be able to see if someone you're checking out liked you first. If you enjoy the feeling of exclusivity, this app is for you.
Cons: Unless you automatically opt in for a premium membership, you have to go through a waitlist process before you can join. Upgrading to the Member tier only grants you two more prospects a day, which is a bit disappointing. If you're going to pay for a subscription, you'd likely want to see at least seven daily prospects, but the Investor level — which also allows you to browse through likes you've received even before 5 p.m. — feels extremely expensive when compared to other dating apps at $1,000/month. I tried "boosting" my profile for tickets (which you have to collect over time) but only received five to seven more likes than usual the following day. I also feel that, when compared to Hinge, the dating pool is not as stimulating as the hype suggests.
05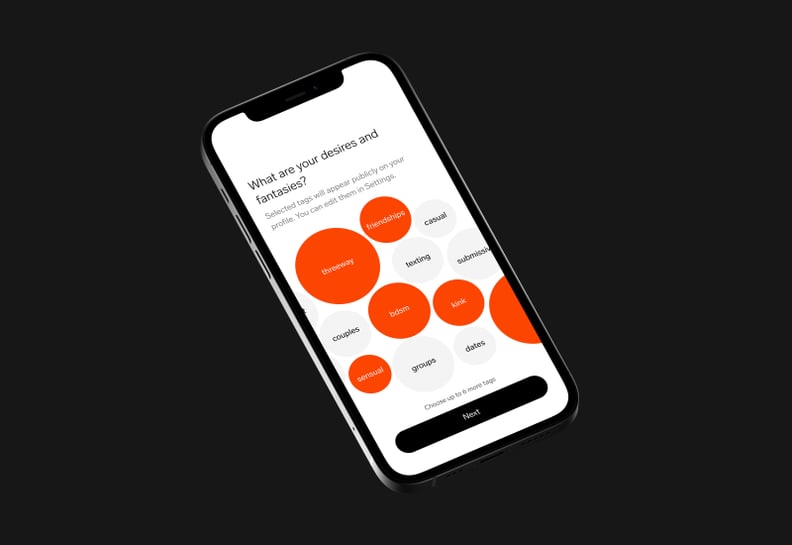 Best Dating Apps: Feeld
Purpose: Feeld (think playing the "field" with your "feelings") is the dating app breeding inclusivity, diversity of behavior, and, most importantly, healthy and open conversation about sex and sexual identity. (There are 20-plus sexual identities to choose from.) Anyone who is versatile, curious, and expressive will thrive on Feeld and connect to its mission to normalize conversations around sexuality. Feeld is built upon the notion that nothing is less predictable or binary than human desire, meaning this app is all about bringing kindness and receptivity to the table. The Majestic membership ($12/month) allows you to add private photos only visible to your pre-established connections, and you can also browse through people who already liked you.
Pros: One anonymous heteroflexible woman from Surrey, England, tells POPSUGAR that she has had a lot fewer ghosting experiences using Feeld than on other apps, specifically because it encourages transparency. Another user, Lily Primamore, likes that people show up to communicate honest wants, desires, and needs right off the bat. The app allows you to change your specifications whenever you want, whether you're looking for women, men, or even couples. "I am happily married and have been polyamorous with my husband for about a year," Primamore tells POPSUGAR. "Without Feeld, neither of us would've been able to explore our sexuality further or pursue this type of lifestyle. I've had the chance to explore my queerness, define my boundaries, and enjoy dating with my partner, too. I love seeing him enjoy himself and have great connections as well, which I never thought was possible."
Cons: Users report that this app can be glitchy, especially over the messaging platform. Some people have experienced unexplained deleted profiles as well. Primamore also wishes there was room to add more detail to the shared-interest section. "I love art, so I'd probably be interested in meeting others that do as well. If there was a way to specify that a bit more, it may help," she said.
06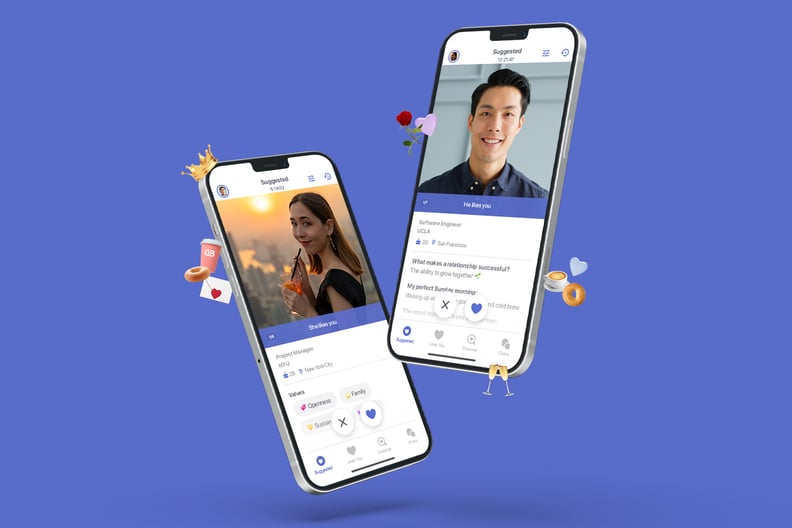 Best Dating Apps: Coffee Meets Bagel
Purpose: The founders of Coffee Meets Bagel famously turned down a record-setting offer for their dating app on ABC's "Shark Tank" because they were determined to make it on their own. Now, the trio are celebrating success with an app soaring in popularity for offering a unique experience for singles everywhere, where 91 percent of users are looking for a serious relationship. The site boasts that it's "designed for singles who want to find something real with little or no effort." Every day at noon, you receive a batch of free matches personalized to your taste.
Pros: On top of the "bagels" (or matches) you receive at noon, you can also perform searches on the discover page, which even allow you to select from users who were active in the last 72 hours, so you know they check the app. The Activity Report at the bottom of each user's profile is unique in that it sheds light on their response time and communication with current matches. The seven-day chat limit also encourages face-to-face connection with a virtual or in-person date, with the goal being to prevent ghosting.
Cons: You can't swipe "left" on someone in a free search, so you might have to sift through their profile again later. You have to upgrade to Premium ($20-$35/month) in order to see people who liked you first and undo your passes. Some people who are used to swiping on Tinder and Hinge may not like that you have to actually press a button in order to match or pass, which can slightly slow the process. Personally, I tend to find fewer people I'm interested in on CMB than other apps.
07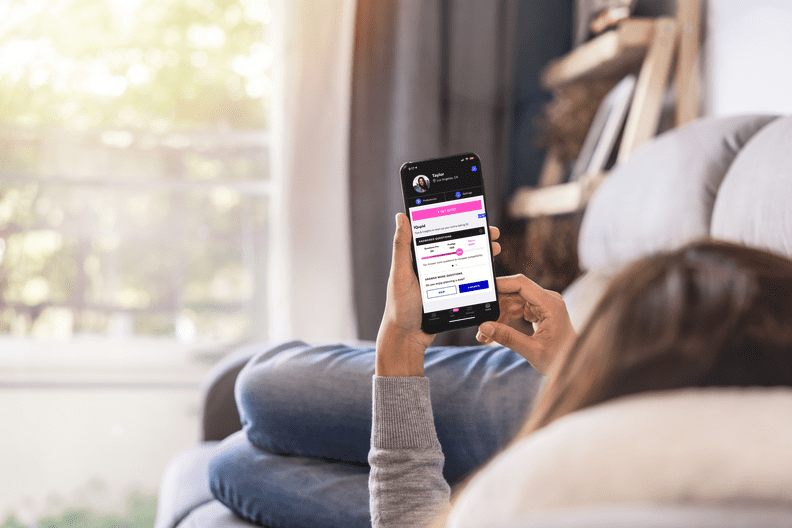 Best Dating Apps: OkCupid
Purpose: OkCupid boasts a "one-of-a-kind algorithm [that] matches you on what actually matters," meaning you'll find potential matches that are here to do more than just hook up. The more prompts you answer about yourself, the better your "dating IQ," leading the app to help you discover people with whom you have a higher match percentage. You can even discover this stack of people on your main page, where you can also sort by SuperLikes, Cupid's Picks, new users, popular users, and those who are nearby. "Intros" allow you to go the extra mile by starting a conversation, rather than just liking someone to express general interest.
Pros: It only costs $10/month to upgrade to a premium package, which is more affordable than other platforms. The app allows you to sort by those who like you, those who wrote you a note, and those whom you already liked. I also love how the interface looks sort of like Instagram, with circular "stacks" of people on your discover page that are catered to your own profile and interests. The Match % stack, specifically, improves in quality as you answer private in-app prompts, which are thought provoking and even promote self-growth. Through these, you can decide how you hope your potential partner feels about certain topics and social issues, then determine how much you value the issue. All of this information helps the app cater to your Match % more effectively. Finally, you can reverse your last action on this app without paying for the upgrade.
Cons: While I love the features of OkCupid, the people included in my Match % stack are not exactly what I'm looking for and more disappointing than I had hoped. Ultimately, I find that I match with people I am more excited about on apps like Hinge and Bumble. If anything, I wish more selective dating apps like The League incorporated some of OkCupid's advanced tech and tools.
08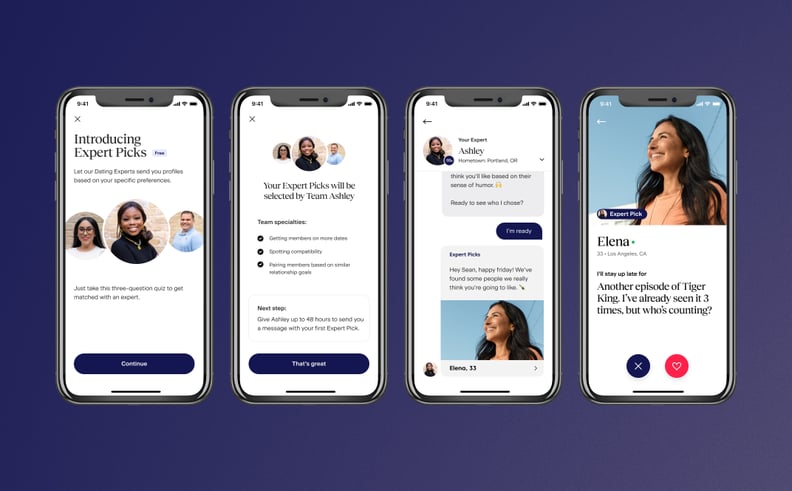 Best Dating Apps: Match
Purpose: Founded in 1995 by Gary Kremen, Match is catered toward emotionally mature adults who are searching for love. Since it's been around for 27 years, it's responsible for millions of love stories, and top cities for users include New York, LA, Chicago, Houston, Phoenix, SF, and Philadelphia, according to a representative who spoke to POPSUGAR. There is an in-app virtual-call feature, as well as custom searches for free users and a page where you can find local in-person social events.
Pros: Unlike other dating platforms, you can reach out to message someone who hasn't liked you yet. This is called an "intro," rather than a straightforward like. Members can also include up to 26 photos, which is a lot. Upgrading to a Premium membership ($23/month) allows you to see not only who liked you but also at what time they interacted with your profile. Creepy or convenient? You decide.
Cons: This is another app that doesn't have the "swipe" feature like Tinder or Bumble, which can feel unfamiliar. Instead, you either click on an X or a heart. It is also definitely catered to an older crowd, so if you're younger and looking for casual dating, it will feel limiting.
09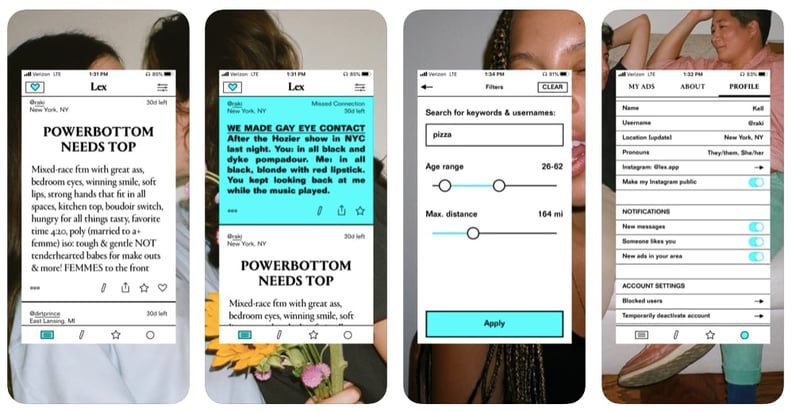 Best Dating Apps: Lex
Purpose: Lex, a queer dating app that launched in November 2019, is taking superficiality head-on by making its network completely text based. The app started with @personals, an Instagram page where people could post old-school personal ads. It was live for two years, and after seeing its success, the founder, Kell Rakowski, decided to turn it into its own app. Lex's personal statement welcomes you to the app when you first download it, reiterating that it's a space for queer people to find love and friends. You fill out personal information, including your pronouns, and then you can start browsing.
Pros: In addition to personal ads, there are also "missed connections" you can browse. You can also use the app to explore local LGBTQ+ events and groups of people with shared interests in your area. The app also offers unlimited scrolling and allows you to filter people based on likes and dislikes.
Cons: At first, the lo-fi design and the complete lack of pictures does throw you off. The connections built on this app are meant to be authentic and intimate since it takes a words-only approach. However, it can be a nice change of pace to switch things up and try something new, in contrast to apps that put a lot of emphasis on pictures.
10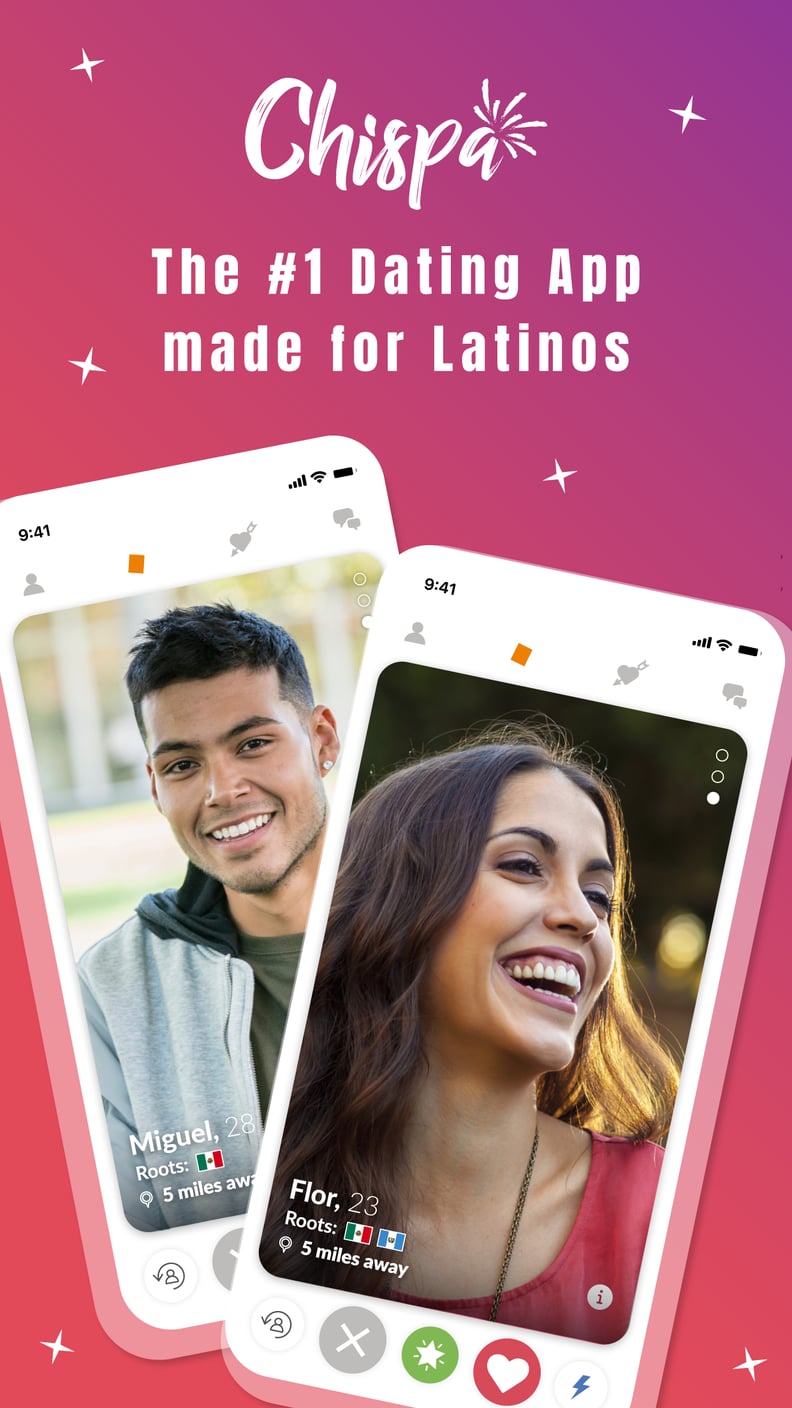 Best Dating Apps: Chispa
Purpose: Chispa is the largest dating app made for Latinxs in the US, with more than seven million downloads to date, according to a spokesperson for the brand. Available in English and Spanish, the programming is inspired by Latinx culture and has a goal of connecting people who wish to make connections based on background, traditions, and values. An anonymous member told POPSUGAR that finding someone who can speak Spanish is important to her since she has members in her family who don't speak English, and she wants her future partner to be able to communicate with them. For her, Chispa makes this far easier.
Pros: User Tracy Christina is a fan of using the Super Chispa feature, which you can give to someone to convey genuine interest for a $3 add-on. Other members, such as Mariano Pintor, tell POPSUGAR that the sticker options are a favorite profile add-on since they allow people to showcase their heritage, pride, personality, and interests. Pintor also highlights political and social awareness as a plus: "When I signed up for the Chispa dating app, I did not imagine that the benefit would not only be meaningful connections and entertainment, but also learning about civic participation," he said. "I like that Chispa teams up with grassroots political organizations like Voto Latino."
Cons: It does cost money to boost your profile, and the Elite membership ($20/month) is the only way you can see who liked you first and whether they're currently online. An anonymous user also commented that she wishes there were prompts and topics to answer to better shed light on personality.
11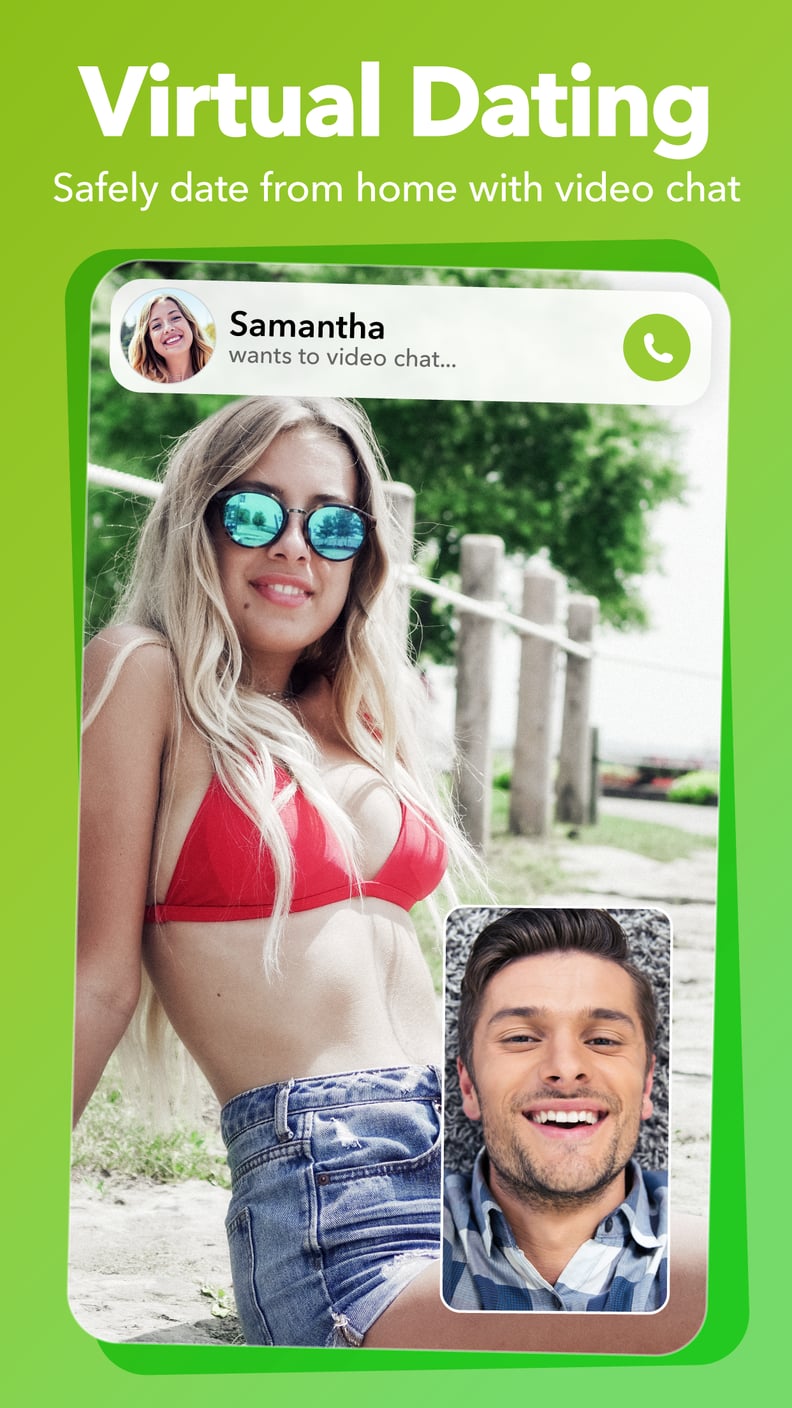 Best Dating Apps: Clover
Purpose: Clover is a live-stream dating app that was founded in 2014 to boost virtual interactions among members. Users can "go live" via a page that will remind you of Chatroulette, and there are plenty of private video options, too. The program encourages you to explore single life with games such as 20 Questions and streaming battles. Live-stream users can even cash out for real money, if their fans like what they see and send them enough "gems" to accumulate cash value.
Pros: If you're looking for instant connection, you can log onto the app and meet people in real time, simply by joining their stream or choosing to video call. You're not limited to your current city, so you can filter through people from around the world based on their interests. If you prefer to date in person, the app even helps you plan dates at local venues. If you feel more comfortable in a group setting, parties, events, and online mixers are available, too. A big bonus is that you can see who liked you without paying for the Premium membership, which costs $20/week.
Cons: Most users are under 30, which can be limiting, and the informal interface tends to feel more like a social media app than an intimate space for building a relationship. There is no one-month Premium option, and specifying age range is actually impossible if you don't purchase the upgrade, which also allows you to sort by height, income, and intention. (Surprisingly, these filters are not available in the free version either.)
12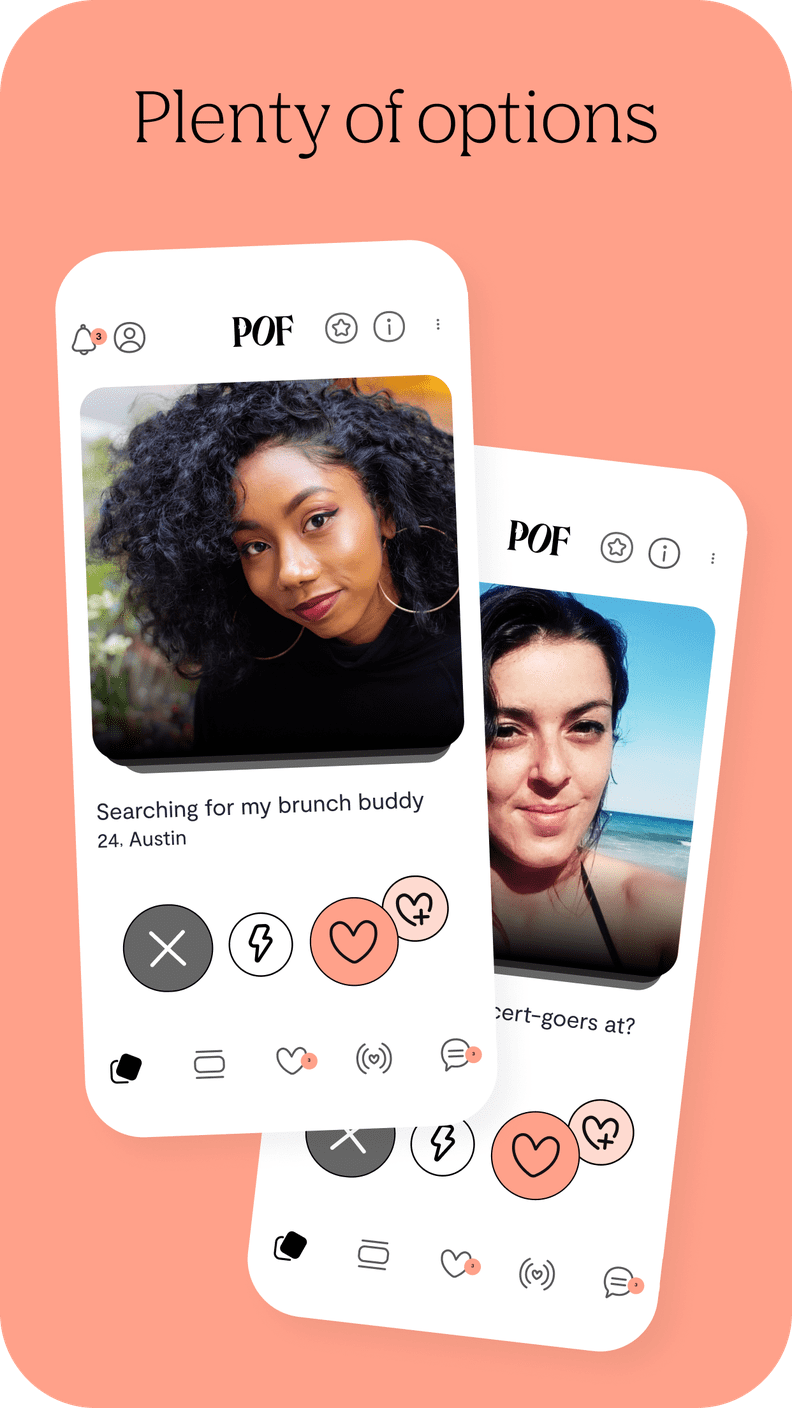 Best Dating Apps: Plenty of Fish
Purpose: Plenty of Fish (founded in 2003) is one of the largest global dating apps owned by parent company Match Group. It is currently the fourth most-downloaded dating app in the US, according to a brand representative who spoke to POPSUGAR. The app is designed to encourage down-to-earth daters to be their authentic selves through low-pressure experiences, one of which includes the new in-app, fill-in-the-blank card game called Cue'd Up. People are able to create their own username to showcase personality, but this can also be beneficial if they prefer a bit more privacy. Members can hang out with singles virtually in real time, just like on Clover, whether they want to record themselves or watch someone else's live stream.
Pros: As soon as you click on someone's profile, you'll be reminded of all your interactions with that person, including whether they liked you or have viewed your profile. With a Premium account ($20/month), you can also search for someone by username, which makes the app stand out from the pack. You can add up to 16 images on your profile, which is more than you'd expect. And there's a great easy-to-digest screen where you can scroll through all the people who have already liked you. It kind of feels like scrolling through the pages of your favorite online clothing retailer, because you don't have to click into every single profile in order to decide you want to pass it by.
Cons: If you don't pay for the upgrade, you'll experience ads while using the app. When you are swiping and decide to click into a profile, it can take a few extra seconds to load, which makes it feel glitchy. I also don't love that, as a free member, you have a limited number of likes to dole out. Even with my specified filters on, I oftentimes feel disappointed by my lack of enthusiasm for potential matches, but maybe this is just because I don't spend enough time on it.
13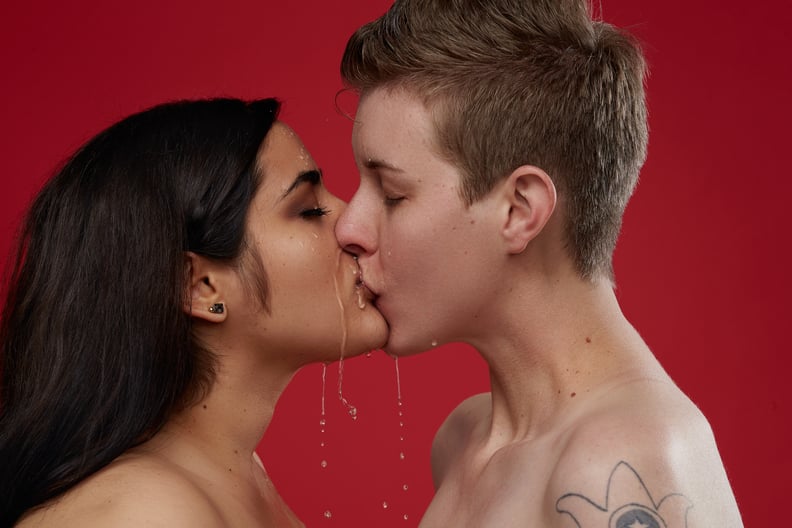 Best Dating Apps: HER
Purpose: HER is a dating app for those who identify as lesbian, queer, bi, nonbinary, trans, and gender nonconforming, and it allows users to match and chat with people from all over the world. It fosters 30-plus in-app community groups for easy connections with other users, and it encourages people to add pronouns, pins, gender and sexual identities, and fun facts to their profiles. Badges, pins, and stickers are additional ways to decorate, which is great for visual learners. "Two friends of mine met someone in the app, and this is reassuring that this app leads to a relationship," an anonymous user tells POPSUGAR.
Pros: HER allows users to send photos in the app, unlike on Tinder. An anonymous user who identifies as a trans lesbian tells POPSUGAR that the app feels safe, which is not true of other apps that don't allow her to filter through straight women. For example, you can search for people who have the same intentions as you do for relationship length, family goals, and lifestyle. Users also report that it has the most options as far as titles, genders, photos, and pronouns go when compared to other queer apps, with one person describing it as educational for the LGBTQ+ community. If you pay for the Premium, ad-free membership ($15/month), you can utilize the incognito feature, which means no one can see you unless you like them first. You can also chat with someone in real time if you see that they're live.
Cons: Unfortunately, you cannot rewind and reverse your decision if you accidentally swipe left. One anonymous user also expressed that they'd like more options to interact within the app, such as live streams, games, or insightful prompts that work as icebreakers.
Familiar with another dating app that should be on this list? Please shoot me an email and let me know.