I Tried the Most Popular Dating Apps — Here Are the Best Ones For Nonbinary People
As a perpetually single 20-something, I have, of course, tried my fair share of dating apps. I've seen the good, the bad, and every imaginable variation of the ubiquitous fish picture (you know the one: a guy proudly posing with a fish he just caught). I've been on good dates, I've been on bad dates, and I've been on dates that fell somewhere in between. But after coming out as nonbinary (meaning I "experience my gender identity and gender expression as falling outside the binary gender categories of 'man' and 'woman,'" per GLAAD's media reference guide), I had a whole new set of questions that I needed to answer.
Which apps would let me include a useful gender description? Do nonbinary-friendly dating apps even exist? Which apps were best for searching and finding people who would be interested in me? Which apps allow me to select "nonbinary" as my gender? And which apps were, in essence, not so nonbinary friendly? Here, to hopefully save you some time and heartache, are my incredibly subjective findings. I give you the most popular dating apps and how they rank on nonbinary friendliness, from least to most friendly. Oh, and I only included apps that are free — you're welcome.

05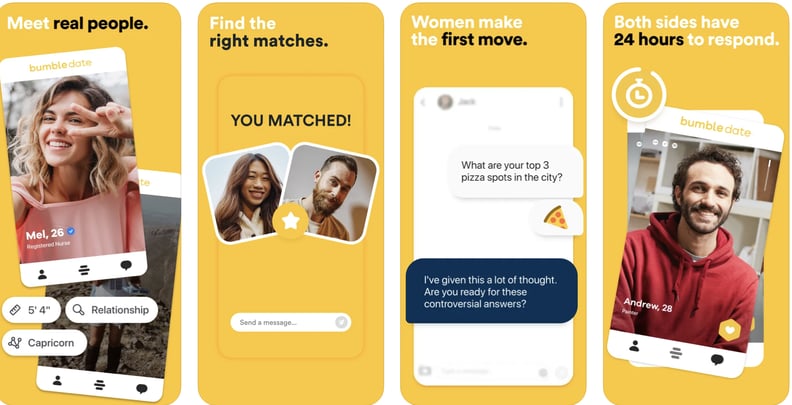 Bumble
Bumble is what I like to call Tinder's slightly less creepy younger sibling. It has a somewhat less raw feeling than Tinder — sort of like Facebook vs. Twitter. On Twitter, everything and anything can happen and usually does, while on Facebook, there's occasionally some sort of veneer.
Bumble poses a structural problem for nonbinary peeps: it's designed on the basis that "women message first." On the surface this seems fine, but what does that mean if you're nonbinary? Generally, it still suggests I message first, which feels disingenuous and starts the whole thing off on an awkward foot. I dislike the predication on a binary system.
04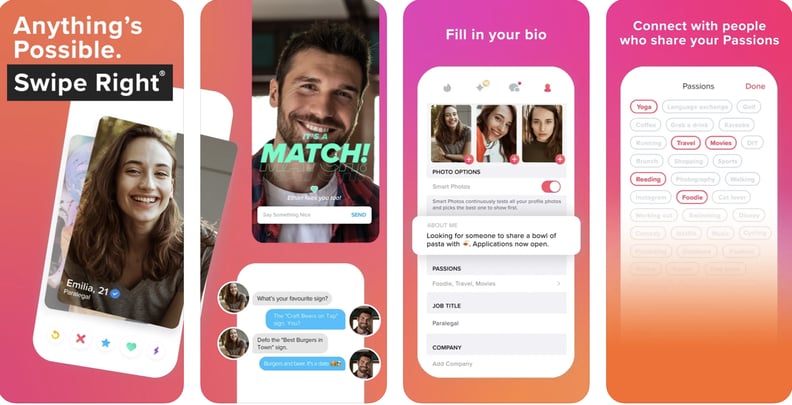 Tinder
Tinder is sometimes a wild ride. You get all sorts of people on this app for better and for worse. My worst experience with someone re: what's my gender was via Tinder, but it had more to do with the individual than the system itself. Tinder has at least updated its gender definitions to a wider range, but you still have to select male, female, or "everyone," in what searches you appear in. This sort of defeats the purpose, but with some savvy typing, and a great bio, you can mostly get around it.
03
Her
With a name like "Her," it's kind of a long shot as far as being nonbinary friendly. That said, users do have a wide range of gender definitions, pronouns, and "looking for" options to choose from, which is a plus. The app also has more than 10+ million people on it, so you have quite a selection of dating-app profiles to sift through. If you can get past the name and you're looking for someone on the queer-femme spectrum, Her is a really good option.
02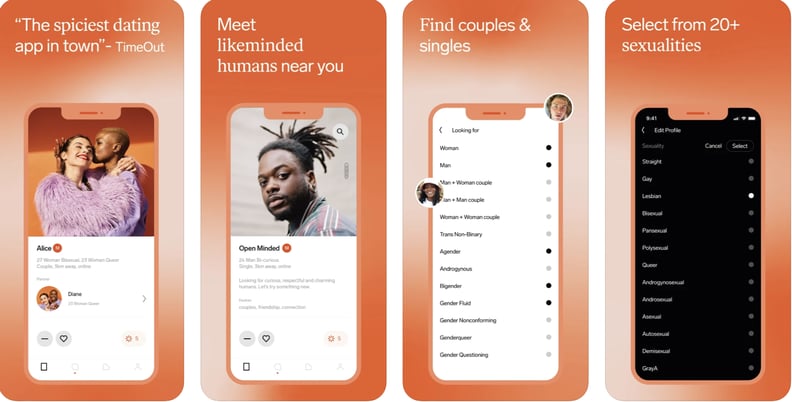 Feeld
After finding out about Feeld, I immediately downloaded it and was pleasantly surprised by how easy it is to use. It calls itself "a sex-positive space for humans looking to explore dating beyond the norm," so it's likely pretty great for non-monogamous folks, too. Similarly to the other mainstream dating apps, your profile can include photos of yourself, a bio, and you can specify your "interests" and "desires." The app also has a useful filter option to which you can filter out couples or specific genders. Personally, I don't feel pigeonholed or off-put by any of the options, and I'm excited by how upfront you can be about gender.
01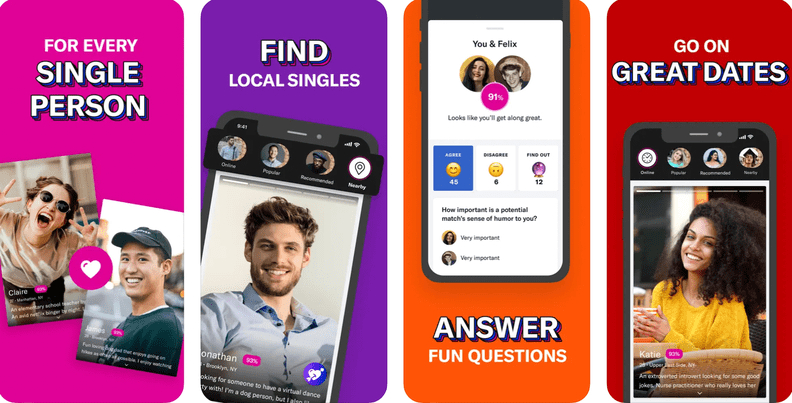 OkCupid
We all knew it was coming. OkCupid is hands-down the best dating app for nonbinos. Not only does it have the widest range of possible definitions, but it also has great questions to help weed out potential transphobes, like "Do you think homosexuality is a sin?" and "Which best describes your political beliefs?" Not to mention the button you can magically press that says "I don't want to see or be seen by straight people." I once saw this as a t-shirt and nearly lost it on the spot. OkCupid is a clear winner for me, and hopefully for many other people as well.