My Backyard Wedding Cost $1,500, and It Was Beautiful
My Wedding Only Cost $1,500, and It Was the Best Day Ever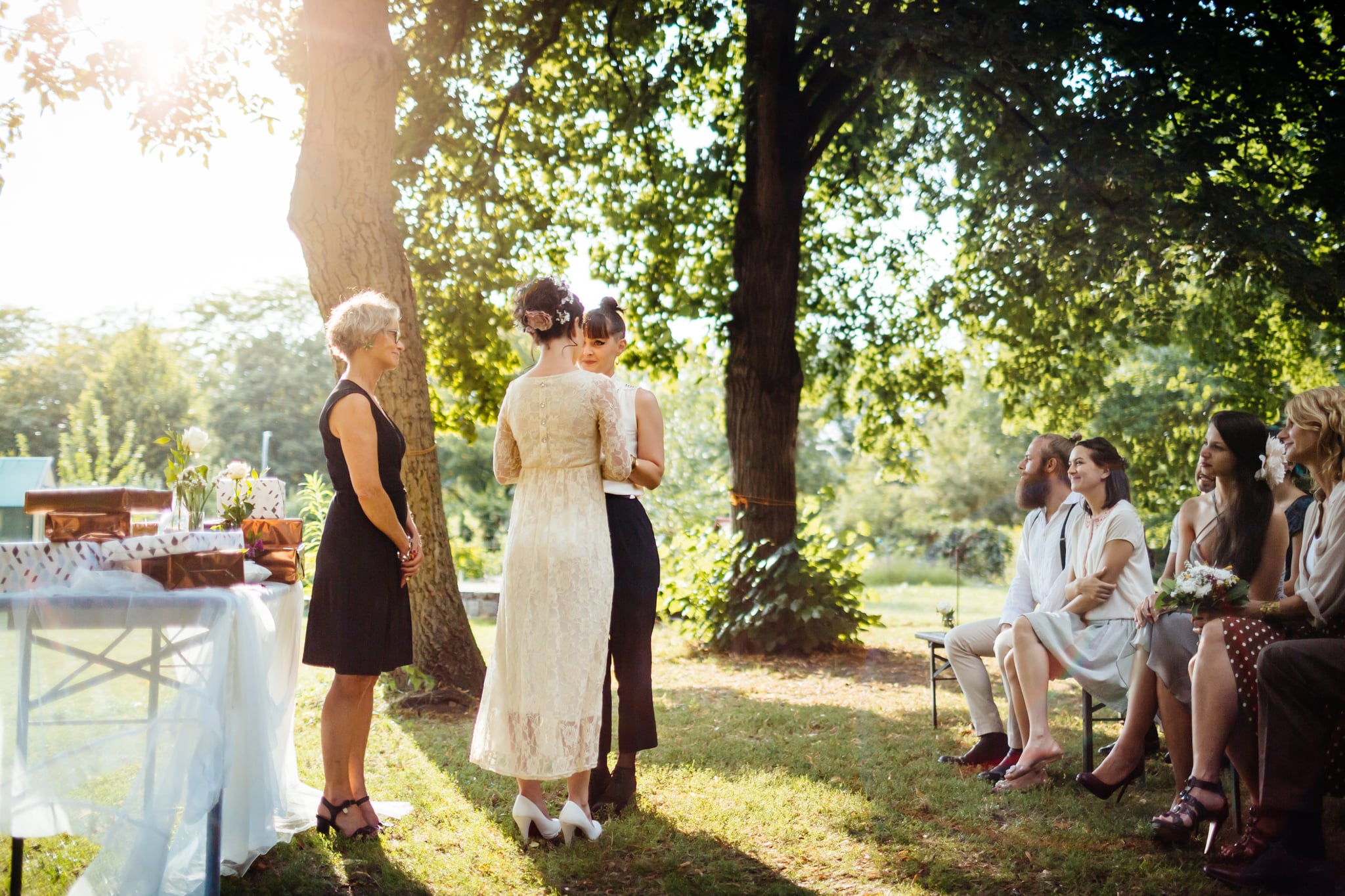 When most people think about weddings, images of expensive food, fancy locations, and flowers usually come to mind. And for good reason. Weddings can easily cost tens of thousands of dollars, even for the most basic ceremonies and receptions. So when my now-wife and I got engaged in 2018, we both knew that having a pricy celebration wasn't for us, and we made the decision to get married in our backyard and DIY most of our ceremony needs. It was the best day ever.
We wanted a Summer wedding, and because we live in California, we were lucky with the weather. We also have a nice backyard with a patio and a large tree for shade, so hosting it at home seemed entirely feasible. I mentioned that I'd always wanted a brunch wedding, and that I thought it would be fun if the entire thing was a surprise for our guests, so that's exactly what we did. Aside from telling just a few close family members what was up (we needed them to make sure everyone would actually attend), we sent our guests an evite asking them to come over for a Summer brunch.
We ordered plates and cups online, and the remainder of our colored decor was purchased at Target.
For decor, we went with a gold and rainbow theme. We ordered plates and cups online, and the remainder of our colored decor was purchased at Target. We also enlisted the help of our family and friends for some DIYs. Our tables and chairs were rented from a local company, and we set things up with simple tablecloths, flowers, and decorative confetti. Everything was intentionally simple, but still beautiful and joyful.
For food, we decided on a breakfast taco bar. We made some things ourselves, like my dad's smoked pulled pork and a massive batch of eggs, and bought all the fixings for tacos. We had a yogurt bar with granola and toppings, freshly made donuts we got the morning of, and our best friends made a rainbow fruit plate. We also set up a juice and mimosa bar and an iced coffee station. The one area we splurged was on a custom cake that was three tiers of rainbow amazingness.
I knew I didn't want a white dress, so I ordered a custom hot pink dress from eShakti. My wife ordered a shirt, tie, and pants from Old Navy. One of my closest friends is a hair stylist, so she helped us get ready and put another small indulgence in my hair: a flower crown. All together, our wedding outfits cost under $200. We also went with simple rings — I got my ring off Etsy, and we ordered my wife's band from Amazon.
After everything was said and done, the day was perfect. As our guests ate breakfast and chatted around tables, my now-wife and I slipped away into the house. Our officiant was a dear friend of ours, and a few minutes later he announced that we'd actually invited them over for our wedding. The looks on their faces were priceless. We then walked down a tiny "aisle" and said our vows under the tree in our backyard. The whole ceremony lasted 15 minutes. My best friend is a professional photographer, and her gift to us was taking photos and video, which I'll treasure forever.
While my wedding may not have been the fanciest affair, it was a perfect day for us. We know how lucky we are to have many talented and generous people in our lives, which meant we could ask for and get help on the logistics. And it ended up being exactly what we wanted it to be: a joyful day surrounded by everyone we love, with good food and a lot of laughter.