House GOP Celebrating Healthcare Bill Photo
Another Day, Another Photo of a Bunch of Men Celebrating an Assault on Women's Health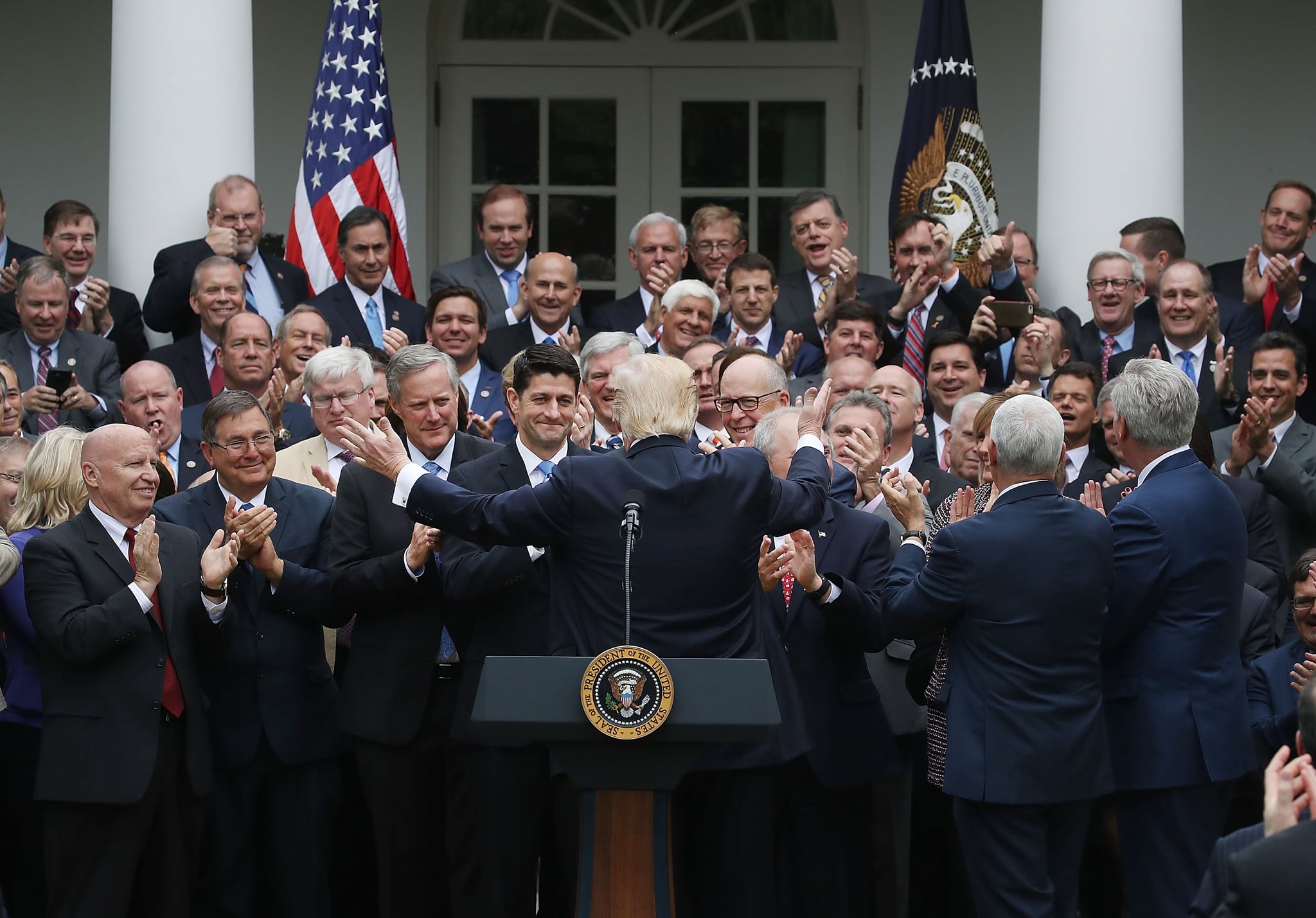 The House passed the American Health Care Act on May 4, producing yet another totally unsurprising and objectively clueless gallery of photographs. You don't have to be a Where's Waldo? aficionado to see what is missing from the GOP's Rose Garden celebration after the vote on May 4.
Surprise! Where are the women who pushed for the passing of a bill that deems sexual assault, depression, and C-sections preexisting conditions? According to a wide shot of the press conference, there were about five women (who seem to have been pushed to the front for visibility) present at President Donald Trump's press conference announcing the bill's passage through the House. Men, in fact, made up about 92 percent of the 217 "yes" votes to approve the GOP bill. It's also worth noting that everyone in the photo appears to not have a disability, a particularly cruel reminder that people with disabilities would no longer be covered by Medicaid expansions permitted by Obamacare.
Despite never actually experiencing foreign phenomena like pregnancy, periods, and breast exams, the men of the GOP seem to consider themselves experts in deciding which women's health issues constitute necessary coverage. In fact, it's quite apparent that the House Republicans' only priority is repealing Obamacare, no matter if they have actually read the proposed bill, if they know how many people will lose coverage with its passing, or how much the Congressional Budget Office predicts it will cost. Nope, that doesn't matter.
Needless to say, if the American Health Care Act does make it through the upper chamber (thankfully, it's likely to encounter some pushback from Republican Senators), the House Republicans have one thing to look forward to: getting unseated. Just 24 hours after the bill officially went to vote, Democratic activist group Swing Left raised $400,000 for whoever elects to run against vulnerable Republican representatives who voted in favor of the proposal.