Obama: Schools Must Let Transgender Kids Use All Bathrooms
The Shocking Photo That Represents the Transgender Bathroom Debate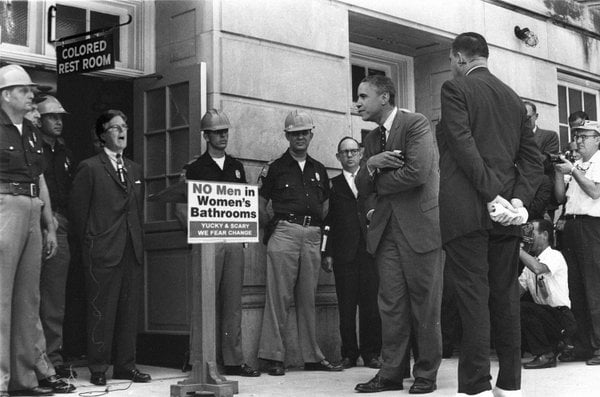 On Friday morning, the Obama administration told all US public schools to allow transgender students to use the bathroom of their choice. If they don't participate, they could risk losing federal funding.
The U.S. directs public schools to allow transgender access to restrooms https://t.co/fBdMjX8Hx0 pic.twitter.com/MngtA8tSOi

— The New York Times (@nytimes) May 13, 2016
The request came via a letter from the Education and Justice departments. "There is no room in our schools for discrimination of any kind, including discrimination against transgender students on the basis of their sex," Attorney General Loretta Lynch said in a statement, according to the Associated Press.
The news comes after recent bathroom bills in states like North Carolina that say trans people must use the bathrooms that correspond with the gender assigned to them at birth rather than the gender they identify with.
Some people praised the administration's decision:
Bravo @POTUS! Obama administration to schools: Let transgender students go to the bathroom https://t.co/BGbfj7XXDK

— Mark Ruffalo (@MarkRuffalo) May 13, 2016
Great move for the inclusion of our transgender friends.

Thank you, President Obama. https://t.co/6jIKw5slqo

— ADL (@ADL) May 13, 2016
While others, especially some Republican legislators, immediately opposed it:
This latest Dept of Education transgender insanity will not stand - but is an example of what is to come in last days of Obama presidency.

— Robert Aderholt (@Robert_Aderholt) May 13, 2016
It's amazing! Obama is FORCING OUR SCHOOLS to go transgender! What can you say! Damn! My daughter will not attend this corruption!!

— Gerald Bridges (@gbridges1984) May 13, 2016
Please tune in to CNN in 5 minutes. I'll be discussing President Obama's announcement on allowing boys into girls' restrooms & locker rooms.

— Dan Patrick (@DanPatrick) May 13, 2016
(Texas Lieutenant Governor Dan Patrick sent a letter to superintendents saying the state would not be "blackmailed" by the federal government, according to BuzzFeed News.)
A Twitter account parodying Lt. Governor Patrick tweeted this shocking photo in response to his reaction:
Segregated bathrooms now, segregated bathrooms tomorrow, segregated bathrooms forever! #txlege #tcot #nextlevel pic.twitter.com/H7A4v3gExZ

— Lt. Gov. Dan Patrick (@DanPatrickTX) May 13, 2016
Although the photo is fake and not from the lieutenant governor himself, the point is to show how segregated bathrooms continue under a "separate but equal" premise — except this time, it's the transgender community fighting for its rights.
Related: