Photo of Star of David Surviving Northern California Fires
How 1 Simple Picture Became a Symbol of Hope in the Wake of the NorCal Fires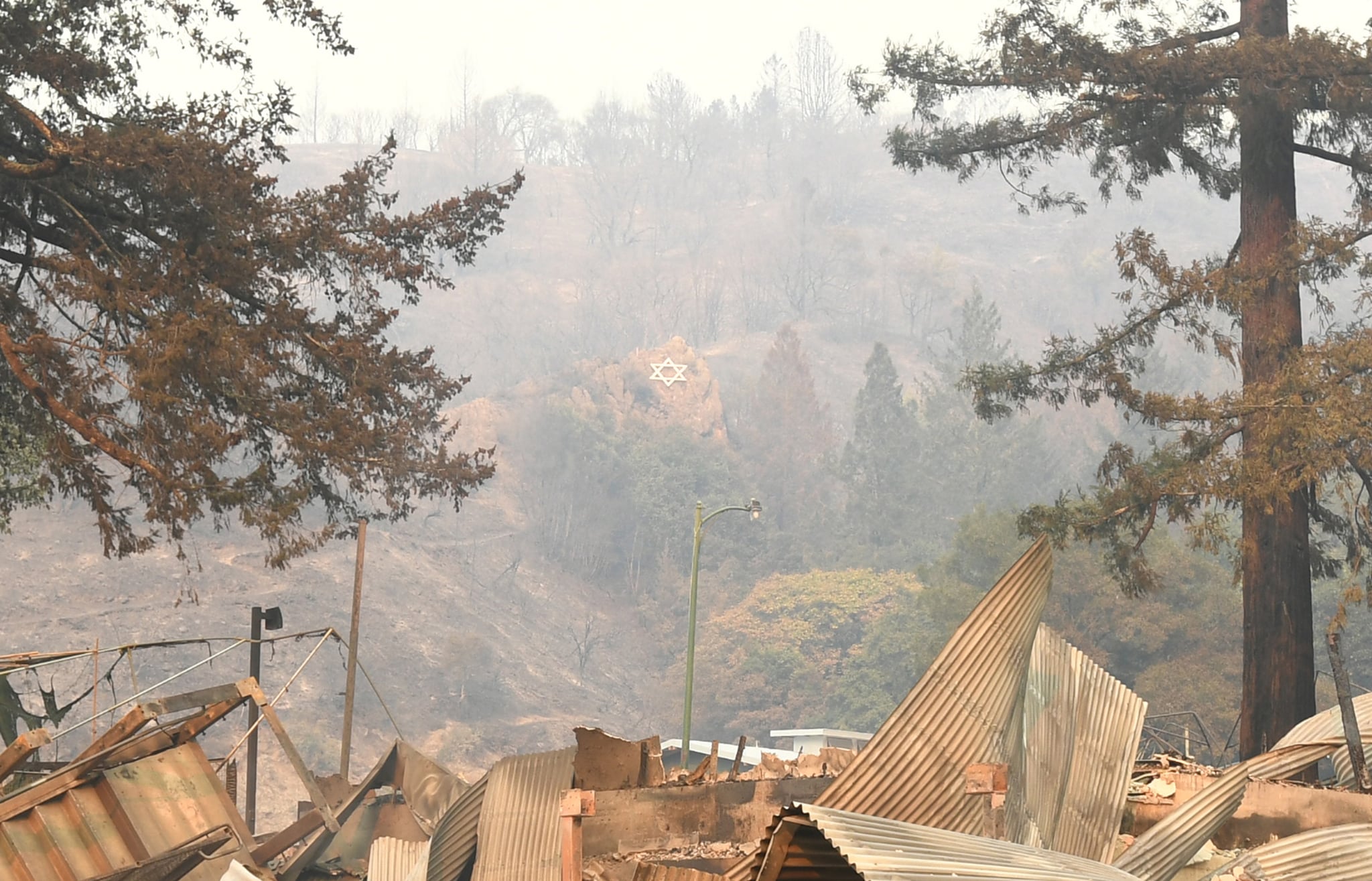 Last week was brutal for Northern California. The devastating wildfires that tore through Napa and Sonoma Counties destroyed nearly 5,700 homes and businesses and caused more than 30 deaths. The Tubbs Fire, the biggest and most devastating of the bunch, is being called the deadliest wildfire in California history. Santa Rosa's Camp Newman, a URJ (Union For Reform Judaism) camp that offers a year-round camp experience rooted in Jewish values, was burned to the ground in the blaze.
But on Thursday, the camp published a message of hope on its website thanks to a remarkable photo from a press photographer. In the foreground, the apparent shambles of the camp lay in a crumpled pile among the trees. In the hill on the background, a perfectly intact Star of David remains.
"What a fitting symbol for this moment," the post on the camp's site read. "Countless times in our Jewish history, we have lost our homes, been displaced, and wandered the diaspora. Yet in all of these times our faith, community and traditions have helped us transcend any hardship. Time after time, our spirits and resolve have been lifted by our Judaism and our people." In the face of so much loss, those who run Camp Newman are determined to rebuild.
"Most people who lose their homes and all their possessions are generally upbeat and optimistic. People who lost everything can be positive . . . it's pretty striking."
The quiet moment of power was captured by Noah Berger, a Bay Area photographer who has a lot of experience capturing wildfires. "I'm pretty used to it," he told POPSUGAR over the phone on Monday morning. "But I'm not used to this scale of devastation and the quantity of houses and loss of life." That Wednesday, he stopped at Camp Newman while out trying to capture the utter magnitude of the ruin left in the fires' wakes. Berger says he had been driving by when he happened to spot the camp. He decided to pull over and shoot the damage. He recalled how he had seen a lot of charred pool furniture, a completely wrecked set of buildings, and a collapsed awning. "There was lots of devastation and twisted metal . . . . It was eerie."
"I only sent one to the Chronicle," Berger said, talking about the photos he'd taken of Camp Newman. The photo appeared in a news story about the camp's destruction. After publication, Berger said more than 40 people from Camp Newman reached out for more images, including the director of marketing and communications, Alaina Yoakum. Berger sent what he had, and as a result, the aforementioned symbol of hope was born.
In Berger's experience, this sort of resilience is not uncommon among those who survive fires. "Most people who lose their homes and all their possessions are generally upbeat and optimistic," Berger explained. "People who lost everything can be positive . . . it's pretty striking."
"I went up to the winery that burned down in Napa, and they said, 'Oh, we're fine, this is just a business,'" Berger said. "But the people who lost their homes would say, 'Oh, we're fine. We just feel bad about people who lost a pet.'"
As of Oct. 16, the wildfires are still burning, but CNN reports that firefighters are finally getting the upper hand. There are now 15 fires that have burned over 217,000 acres combined, but the two largest fires are more than 60 percent contained. Once the last of the flames are extinguished, it will be time to start over. "People will find something to be optimistic about," Berger said. "There's a resilience in those who have lost something. They're already trying to rebuild."
This unshakable, positive spirit is perhaps best embodied by the image at Camp Newman. In spite of the utter destruction caused by the flames, some things are simply indestructible.