Trump's Women's Equality Day Proclamation
Why It's Worth Comparing Trump's Women's Equality Day Proclamation to Obama's in 2016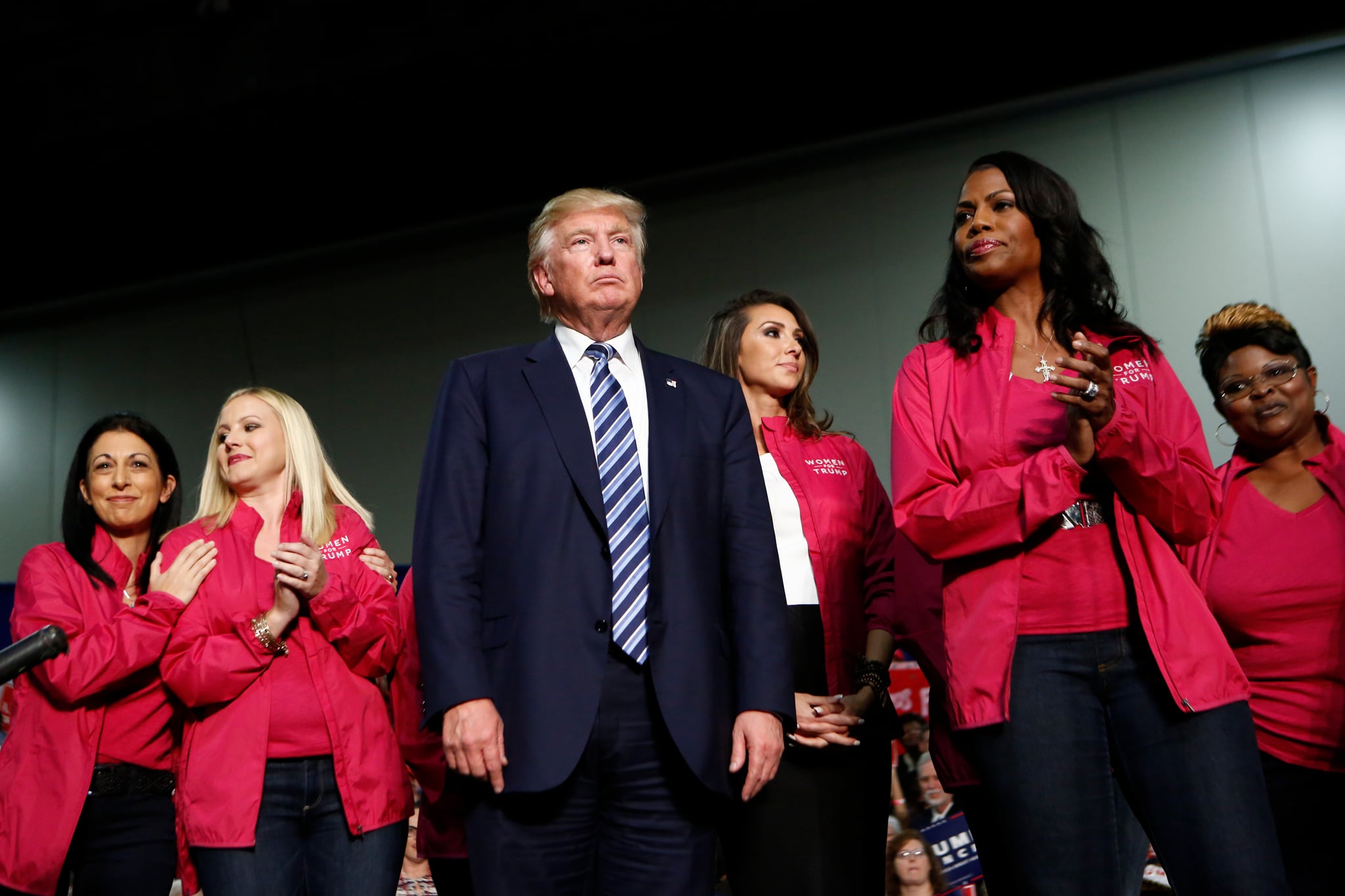 On the afternoon of Aug. 25th, Donald Trump issued a proclamation in honor of Women's Equality Day. The proclamation itself came as a pleasant surprise to many who doubted that Trump would acknowledge the holiday at all; earlier that same day, New York Governor Andrew Cuomo even launched a social media campaign demanding Trump officially recognize the anniversary of women winning the right to vote on Aug. 26th, 1920. When I saw an alert that Trump had, in fact, issued a proclamation, I steeled myself. But even I was surprised at just how bad — surface-level, dismissive, and divorced from reality — it was.
In "honor" of Women's Equality Day, Trump chose to issue a statement that refused to maybe, even just a little bit, address the very real, wide-reaching roots of sexism. Instead, he displayed a willful ignorance of the myriad barriers women still face in achieving gender parity and oversimplified the fight for equality in a way that was condescending to and dismissive of every woman.
White House: President Trump proclaims August 26, 2017, as Women's Equality Day. https://t.co/O0pXTKDQ3y pic.twitter.com/1q5Rr5Wkxw

— ABC News (@ABC) August 25, 2017
At first glance, I was already irked by Trump's reliance on the "they're someone's sister/mother/daughter" argument. We've all seen it trotted out before, usually by well-meaning people, as an attempt to prove why sexism is bad. But it backfires because the argument's underlying assumption is that women are important because we matter to men . . . which is — you guessed it — also sexist! In a letter that should celebrate women's independence, Trump repeatedly talks about them first and foremost in terms of their relationships and usefulness to men: as mothers and as daughters. "On the anniversary of that historic day, we celebrate Women's Equality Day and the innumerable contributions women have made to their families, their communities, and in service to our country," he writes, later reflecting on the fact that "every daughter in America can grow up believing in herself, her future, and following her heart toward the American Dream." Strike one.
My qualms with his choice of words are one thing. But, most glaringly of all, Trump expresses his views on women's equality almost solely in economic terms. Yes, pay equality, affordable child care, and equal opportunity in the workplace are no doubt very important components in the fight for women's equality, but those are not nearly all the components. Completely absent from Trump's address? Any discussion of reproductive rights, maternal health, and the right to access health care; or of safety from sexual assault and gender-based violence; or of the need to address the discrimination and lack of opportunity that particularly undermines women of color, transgender women, and women living in poverty.
It's only natural that these topics would be neglected in an address by Trump. His administration has already rolled back access to abortion and birth control for women across the globe. The American Healthcare Act contained an especially cruel provision that would allow insurance companies to treat victims of sexual assault and rape survivors as having a pre-existing condition. We all know of Trump's own unsavory history with both admitting to and being accused of sexual assault. And we're all familiar with his cash-based worldview and value system: for Trump, almost everything revolves around money — including a person's value. He said as much when he claimed he wasn't interested in hiring "poor people" earlier this year. (The administration's elitist nature made headlines again in mid-August when Louise Linton — the wife of Trump's Secretary of the Treasury — echoed that morally bankrupt value system in an unwise Instagram post.) And Trump's regressive, downright bigoted views on transgender individuals and racism in America have dominated the headlines all month.
As I read, I found myself curious to compare Trump's proclamation to the one then-President Obama issued last year in honor of the holiday. This wasn't something I did out of a sense of "I miss Obama!" nostalgia, but because Obama's administration consistently exhibited a nuanced understanding of the many barriers to equality that women face, not just with policy, but also via its messaging and actions. How much of a step backward, really, does Trump's proclamation illustrate?
It turns out, both Obama's and Trump's proclamations begin with notably similar, appropriately reverent reflections on the suffragette movement — both Obama's address and Trump's celebrate the suffragettes as "trailblazers," and both recognize the fact that the women who fought for the right to vote paved the way for women today to contribute meaningfully to the country. But as the letters continue, they greatly diverge. Not only does Obama devote a lot more depth to the topic — his proclamation, at 1,100 words, is nearly twice as long as Trump's 663-word letter — but he also shows a far deeper understanding of what inequality really means and what we need to do to combat it. Here's an excerpt:
President Obama, 2016
Because of the Affordable Care Act, individuals can no longer be charged higher premiums simply for being a woman. But there is still more we can do to reduce discrimination when it comes to women's health -- such as protecting a woman's right to choose and safeguarding access to sexual and reproductive health services, including abortion. Every person should be able to live and reach for their dreams free from fear of violence: In America, nearly one in four women has suffered physical domestic violence, a cruelty which deprives its victims of their autonomy, liberty, and security, and inhibits them from reaching their full potential. Approximately one in five women is sexually assaulted while in college. Through the It's On Us campaign and the White House Task Force to Protect Students From Sexual Assault, we have called on individuals, communities, and institutions of higher education to recognize what they can do to stop sexual assault and change our culture for the better. We have striven to support survivors and focused on making sure our schools are safe places where all students can learn, grow, and thrive. Transgender women often face escalated levels of discrimination and violence, and we have taken a number of steps to secure their civil rights, including providing guidance to educators that can help rid school environments of discrimination.
Meanwhile, Trump presents a single-minded focus on economic equality, writing almost entirely on child care, women entrepreneurs, and women in STEM, and congratulating himself on his widely criticized Council for Advancement of Women Entrepreneurs and Business Leaders. (In typical form, he trots out the words "my" and "I" a LOT. Somehow, Trump finds a way to make even Women's Equality Day all about him!) This excerpt, which makes up nearly half of his proclamation, shows just how limited his understanding of sexism really is:
President Trump, 2017
My Administration will continue to support the advancement of women, in every corner of the Nation. One of my first actions as President was to establish the United States-Canada Council for Advancement of Women Entrepreneurs and Business Leaders. Recently, I pledged $50 million to the new World Bank Group Women Entrepreneurs Finance Initiative. By expanding access to capital and networks, this important initiative will address many of the unique challenges women entrepreneurs in the developing world face when financing and growing their businesses. Through these efforts and others, we will support bold and innovative women leaders and entrepreneurs domestically and abroad, recognizing that their successes make our economy, and our Nation, stronger.

My Administration is committed to fostering an economy where all women can succeed and thrive. We must prioritize the needs of working mothers and families, including access to affordable childcare. Therefore, for the first time in the history of this country, my budget proposes a national paid family leave program. Our working families must be able to provide and care for their children without fear of financial insolvency, to strengthen our communities and drive a booming economy.

As President, I am also working to ensure that all women have access to the training they need to succeed in our modern economy, especially in science, technology, engineering, and math (STEM) fields. Women make up only 12 percent of engineers, and the percentage of women in computer and mathematical occupations has decreased over the past three decades. To empower women to participate in all sectors of our economy, my Administration is committed to workforce development, particularly through the expansion of apprenticeships and vocational education. We must break down the biases and barriers women in STEM face, and encourage every American to pursue excellence in his or her chosen field.
These paragraphs from Trump's proclamation might fit just fine in the context of a longer letter — a letter that offered any thoughtful conversation of what systemic sexism is actually all about, and one that addressed violence and racism and transphobia and domestic and sexual assault. But as Trump's proclamation proves yet again, he refuses to engage in those discussions.
This is why it's worth comparing Obama's proclamation, issued exactly one year ago, to Trump's: to get a real sense of how our institutions can backslide, and how quickly. We owe it to ourselves and we owe it to the suffragettes, who knew progress was a hard march forward . . . but refused to stop pressuring our American institutions and leaders to catch up.
Image Source: Getty / Brian Blanco