What Is a Congressional Hearing
How My Unlikely TV Habit Gives Me Newfound Hope For Democracy
2017 has been a terrible, horrible, no good, very bad year for democracy.
Amidst a flurry of rollbacks, repeals, and pull-outs from the Trump administration, I've found myself searching for signs of the checks and balances I was taught to expect — hell, demand! — from our government. At the very least, some semblance of the (mostly) rational thinking that has traditionally been put forth by from the people in charge would be nice. Our legislative, executive and judicial branches feel exceedingly broken; it's as though the very ideals they were founded on are on the chopping block. Amidst all the chaos, however, there's one clear, shining beacon of hope. And despite how insanely boring it may sound, it comes in the form of congressional hearings.
Before your eyes glaze over, hear me out.
I've never been one of those people who actively seeks out the inner workings of government for entertainment. That is to say, you'll never catch me cross-checking the expected budget against realistic targets, or angrily shaking my fist at clauses in the full text of the AHCA, or hosting watching parties for bill votes. I'm more of a cable-news-and-internet gal, and the simple act of trying to watch hearings on CSPAN nearly put me off entirely. I don't get the channel in HD, and the pixelating images and distorted audio tends to make me feel like I've gone back in time. But once I discovered that I could stream the channel on my phone, the game instantly changed.
Almost overnight, I found myself becoming the kind of person who calls up friends and family and rants about how crazy and tunnel-visioned one senator was, or how one tiny detail that was maybe said offhandedly might actually be the truth we'd all been searching for. Congressional hearings were like the real-life version of Law & Order, except instead of being ripped from the headlines, they were making the headlines. As I said to my boyfriend a couple weeks ago, the congressional hearings were giving me life. They were a reminder of how things are supposed to work — and how two sides of the aisle can coexist in a way that feels like there's an end to all these means.
The Senate and House Select Committees on Intelligence have held several open, televised hearings on the Russia investigation over the last few months. And it's here that members of both chambers — and both parties — call witnesses to the stand and interrogate them on the things that we, the public, deserve to know the truth about. The witnesses can't reveal everything in open testimony, but the things that we're allowed to hear outside of the closed doors of briefing rooms have been some of the most incredible television I've ever watched. From Sally Yates telling the world that there was a "compromised situation" in the White House with Michael Flynn, to James Clapper's sassy clapback on the definition of leaks, to John Brennan's uncertainty about whether there was collusion — it was all pure, unadulterated infotainment.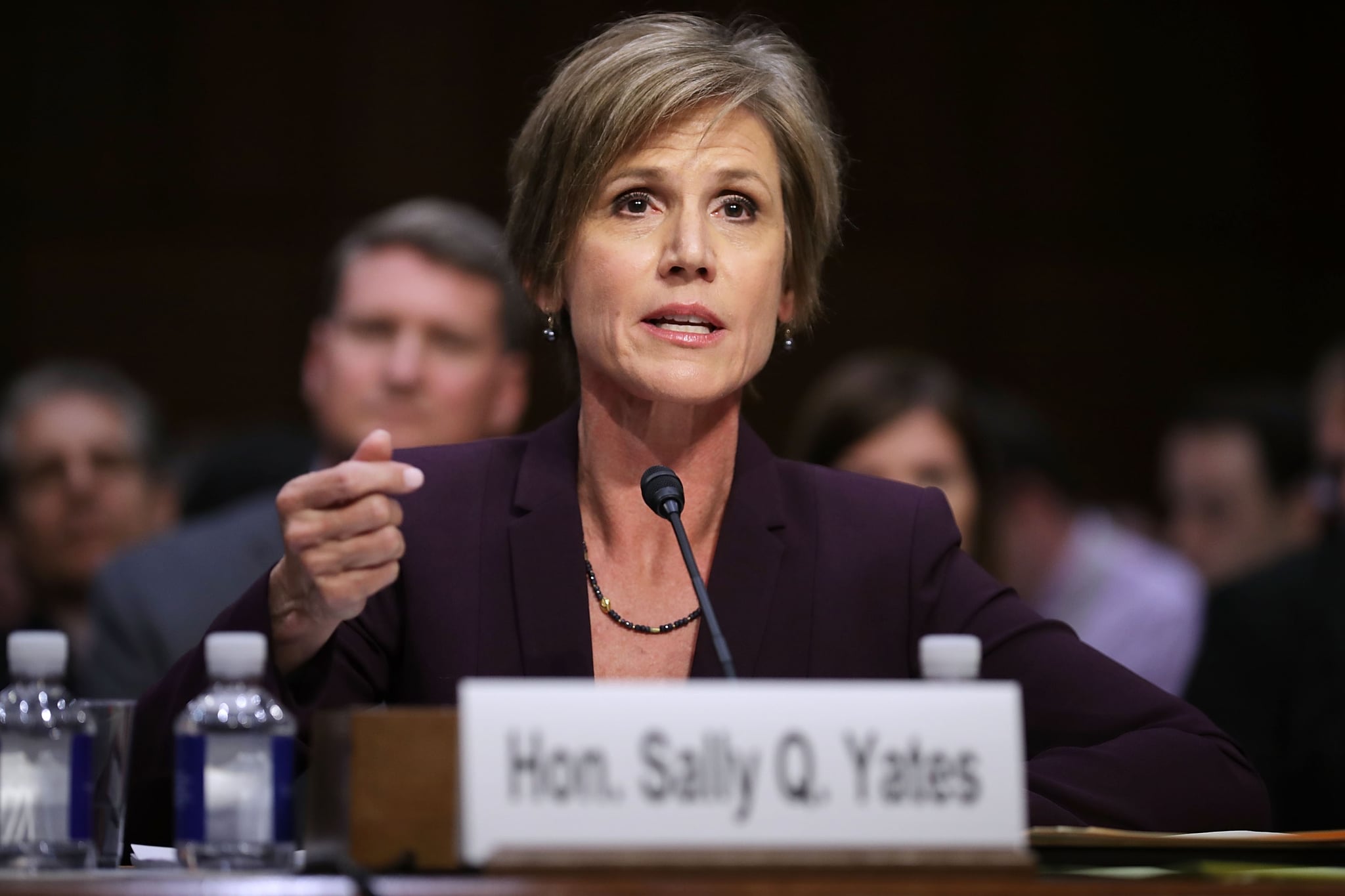 Ultimately, it's the products of the quest for truth — and often, the direct acknowledgement of things that feel like they can't be right or just — that I've found solace in. To be clear, it's not a perfect process. The politics of both sides shows through in ways that are often cringeworthy. The leading questions, direct jabs across the aisle, and blatant disrespect to certain individuals almost always lead to an awkward silence thereafter, which is both completely intolerable and totally gripping. But at the same time, the fact that I ams watching something that feels like a defense against a broader insanity sweeping the country makes me feel like maybe, somehow, there is a reason to believe we'll get through these insanely dark times.
In just a few days, former FBI Director James Comey will give testimony in front of members of the Senate for the second time this year. It's a big deal: since he first took the stand back in May, he's been fired by the president and has been the center of wide-ranging questions about what's gone down — not just since Trump took office but in the lead-up to the election itself. And Comey is no stranger to the theatrics inherent to these hearings.
It was almost exactly 10 years ago that Comey testified before the Senate Judiciary Committee on NSA surveillance. It was there that he dropped the bombshell that then-President George W. Bush had attempted to get Attorney General John Ashcroft to sign off on a wiretapping program from his hospital bed — and the only reason that they weren't able to pull it off was that Comey himself had run to the hospital and interceded in the nick of time. Not only was this "improper conduct" something that would stain the Bush administration for years thereafter, it also established Comey's reputation as a top-notch storyteller, buttressed by the fact that all of his stories were 100 percent verified truths.
Comey's testimony in early May was somewhat of a show-stopper in and of itself, with his now-infamous revelation that the fact that he may have influenced the election in any way made him "mildly nauseous." And while many of us may still question the motivation behind the timing and presentation of his announcements on the Clinton email scandal, it only adds to the dramatic tension that will play out when he takes the stand on Thursday to finally tell the story that's been years in the making. (Plus, as we now know, Comey is a meticulous note taker, and the man has receipts.)
Ultimately, we have no idea what will come of Thursday's hearings, or if any charges will be brought as a result of the investigations which the special prosecutor and the congressional committees are undertaking. But what I can definitively say, without a doubt, that in a year full of unexpected and disappointing developments, congressional hearings have given me hope for democracy. And for now, that's enough for me.
Image Sources: Getty / Jim Watson and Getty / Chip Somodevilla