What Women Will Do When Donald Trump Is President
Nasty Women of America Are About to Get a Whole Lot Nastier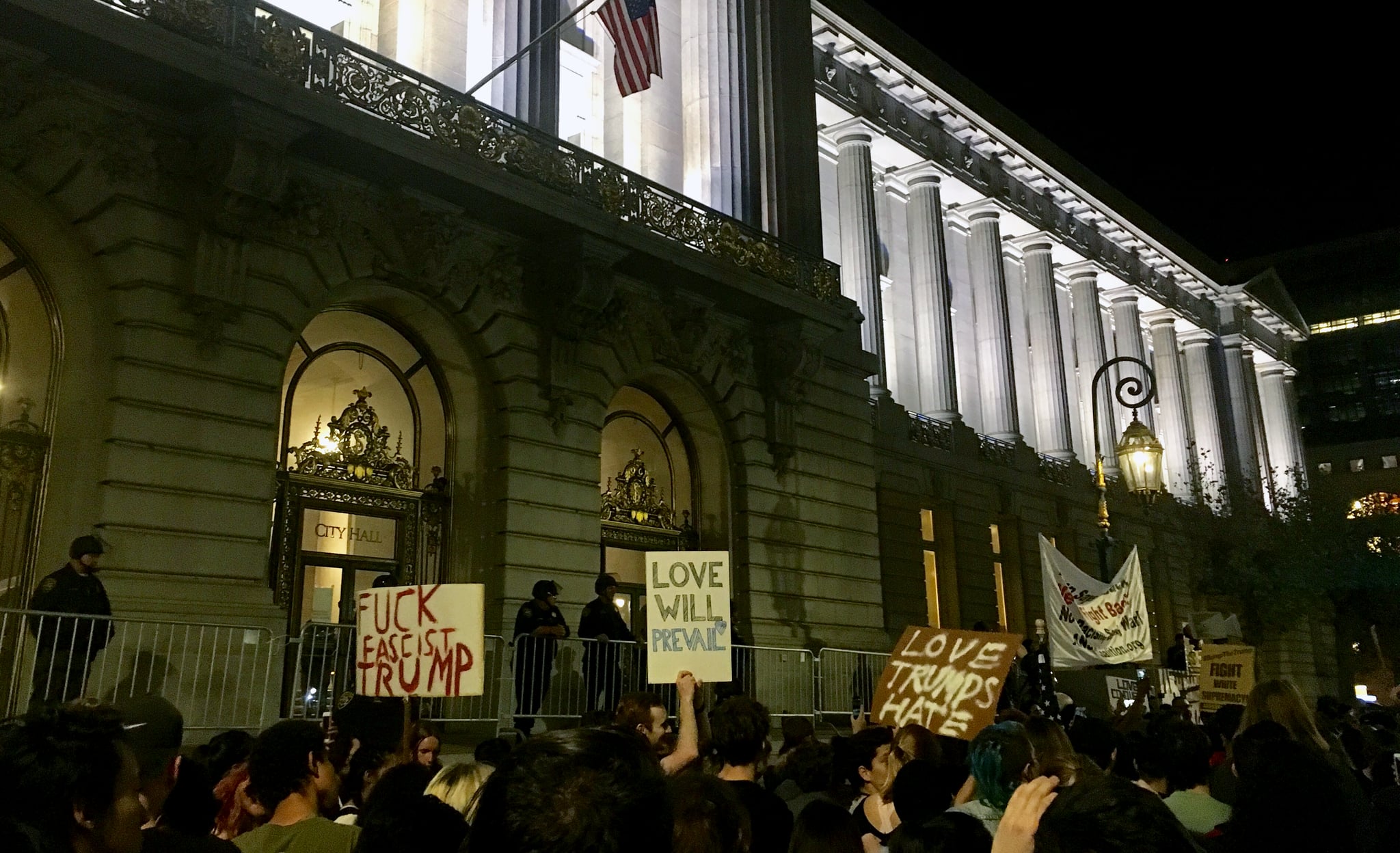 Aside from a moral whiplash, this week has given us many images that are impossible to forget: Donald Trump sitting next to President Obama inside the Oval Office. Hillary Clinton in her purple power suit giving her concession speech. Obama staffers on the day after the election looking, well — see for yourself. Streets across the country swelling with protesters repulsed by the idea of a President Donald Trump, and women unabashedly standing up for themselves.
On Wednesday night, thousands of demonstrators gathered in front of San Francisco's City Hall after marching through the city. They chanted for immigrant rights, black lives that matter, and in one particularly poignant instance, women's reproductive rights. "Your body, your choice," men chanted. "My body, my choice," women responded.
It was a moving moment of solidarity. Men showed how much they respect women, how they too have a responsibility to speak out about this issue in the coming months and years. Because a Trump administration promises to put women's reproductive rights in jeopardy, to limit access to birth control, to punish women who have abortions.
If her candidacy taught us how to be nasty women, her loss is teaching us to get a whole lot nastier.
Count it as one of the many reasons women are mourning the loss of a could-have-been, should-have-been President Hillary Clinton. But if her candidacy taught us how to be nasty women, her loss is teaching us to get a whole lot nastier. TBS host Samantha Bee nailed it in her post-election monologue when she said, "If Ms. Rodham's not in the White House, that's OK — one of those girls is going to be. We still have millions of nasty women who aren't going away."
In the days since the election, women have vowed to live up to Clinton's legacy — to run for office, speak up the next time they're interrupted by a man, donate to Planned Parenthood, support victims of sexual assault, share their immigration stories, and shatter their own glass ceilings. This, all of this and more, is something Trump can never take away.
Image Source: POPSUGAR Photography / Lisette Mejia