What You Need to Know About Voting If You Are Homeless
You Don't Need a Permanent Address to Vote — Here's What Organizers Want You to Know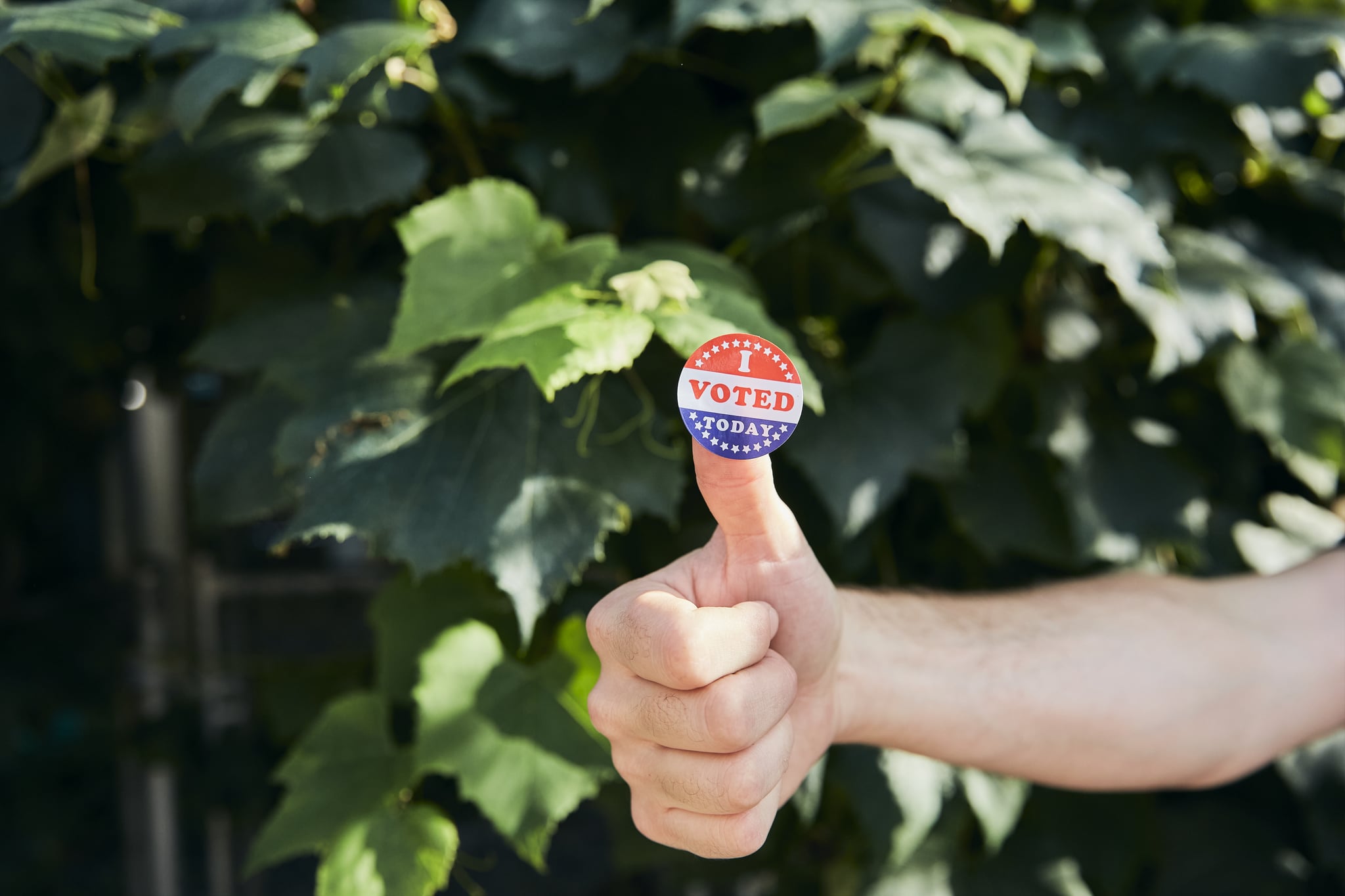 There are a lot of privileges that are taken for granted when it comes to voting. Things like a valid ID, a P.O. box within walking distance, a method of transportation, or even just a general knowledge of the important issues in an election. Too often, it's assumed that these basic aspects of voting are easily accessible to all Americans who want their voices to be heard. But for members of the homeless community who oftentimes have no permanent address, let alone a ride to the polls, voting is not that simple.
Although data on homelessness and voting is largely unavailable, it's well understood that voter turnout tends to increase with higher family income. In fact, according to the Washington Post, in the 2018 midterm elections, in families with an annual income of less than $10,000, only 31 percent of people voted, 11 percent of which cited transportation problems as a significant obstacle. This shows that for those without a home or a steady income, voting is disproportionately harder. Consequently, the homeless community's voices are stifled in our political system. To better understand the, POPSUGAR talked to experts and activists about how to vote while homeless, what kind of difference it could make, and what others can do to help make voting feasible for every citizen.
What Choices Do Homeless People Have to Vote?
One of the most popular misconceptions about homelessness and voting is that you cannot vote without a permanent address, says Mark Shotwell, Executive Director of the Ritter Center, an organization that works to prevent homelessness, based in San Rafael, CA. In actuality, homeless people can still register and vote in all 50 states, although they may face other challenges besides registering. "The reality is while people don't have to have a permanent residence, they need to have a mailing address," Shotwell says to POPSUGAR. For this reason, many of his clients use the P.O. Box at the Ritter Center to receive their mail-in ballots.
Mari Moss, a member of the Manhattan Community Board 10 (which consists of 50 volunteer members who work to achieve neighborhood stability) and a mother of three, was rendered homeless herself as a result of domestic violence. Since she was unable to return to her former residence, but still very civically engaged in her community, she went straight to the Board of Elections in order to vote, an option that is available to most people. Moss has tried other methods of voting as well, but she says she did need her ID for some of them. "I've done the absentee ballot before and that's the safest and easiest way to do it, but you just want to make sure that you're doing it right," she explains to POPSUGAR. "From what I've heard, they won't count [absentee ballots] if they're not filled out correctly, which is a tricky caveat." That's why it can be helpful to go directly to the Board of Elections to make sure your vote is not discounted. "When you go to the BOE in person, they literally are there to hold your hand if you need it. But if you don't it's just as normal as any other voting opportunity," Moss says.
Many states also have special allowances for the homeless community when it comes to their address, adds James Ryan, the president and co-founder of Time For Homes, an organization that works to provide support and permanent housing. "Most states have an option where you can actually describe where you live, say at the corner of this street or that street, or at this park, or what have you," he says to POPSUGAR. "The hurdle with that though, is many states also have a residency requirement, and obviously being homeless is a relatively unstable state. You're often forced to move along, which can impact those residency requirements." This is where mail-in ballots can be more useful. The important thing, though, is that there are ways homeless people can vote, they're just tricker to navigate — which is a large part of the problem.
What Makes It Harder for the Homeless Community to Vote?
Even though there are options the homeless community can take in order to vote, it's still no easy task. As explained by Courtney Cockrell, co-legal director at the March On Voter Protection Corps and grandniece of the civil rights activist Medgar Evers, the impermanence of homelessness that Ryan mentioned has other detrimental effects as well. "I think one of the main barriers [to voting] is a lack of information, because the homeless population is, by nature, kind of a transient population," Cockrell says to POPSUGAR. "A lot of times, they're not in the same place for longer than a few days at a time." This can make it difficult for homeless people to confidently give an address or know what specific issues are on the ballot in the area they're in at the time.
Additionally, while Moss was able to navigate a lot of the voting process on her own, she still had to have a valid ID, which not accessible to everyone in the homeless community. Fortunately, Nathan Smith, the Chief Program Officer for the Phoenix Rescue Mission, says that organizations like the Mission can help with this setback. "We have some funds set aside to get individuals experiencing homelessness an ID," Smith says, also recommending organizations like the Homeless ID Project which are dedicated to solving this issue.
Another one of the most common challenges to voting while homeless is making voting a priority. "Obviously, your critical needs always come first — a place to store your stuff, what you're going to eat, etcetera," says Ryan. "That said, it is important, whenever possible for someone in that position or at risk of being in that position, to make sure they engage, to make sure their voice is heard, because that's how they get the services that they need." It's not simple to participate in the system, but there are ways to overcome the hurdles and people who are there to help.
Why Is It Important for Homeless People to Vote?
First and foremost, the homeless community deserves to take full advantage of their right to vote, says Corrie Cockrell, co-legal Director at the March On Voter Protection Corps and sister to Courtney Cockrell. "Just because their circumstances have them at a place at this point in time where they may be homeless, that doesn't mean that their voice is any less valuable," she tells POPSUGAR. "They still deserve to be able to participate in the political process, particularly as it relates to issues that affect them, like poverty or housing."
Smith agrees, honing in on the importance of local propositions, and not just national or widely-covered elections. He uses an old proposition to legalize marijuana in Arizona as an example, saying that although several people in the homeless community might've supported this legislation, they weren't able to have their voices heard. "We live in a conservative state, and so the majority of the state is not going to vote to legalize [marijuana]," he explains. Without hearing from the homeless population, Smith says our political system is really not as democratic as it could be. "Their votes literally could be the thing that pushes it over the edge," he says.
Maurice Gattis, Ph.D., an associate professor in the Virginia Commonwealth University School of Social Work, adds that part of the reason why it's so important for homeless people to vote is because certain communities experience homelessness at a disproportionate rate. "Many times, people experiencing homelessness are members of marginalized communities that have consistently been disenfranchised, and this could be seen as a continuation of that," Dr. Gattis explains to POPSUGAR, acknowledging that while there is some nuance in how people experience homelessness, there are also many patterns. "It's cyclical, it's longitudinal, the issues affecting people cycling in and out are consistent, and where's their voice?"
What Can You Do to Help?
On a short term scale, Dr. Gattis says being aware of the issue, attending voter registration drives, petitioning city halls and mayors to open up polling places at shelters, and even providing rides to the polls for people who don't have a means of transportation, are all great ideas. In the long term, however, it's more about shifting your mindset. "Do the prevention work now so that when the next election comes, we have everything in place," Dr. Gattis says. That involves thinking about what laws are systematically benefitting or hindering the homeless community and their ability to vote.
Along the same lines, Moss urges homeless voters to remember that they can contribute to change. She encourages the community, especially women like her, to do everything they can to take advantage of their right to vote. "Just [make] sure that we have policy makers and elected officials who care about our plight and are willing to do something about our situation to make our lives better [so we don't have] such a burden on us to achieve a regular life," she says. For Moss, voting is not necessarily about rewriting the entire system, it's about making sure that baseline rights and resources are protected for all people, the homeless population included. These small steps are what she hopes to see in the future. "They keep talking about the American dream," Moss says. "What about just getting back to normal so we can dream again?"