Emmy Ruiz on Working as an Organizer and the Power of Voting
This Latina Organizer Wants You to Know That You Have a Voice in This Election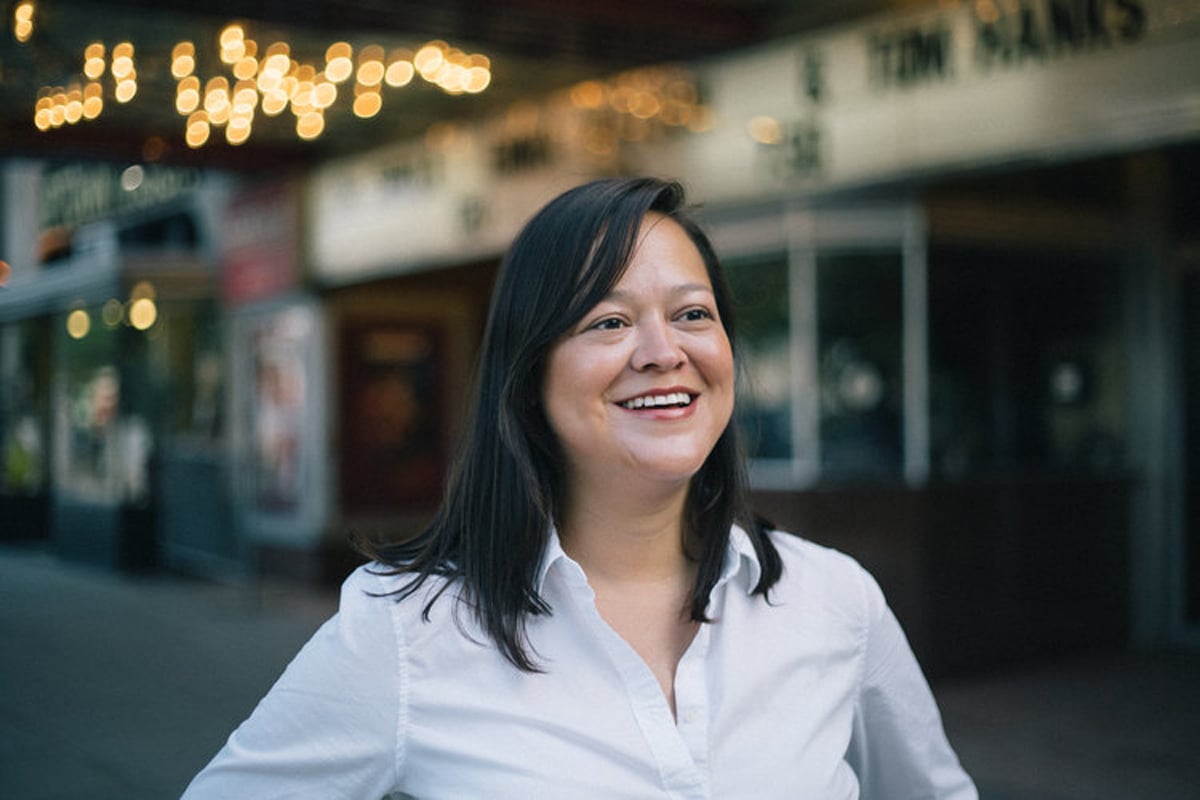 "Everything that I am is because of their example," Emmy Ruiz says of her parents, who immigrated to the US from Mexico just before starting their family. Her dad was a laborer, who slowly grew a business of his own by working tirelessly to tend to other people's fields. "The owners would say, 'If you want, on the weekends you can work this little piece of land, and it'll be yours,'" Ruiz told POPSUGAR. "And so, little by little, my dad was able to grow his farm."
Her mother was just as relentless. At the time, women didn't work much — and certainly not in the fields. But their family was struggling, and Ruiz's mom knew what needed to be done. "She said, 'If we're ever going to pull our family out of this, I have to be a part of it,'" Ruiz said. "And so she joined my dad in working in the fields against his initial protest."
By the time Ruiz was born, the days of her mother sewing scrubs for doctors in exchange for medical treatment were behind them. She had a job with health insurance, and though the family was poor, Ruiz never felt disadvantaged. "Things were much better [for me] than they were for my brothers," said Ruiz, who's the youngest of four and the only sibling who never worked in the fields. One of her older brothers, who's now a prominent lawyer in Seattle, used to sell watermelons on the side of the road. When her brothers were college age, their mother worked two to three jobs at a time to help put them through school, Ruiz explained — and then she'd come home at night and make home-cooked tortillas to mail them.
"When I went to college, I think that was one of the times it really clicked how lucky I was and how I was the exception, not the rule, for those opportunities," Ruiz told POPSUGAR. After graduating with a degree in English, with an emphasis in professional writing, Ruiz became a grant writer for the American Red Cross. Then tragedy struck — Hurricane Katrina made landfall in the Gulf Coast, leaving New Orleans and the surrounding areas in tatters. Once again, "I got to see firsthand these privileges that are afforded to some and not all," Ruiz said.
"There were so many things that led up to that moment, where I just felt like, this is it. This is what I'm supposed to do," Ruiz said of organizing.
A couple years later, in 2007, Ruiz would be given a unique opportunity to help effect change. After meeting Hillary Clinton at a Red Cross event supporting military families, she applied to work as a field organizer in Nevada ahead of the 2008 Democratic presidential primary. Ruiz's colleagues at the Red Cross were very supportive. "They all created this very loving and accepting space for me that said, 'If you go and you don't like it, or you go and it's not for you, you can come right back,'" she said. Her family was equally supportive. In fact, her brother — who had pushed her to send in her resumé — was so afraid she'd back out that he flew from Seattle to Texas to drive Ruiz and her mom to Las Vegas. They stopped at Disneyland on the way. "It had always been my mom's dream to take us to Disneyland, but she had never been able to, so my brother took us," Ruiz explained, a fondness in her voice.
That time in Nevada changed Ruiz's life forever. "Knocking on doors, listening to people, being there for them, carrying their stories — their successes, their heartbreaks, their burdens. It just lit up my life in a way that I couldn't have imagined," Ruiz said. "There were so many things that led up to that moment, where I just felt like, this is it. This is what I'm supposed to do." Though Clinton wouldn't seize the nomination that year, Ruiz had found her calling.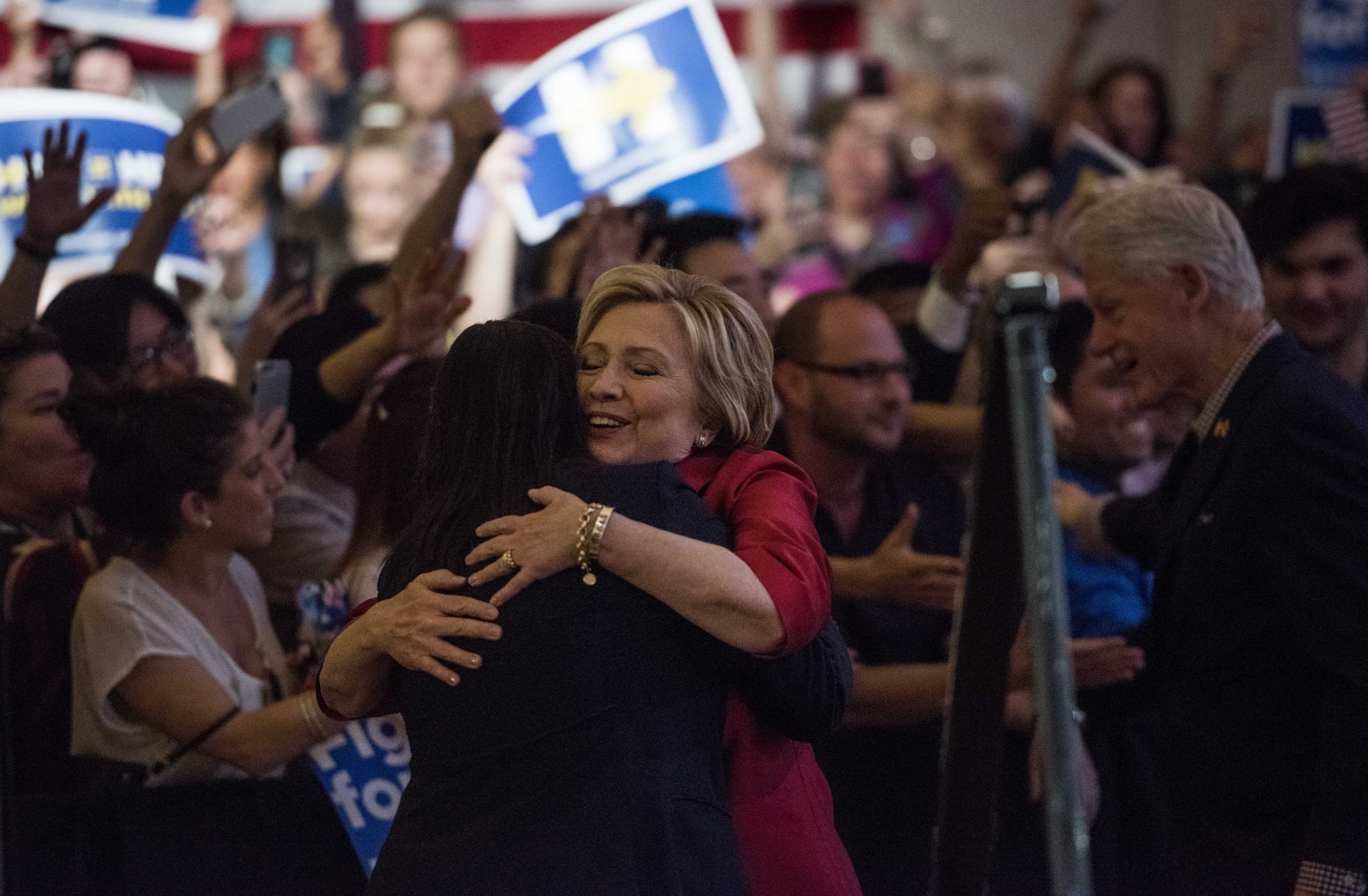 Image Source: Getty / The Washington Post / ContributorHillary Clinton hugs Ruiz before delivering her victory speech after winning the Democratic Nevada Caucus in 2016.
Ruiz's work since then plays like a highlight reel. She served as the Nevada general election director for Obama For America in 2012. In 2016, she led several state efforts for Hillary For America, helping secure primary victories in Nevada and Ohio, and a general election victory in Colorado, a battleground state. Today, she's a partner at NEWCO Strategies, a consulting firm that helps campaigns, organizations, and brands strategically meet their goals, and serves on the boards of a number of progressive organizations, including Annie's List and Run For Something.
But it isn't her list of accomplishments that makes Ruiz proudest. It's knowing that she's done what her parents always taught her to do. "Make sure you leave things better than how you found them," Ruiz said. "Make sure that the next generation doesn't have to work as hard, that they have every single opportunity."
That translates to the electoral process as much as it does to the policies she's working to make possible. "I'm proud of the work that I've done to be a member of a team that opens doors for people to participate," Ruiz told POPSUGAR. That goes for voters and the young organizers — particularly Latinx staffers and other people of color — that Ruiz has seen walk through the door of a campaign office, perhaps not sure that they had a role to play, and then never leave. "That's what I'm the proudest of because that is not something that's win or lose on Election Day," she said. "That work is long lasting."
"It's still there for the taking," Ruiz said of the opportunity voters have to shape the nation's future.
At a time when "everything is on the line," Ruiz wants voters and would-be campaign organizers and volunteers to know that change is possible. "When I started organizing, the culture, the campaigning, the people that were leading were very different than what we see today," she told POPSUGAR. In this election cycle, "day in and day out, people and women of color — including Latinas — are really leading the way."
Ruiz acknowledges that even those who made the most dire predictions in 2016 couldn't have imagined the pain and loss the country would suffer these past four years. Yet she remains hopeful. She knows from experience that progress isn't lost. "It's still there for the taking," Ruiz said of the opportunity voters have to shape the nation's future. To wield that power, you need only to do one thing, she explained: show up.
Image Source: Yash Mori