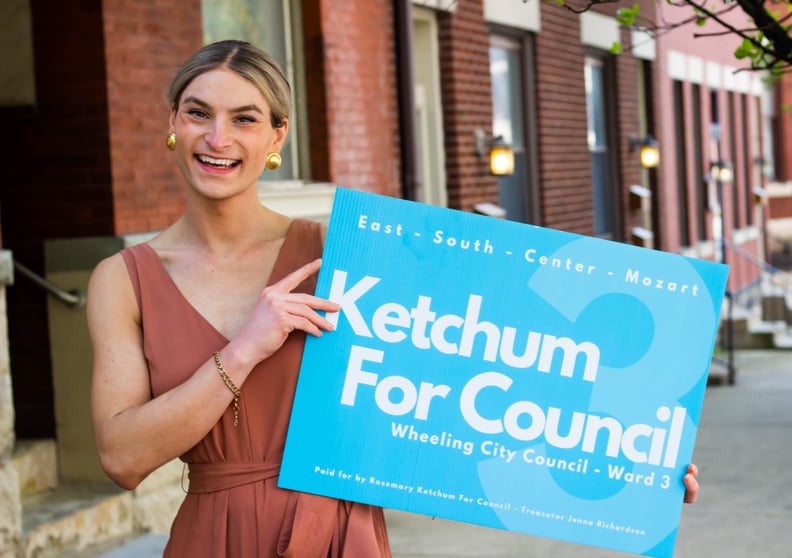 Rosemary Ketchum
Rosemary Ketchum
Rosemary Ketchum is the first openly transgender elected official in West Virginia. She is associate director of the Greater Wheeling National Alliance on Mental Illness and serves on the boards of several organizations, including the West Virginia Center on Budget & Policy. Ketchum will begin her first term on the Wheeling City Council on July 1. Follow her on Twitter at @RosemaryKetchum.
I never wanted to run for office. The people who occupied the world of politics didn't look like me, live like me, or seem to want the same things as me. So, rather than working in politics, I did the next best thing: I became a community organizer. For years, I've worked to tackle issues like poverty, mental health, racial justice, and LGBTQ+ equality in West Virginia.
When I'm organizing a protest or rally around injustice, or helping build a platform that will allow people's voices to be heard, I'm in my element. This work has given me purpose and opportunity, but it has also frustrated me deeply.
We knew how to create lasting change. But we didn't yield the same power our politicians did.
As organizers, we knew what was needed to help alleviate every issue we worked on. Racial injustice? Let's reform law enforcement, educate and empower communities, and build platforms for Black and brown voices. Voter suppression? Make Election Day a federal holiday, expand polling locations, and provide enhanced civic educational opportunities. Gender inequality? End the pay gap, increase representation in government at all levels, and pass the Equal Rights Amendment.
We knew how to create lasting change. But we didn't yield the same power our politicians did.
I live in Wheeling, WV, a small town of a little fewer than 30,000 people, known as "The Friendly City." I wasn't born in Wheeling, which, in a town this size, would typically be enough to end an outsider's political ambitions. I knew when I relocated here in 2010 that I needed to work extra hard to engage my community and earn their trust. I went to college in Wheeling, graduated with a degree in psychology, and landed a good job in my field. And in the meantime, I joined every board, committee, and organization I could and built a pretty solid reputation.
I was content working in mental health and community organizing. I not so secretly loved the idea of being a scrappy underdog fighting for the issues I care about, especially while living in what some could consider "Trump country." However, it didn't take long for me to realize that some of the biggest obstacles to my liberal-media, progressive, gay agenda — can you sense my sarcasm? — were the elected officials around me. But even then, I didn't immediately decide to run for public office. Like many people, I suffer from undiagnosed imposter syndrome and live in constant fear of being discovered as a "fraud." So I first tried to convince all my friends that they should run, to little avail.
Then came a light-bulb moment. I recalled a passage from Michelle Obama's memoir Becoming, in which she describes being in a room with some of the most powerful and important people in her law firm, who were overwhelmingly men. At the time, she was still Michelle Robinson, a young, talented, Black lawyer who had every right to be in that room — but she too felt inadequate and unworthy. In this way, I related to her experience and decided that perhaps my biggest obstacle to actually solving the issues I cared about was myself.
And with that, I threw my wig in the ring.
I considered that my identity as a trans woman may be a liability, but I also knew that my community needed an advocate, and I was best prepared for the challenge. I decided if I wanted to run a successful race, I needed to build a strong team. I gathered my closest friends, asked for their blessing, and started brainstorming what a local campaign could look like. We quickly got to work organizing grassroots community forums, phone banks, and a district-wide canvass.
Then the coronavirus hit. We were in the middle of campaign season when the governor issued a statewide stay-at-home order on March 24. I knew immediately that we needed to cancel any future events and halt all face-to-face contact with voters — not ideal circumstances for winning an election. Nevertheless, we persisted, shifting our strategy in the coming months as we inched closer to the election on June 9.
Finally, it was Election Day, and I felt anything but confident. We worked tirelessly to connect with voters and share our message for an entire year, but I worried that I could have done more.
Once the polls closed, we prepared the salsa, chilled the Champagne, and turned on the news. The results trickled in slowly, and the suspense was killing me. Then around 10 p.m., my phone rang. It was the local paper. I rushed outside to take the call, and they proceeded to explain that, according to their data, I was the projected winner. Within seconds, I could hear my friends inside cheering as the final numbers flashed across the screen. We had won by 15 votes.
By the next morning, my inbox had exploded. I fielded media requests from CNN, MSNBC, Time, ABC, and more. I was the first openly trans person elected in the state of West Virginia, and the response was overwhelming. I was eager to share my story in hopes of shifting the narrative about what it's like to be a West Virginian and an elected official in a rural community. I didn't run for office to make history — I ran to make a difference.
We have the opportunity on the local level to lead by example in the fight for racial justice, LGBTQ+ equality, economic justice, and so many more critical issues.
My community suffers from homelessness, a crumbling infrastructure, opioid addiction, and so many other issues we need to address. Issues that require holistic, comprehensive, and community-based solutions. It's vitally important that we invest our time, energy, and money into local politics. Local government is where grassroots organizing begins and where structural and institutional change is most possible.
The people I speak to every day feel an incredible sense of apathy toward politics, often telling me their vote doesn't count anyway or that the system is rigged against them. These feelings are as dangerous as they are common. Because as soon as we begin to believe we have no say in our government, that belief becomes a self-fulfilling prophecy.
This is just one reason I hope to see a political shift toward local government. Folks who care deeply about their communities and are passionate about solving the big issues need to run for office — then actively engage their constituents once they're elected. We have the opportunity on the local level to lead by example in the fight for racial justice, LGBTQ+ equality, economic justice, and so many more critical issues that directly impact neighborhoods across the US. We can redefine what it means to be a community: wholehearted, compassionate, and engaged.
I'm pretty new to this, but I know that the roots of change will first sprout from our cities, towns, and neighborhoods. Not from Congress and not from the president.
The democracy we deserve starts here.