Why the Derek Chauvin Verdict Was Accountability Not Justice
"Justice" Would Mean That Black Men Like George Floyd Have the Chance to Grow Old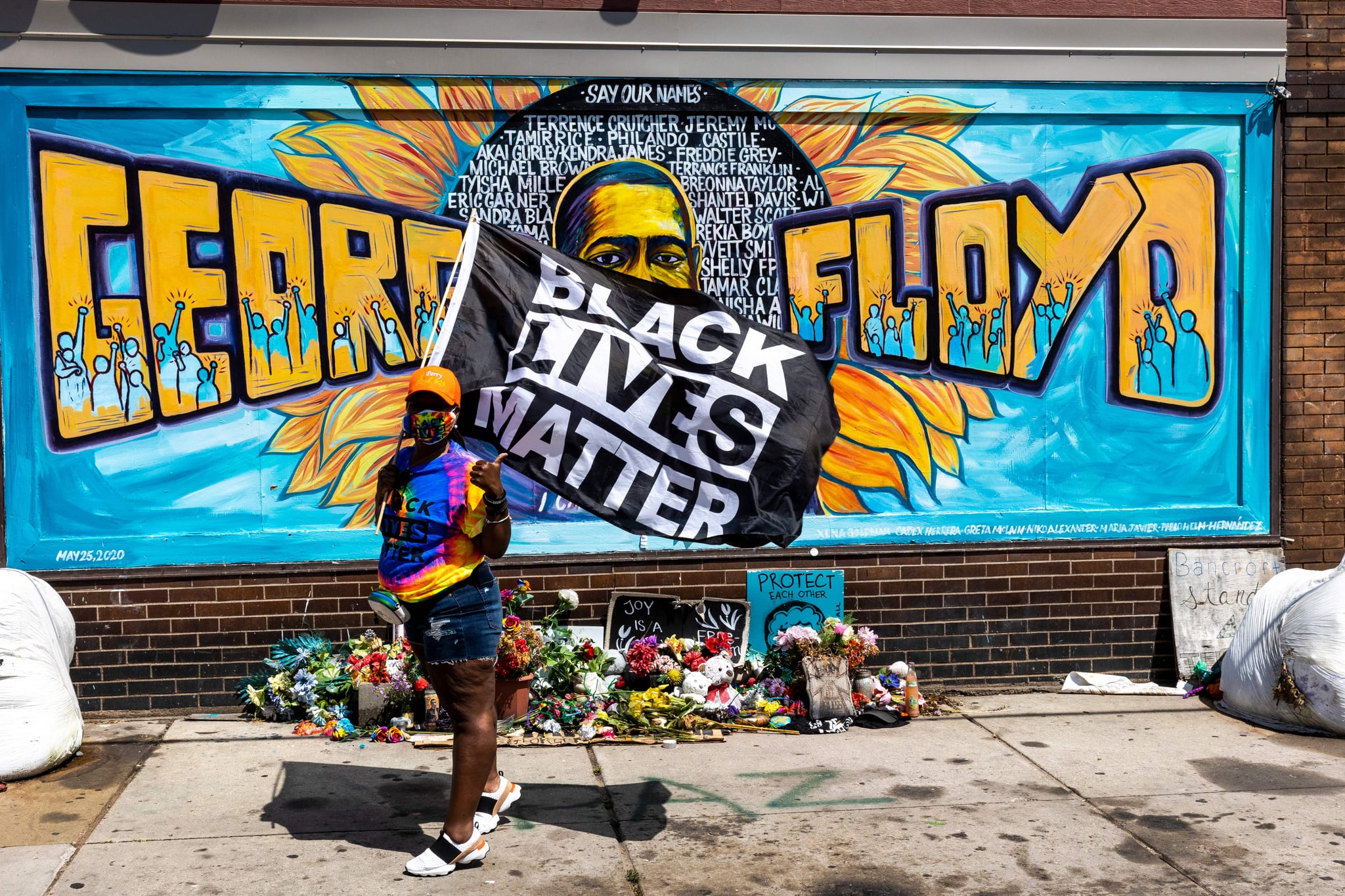 When the Derek Chauvin verdict was announced, many people breathed a sigh of relief. The moment was described as justice served, a rare moment in which a police officer was found guilty of racial violence against a Black person. But as we reflect back on the anniversary of George Floyd's death, it's clear that the US is still in the midst of a racial reckoning — it has not reckoned. I am fully aware that this verdict did not change the reality for Black men in this country. The fact of the matter is that Black men are disproportionately killed at the hands of law enforcement, with no end in sight.
I think about all the names that have become synonymous with hashtags over the last 10 years: Trayvon Martin, Tamir Rice, Michael Brown, Philando Castile, Eric Garner, Botham Jean, Ahmaud Arbery, and George Floyd. We often think these names will be remembered throughout history, but this broken system of justice and law enforcement has failed a daunting list of Black men. The more recent killings of 20-year-old Daunte Wright and Andrew Brown Jr. provide another stark reminder of a haunting conclusion: Black men do not have the opportunity to grow old in America. They have so much life to live and growing old to do. But they are snuffed out before they actualize their dreams, reach their full potential, and live their full humanity.
And, why in the country where their ancestors paid the ultimate price for this right, do Black men not have the freedom to just be? The average life expectancy of Black men is six years less than that of white men, according to the Centers For Disease Control and Prevention. It's a disproportionate outcome, due to systemic racism, a disparate wealth gap, housing discrimination, unfair lending practices, unstable employment, criminalization, and more. President Joe Biden, who at 78 is living his dream of becoming president, stands in stark contrast to Black men who are more likely to die before reaching the age of 78.
I simply want to see Black men grow old. I want to see them not meet their deaths because of frivolous traffic stops, driving while Black, shopping in the grocery store, running, or any other means of ordinary living, which Black men have every right to do. They deserve to grow old, instead of being reduced to hashtags on social media.
Derek Chauvin's guilty verdict was a realization of just how low the bar is for Black men to receive accountability. The words "accountability" and "justice" are not synonymous or interchangeable. Yet they're often conflated. Accountability is to recognize a system of injustice. Justice is the abolition of the system that perpetuates and upholds the injustice. Accountability means that it would not have required 17-year-old Darnella Frazier to film the murder of George Floyd in order for Americans to realize that police brutality and racism were wiping out an entire generation of Black men.
Justice requires us to examine the system that replicates a cumulative effect of injustice; it's where no singular act (or in this case, verdict) bears responsibility for shifting consciousness. Instead, justice would mean that the names of Black men would not be trending on social media. Justice would mean that the institution of policing, whose origins were designed to inflict racial harm and violence on Black men without immunity, would not exist. Justice would require us to dismantle and abolish the systems that were created to enable injustice.
Justice would mean that George Floyd and other Black men would be alive today. True justice would mean that Black men are afforded the opportunity to grow old. An opportunity to not have to pass on to their sons "The Talk," the rite of passage where Black men learn how to survive encounters with law enforcement.
The Chauvin verdict was one very small step toward accountability within a system that is supposed to render justice for all. We know this system was not built to protect Black people, and we continue to see the manifestation of this in every facet of societal life. So even when something like this step toward accountability happens, it remains hard to be hopeful. The knowledge of what we still must overcome will not allow me to celebrate or feel content.
I grieve for Black men. I grieve for Black people everywhere because we know the gravity of what it means to be Black in America, and the trauma we bear just for existing. It should not be this hard for us to live, be, create, and grow old. For me, the achievement of all those things is justice, and we have not yet arrived at that destination. George Floyd and all the other Black men whose names were reduced to hashtags deserved better. They deserved to grow old. This is my wish for all Black men: I just want them to grow old.
For my husband, brothers, friends, students, and all the Black men I do not know: Black men deserve to be free, dream, soar, and just be. The lives of Black men deserve to be lived. Black Lives Matter. And mattering is just the minimum.