George Floyd Justice in Policing Act: What You Should Know
This Is What Passing the George Floyd Justice in Policing Act Would Mean For America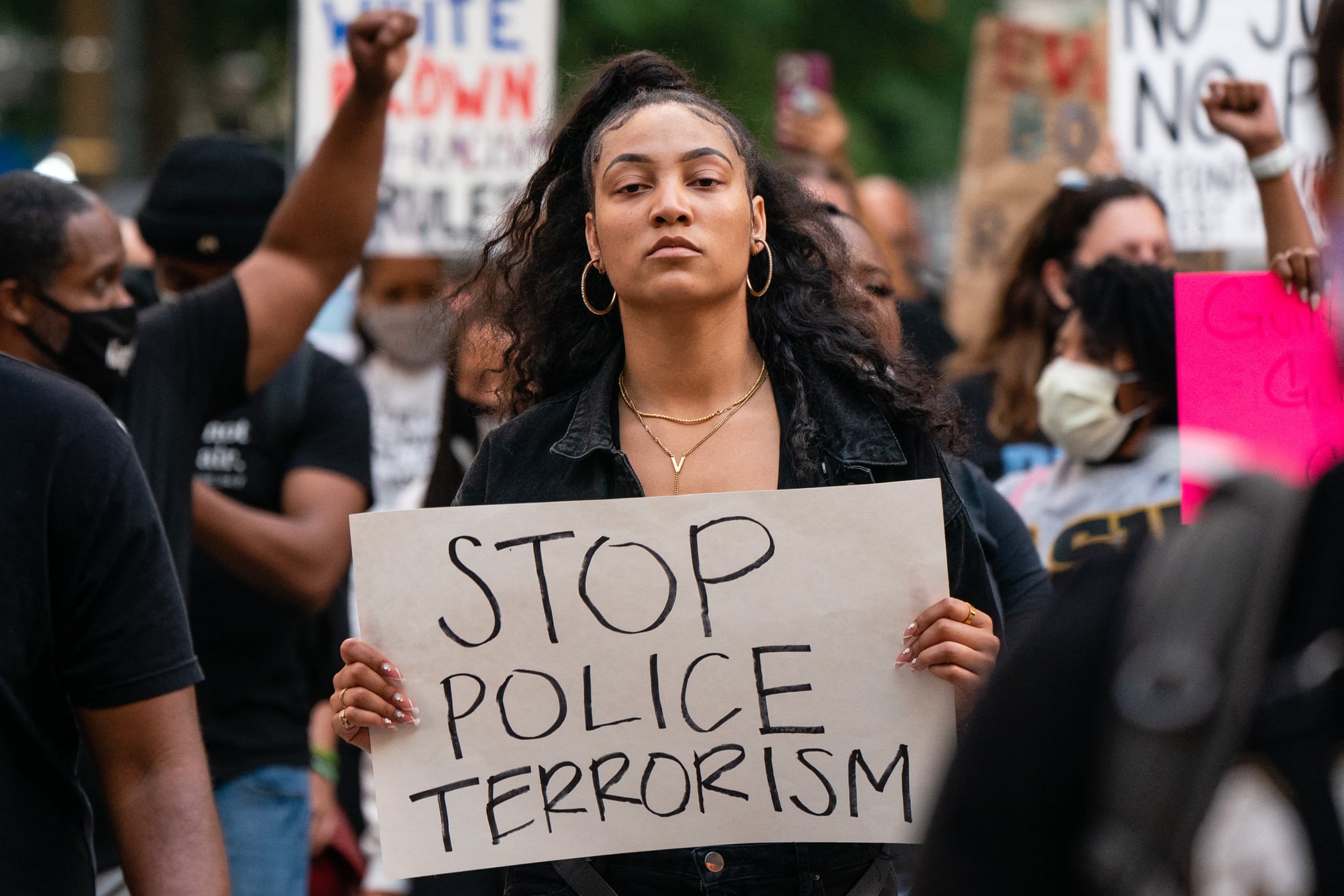 Image Source: Getty / Elijah Nouvelage
After a year of unrest, on April 20, a Minnesota jury found former Minneapolis police officer Derek Chauvin guilty of all charges in the murder of George Floyd. The landmark moment marks one of the few times the nation has seen police held accountable for crimes against the Black community. But this moment of victory does not equate to long-lasting justice. In fact, just minutes before the jury announced Chauvin's verdict, 16-year-old Ma'Khia Bryant was fatally shot by a police officer in Columbus, OH.
The George Floyd Justice in Policing Act is a step toward real reform. Introduced on June 8, 2020, by several congressional Democrats — including then-Senator Kamala Harris, Senator Cory Booker, Representative Karen Bass, and Representative Jerrold Nadler — the proposed bill would directly address racial bias in policing, create a national registry documenting police misconduct, and limit qualified immunity and the use of excessive and unwarranted force. More specifically, the act would require officers in all states to use dashboard and body-worn cameras and would ban chokeholds and no-knock warrants, limit the use of military-grade equipment, and hold police accountable in court.
"We can't turn away. We have a chance to begin to change trajectory in this country."
Vice President Kamala Harris addressed the progress made and the crucial work yet to be done in a statement following Chauvin's verdict. "We still have work to do. We still must reform the system," Harris said. "This bill is part of George Floyd's legacy. The president and I will continue to urge the senate to pass this legislation, not as a panacea for every problem, but as a start. This work is long overdue. America has a long history of systemic racism. Black Americans and Black men, in particular, have been treated throughout the course of our history as less than human. Black men are fathers and brothers and sons and uncles and grandfathers and friends and neighbors. Their lives must be valued in our education system, in our healthcare system, in our housing system, in our economic system, in our criminal justice system."
President Joe Biden also spoke after Harris. "We can't turn away. We have a chance to begin to change trajectory in this country. It's my hope and prayer that we live up to the legacy," he added. Biden and Harris have openly shown support for the George Floyd Justice in Policing Act, but the bill, which passed in the House of Representatives on June 17, 2020, faced opposition in the Republican-controlled Senate and was gridlocked until its reintroduction on Feb. 24, 2021. Currently, the bill is pending review by the Senate after being passed for a second time by House Democrats on March 3.
Floyd's family members are also urging supporters of the #JusticeForGeorgeFloyd movement to keep fighting and push Congress to pass the act as soon as possible. "We need change in this broken system. It was built to oppress us. It was built against us," Floyd's nephew Brandon Williams said in a speech. "[This is] a chance for America to take a turn in the right direction and right a lot of wrongs so we don't add to these names, so that little girls and boys like [Floyd's daughter] Gianna are not growing up fatherless, so that families don't feel the pain we feel. It's a lot of sleepless nights. No family should go through that."
According to Representative Bass, Senate Democrats have set a self-imposed deadline of May 25 — the first anniversary of Floyd's death — to come to a final decision on the bill. "The United States House of Representatives has twice passed the George Floyd Justice in Policing Act," Bass said in a tweet on the day of the verdict. "We must continue this fight – so that rulings like today's verdict, don't come as such a surprise or such a relief. Justice in this country should come as expected, for all."
After generations of police brutality and violence, the George Floyd Justice in Policing Act would establish a framework in America to prohibit racial profiling, increase measures holding law enforcement accountable for misconduct, and create a more transparent system in which discriminatory policing practices are eliminated. Visit the US House of Representatives website to find out how to contact your Representative and demand their vote in favor of police reform.