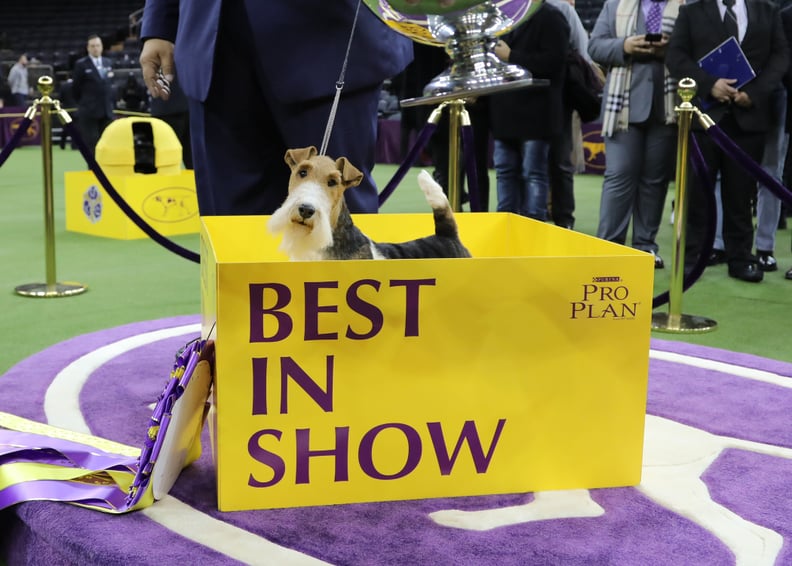 The Westminster Dog Show
The Westminster Dog Show
While I'm lounging around watching the Westminster Kennel Club Dog Show on TV, I often joke that my 6-year-old black lab, Yogi, would make a good contender. Large for his size and happy-go-lucky, I figure he'd make a lasting impression on the judges. However, after attending a preview of the show, I'm second-guessing Yogi's chances. According to Gail Miller Bisher, the Westminster Kennel Club Dog Show's resident spokesperson, there's a lot that goes into having a show dog, and I'm tired just thinking about it! Being named best in show, no matter the dog's breed, is one tall order. Here's what's involved:
1. You have to adopt them from the right breeder.
As you can imagine, one of the biggest keys to success when it comes to showing pups is getting your dog from a top breeder who adheres to ethical guidelines. "It all starts with the proper breeding program, making sure you get a dog from a responsible preservation breeder that does health screenings before breeding their dogs," explained Gail. "Make sure that they socialize their puppies before bringing a dog into your home and around your family."
2. You need to adhere to a strict grooming schedule.
Owners need to take grooming very seriously if they want to take the top spot. And there's no denying your doggo probably looks his or her best with a fresh cut, right? "You would have to groom them regularly with specific shampoos that are gentle enough for regular washing and very easy on the coat," advised Gail. "It needs to be easy to brush them without breaking their coat. You want them to grow their hair and not let it break off so that it looks nice in the show ring. My guess is [dogs who are competing in the show] are not out doing romps in the woods right now."
3. Dogs have to adhere to a "written standard."
Yup, your dog can be the best fetch player in the nation, but if he or she isn't the proper size or weight, they'll have a hard time winning! Judges base decisions on specific breed guidelines, which are maintained by the parent club of each dog breed. For example, there's a certain standard for Cocker Spaniels and a different set of guidelines for Golden Retrievers.
Gail noted: "The written standard talks about a dog's height. It discusses the coat texture, the eye shape, the ear length, the nose color, the length of muzzle and the head, as well as the shape of the skull." Seems pretty strict, right? While judges go so far as to note a dog's facial expression, Gail reminded us that since the show's inception in 1877, the point has been to "evaluate breeding stock," or determine the dogs who should produce the next generation.
4. Most pups are on a strict diet and conditioning schedule.
Think of show dogs as the equivalent of human supermodels. "The owner has to be dedicated to keeping their coat in condition and ensuring the dog stays at a healthy weight," said Gail. "Not letting them become overweight as they get older is a big part of it. We always recommend a premium dog food, like Purina Pro Plan. The type of treats you can buy vary. My dogs, for example, have blueberries or baby carrots for treats or kibble when we're training."
5. The bond between a pup and his or her handler is very strong.
"The teamwork is something you really see on TV," said Gail. "The handler and the dog have traveled together, stayed in hotel rooms for hours together, and have shown together, so there's this incredible bond that they share. Oftentimes, a handler will know exactly what that dog is going to do, whether it's from the pull of the lead or the look they give you. Having that team mentality gives you a huge advantage."
6. Your dog can be nearly any age to compete.
Your pupper can start competing once he or she hits 6 months old. And the best part? There's no age limit! As a matter of fact, the oldest dog to win best in show, a Sussex Spaniel named Ch. Clussexx Three D Grinchy Glee (aka Stump), claimed the title at 10 years of age in 2009.
Tune in to the Westminster Kennel Club Dog Show beginning at 8 a.m. ET on Feb. 10 on Fox Sports 1 to find out who's best in show this year!