Wellness is a journey, but all you need to commit (or recommit) are some achievable goals and a little motivation. We've teamed up with
Corona Premier®
to set you up for success and celebrate the wins. From tips and tricks on how to beat burnout to rewarding yourself with a virtual happy hour or healthy-ish dessert recipe, we'll help you re-envision your overall wellness and make an actionable plan for feeling good in the new year — and beyond.
Echelon x Corona Premier® Happy Hour Workouts
You work hard all week and it's time to reward yourself! Join Echelon instructors for a total-body workout and cooldown with Corona Premier. You'll earn your crown with these fun, happy hour workouts.
Don't Stop Now! More From Echelon x Corona Premier®
If you are enjoying this workout, try their four-week program: the Echelon Challenge in partnership with Corona Premier! This fitness program features a variety of equipment-free workouts varying in length and intensity, ensuring there's a starting point for everyone.
Get
Corona Premier®
Delivered right to your door. Use code
PREMIERPOPSUGAR
and save $5 courtesy of Drizly.
Code is for 21+ and New Users Only. Available in most cities where Drizly is available. Drizly Terms and Conditions Apply.
Pairs well with Corona Premier®
Echelon's Sausage, Pepper, Kale, and Onions Savory Oatmeal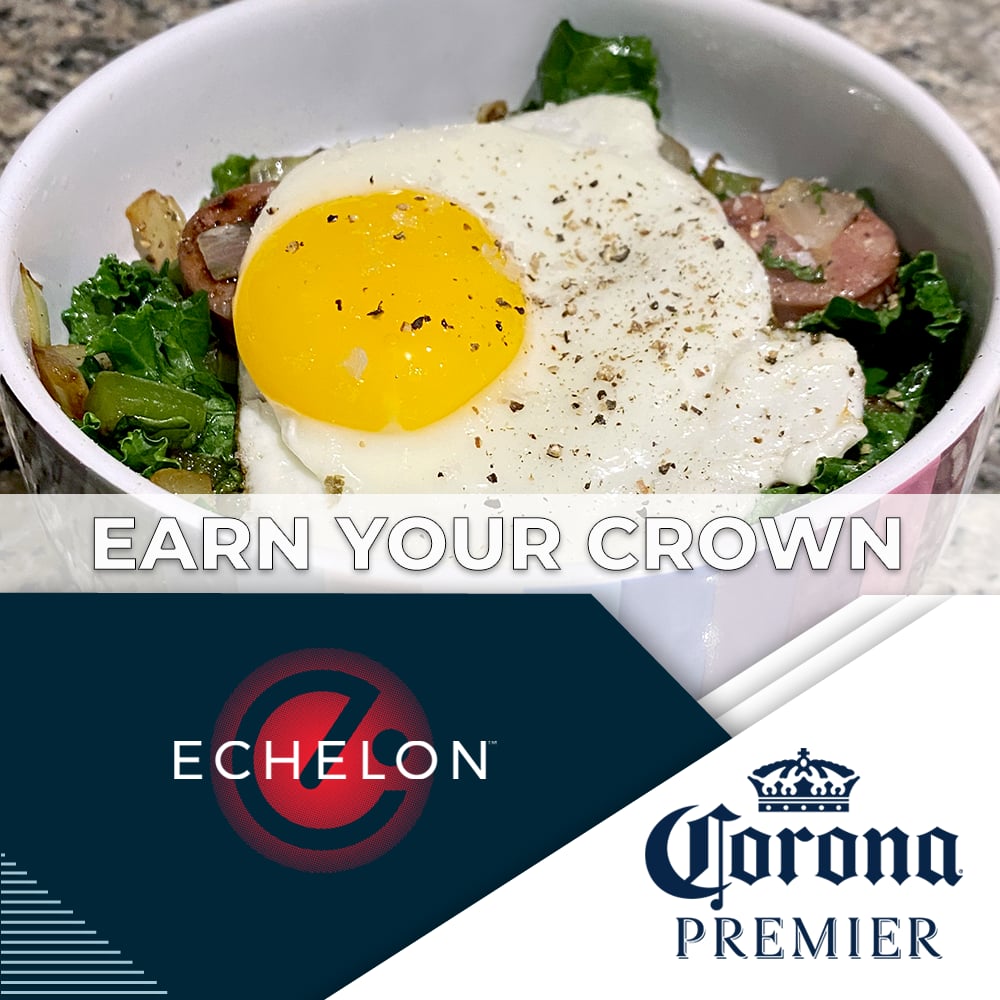 Ingredients:
1/2 Cup Quick Oats
3/4 Cup Bone Broth *Can add more or less for a desired consistency
1 Cup Kale, Chopped
1/2 Cup Green Pepper, Diced
1/2 Cup Onion, Diced
1 Chicken Sausage, Sliced
Olive Oil *enough to coat pan
Salt and Pepper to taste
Egg *Optional
We're huge fans of breakfast and could honestly eat breakfast for every meal of the day (this recipe makes a great dinner too!). As instructors, we're always on the go and in need of a breakfast that is quick, easy, and will keep us full. Now typically we crave sweet oatmeal with peanut butter and berries, but every now and then we crave savory oatmeal. What we love most about oatmeal is it is a blank canvas - it will taste like whatever you put in it. Plus, it's super filling! Savory oats are perfect when you have leftover proteins from night before. Don't be afraid to get creative!

Step 1: Prep all ingredients. Dice and chop the vegetables and heat pan on medium heat. Add olive oil to pan. In a separate small pot heat up bone broth to a low boil.
Step 2: Add the peppers to the pan. Shortly after add in the onions and sausage to the pan cook unit brown. Adjust the heat to low and add in the kale. Mix the peppers, onions, and sausage with the kale.
Step 3: Mix the bone broth and quick oats together. We typically just pour the broth into a bowl with the oats and stir. Salt and pepper the oats to taste.
Step 4: Top your oats with the kale, pepper, onion, and sausages from your pan. Option to cook an egg to add to the top of your oatmeal. I like to cook my egg sunny side up.
Step 5: Enjoy!
Echelon's Sautéed Sweet Potatoes,Baked Salmon and Side Salad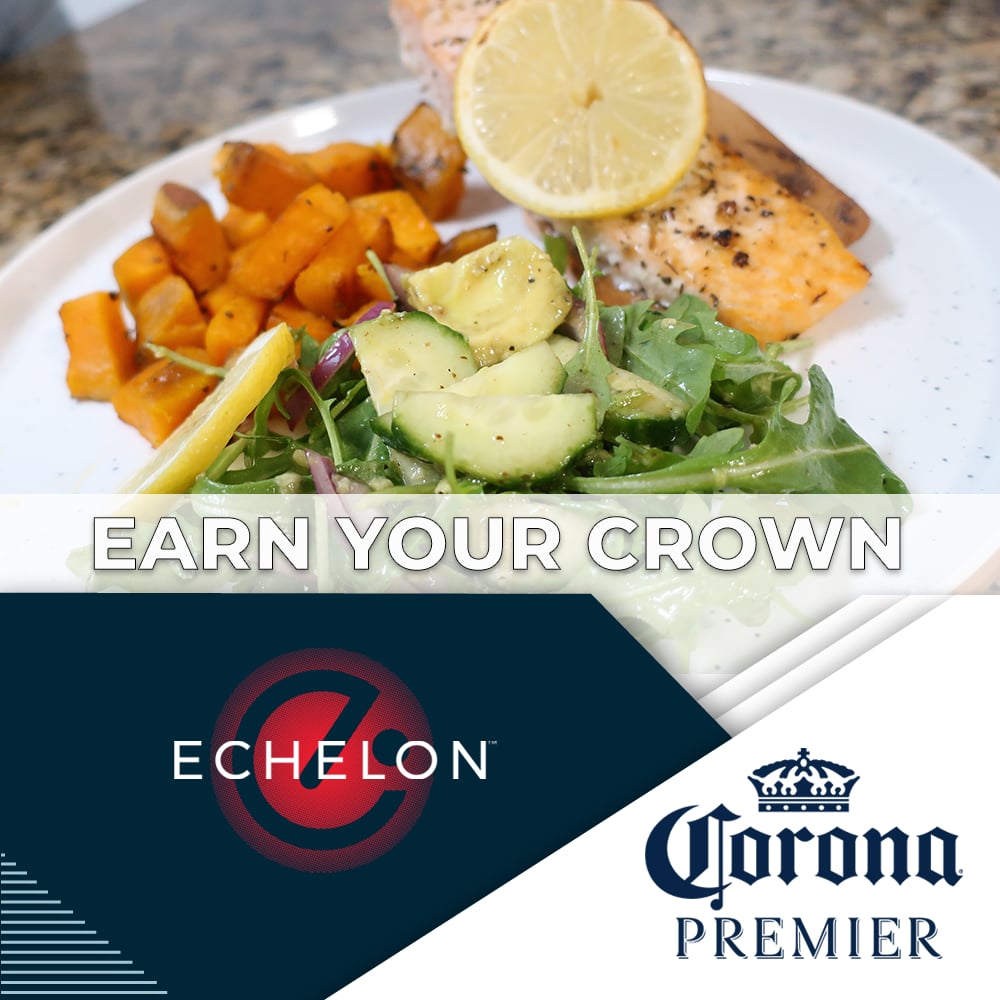 Ingredients (serves 2)
2 Sweet Potatoes, cubed
2 tbsp Coconut Oil
1 tsp Pink Himalayan Salt
1 tsp Oregano
Pepper
2 Salmon Filets
Lemons, sliced
2 Rosemary Sprigs
Arugula
1/2 Red Onion, sliced
1 Cucumber, sliced
Minced Garlic
Balsamic Vinaigrette
Sautéed Sweet Potatoes:
-Dice up sweet potatoes into 1 in cubes
-Boil sweet potatoes till fork tender
-Add coconut oil to pan
-Season sweet potatoes with pink Himalayan salt, oregano, pepper
-Brown sweet potatoes to perfection
Baked Salmon:
-Season salmon with pink Himalayan salt (again) lemon slices and some rosemary
-Wrap in foil completely and bake for 15 mins at 350 then broil for 3 mins without foil
Salad:
-Arugula
-Thinly sliced red onion
-Thinly sliced cucumbers
-Dressing made of minced garlic, PH salt, pepper, lemon, and balsamic vinaigrette
-Toss salad ingredients with dressing
Echelon's Greekamole Chicken Burrito Bowl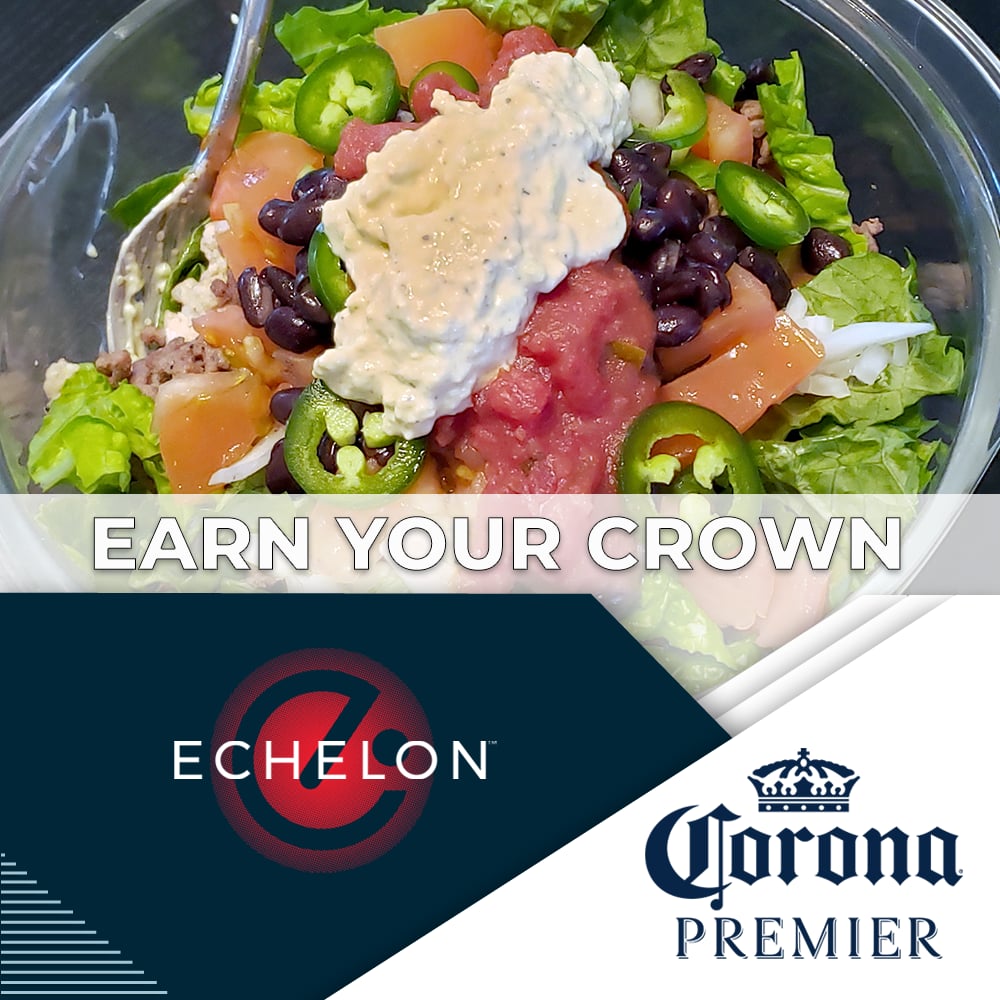 Image Source: Corona Premier & Echelon
Ingredients (serves 4, plus leftovers!)
1-2 large tomato, diced
1/2 onion, diced
Romaine lettuce, chopped or pre-packaged mixed lettuce
1 can of black olives
1/4 to 1/2 a bundle of cilantro, chopped
Salsa (store bought or homemade)
2-4 peppers, sliced
11 oz of greek yogurt
1 medium-large sized avocado, smashed
1-2 garlic cloves, smashed (added to smashed avocado)
Hot sauce to your liking
brown rice
1 can of black beans
Tortilla chips (Hint of lime brings it home well!)
1 lb. of ground chicken breast
You can include any of the veggies to the person('s) desire in the bowl. We typically go with tomatoes, onions, lettuce (any kind), olives, cilantro, salsa (if we have the time - homemade), peppers (generally jalapenos, but at times habanero or if we really want some heat, scotch bonnets).
The magic is the homemade greekamole: greek yogurt and guacamole mix. We're not huge fans of sour cream and greek yogurt adds more protein to the bowl! Prep an avocado with salt, pepper and smashed garlic. Mix them all together until combined well and still a bit chunky or, if desired, puree to smooth out. Stir plain greek yogurt (around 1.5 - 2 of the 5.3 oz individual servings or we buy the big tub for other meals in place of sour cream). Add the two mixtures together, taste and season with more salt and pepper, if needed, and add (our favorite) hot sauce!
Depending on what we want for carbs, we will use brown rice, hint of lime tortilla chips and/or black beans. Usually it's all of them, but chips sometimes miss the cut.
For the meat we use ground chicken breast. Cook and season with salt and pepper. Let the Greekamole sauce and salsa do the flavoring!
Echelon Go to Lunch Recipe
The great thing about eating healthy is that you don't have to be a great cook! Simple is better, which is why this is our go-to lunch.
110g chopped red cabbage
110g chopped green cabbage
30g chopped kale
50g radishes (or another red veggie - tomatoes are good, too!)
50g red or yellow onion
1/2 medium apple, chopped
3oz fully cooked frozen chicken
10g nuts (I like sriracha almonds)
Balsamic dressing
You can use a food processor to do the chopping for you - which makes prep quick and easy.
Chop the green and red cabbage and kale together and add to plate. Slice radishes and onion and add to plate. Slice and apple then cut into bite-sized chunks; add to plate. Heat chicken (a couple of minutes in the microwave should do it!) and add to salad, then top with nuts and dressing.
You can make this salad ahead of time, just add a little lemon juice to the veggies (it takes the bitterness out of the kale and keeps the apples from turning brown) and keep the chicken, nuts, and dressing separate.
Jalapeño Lime Chicken Wings
Yield: 12 each
Prep Time: 40 minutes
Grilling Time: 20 minutes
Ingredients:
1 cup Avocado Oil
4 each Jalapeno, seeded and minced
8 each Limes, juiced and zest
1 cup Agave Syrup
2 tbsp Cilantro, leaves only, minced
2 tsp Kosher Salt
1 tsp Black Pepper, fine grind
20 each Chicken Wings, drums and flats
¼ cup Olive Oil
t.t. Kosher Salt
t.t. Black Pepper, coarse grind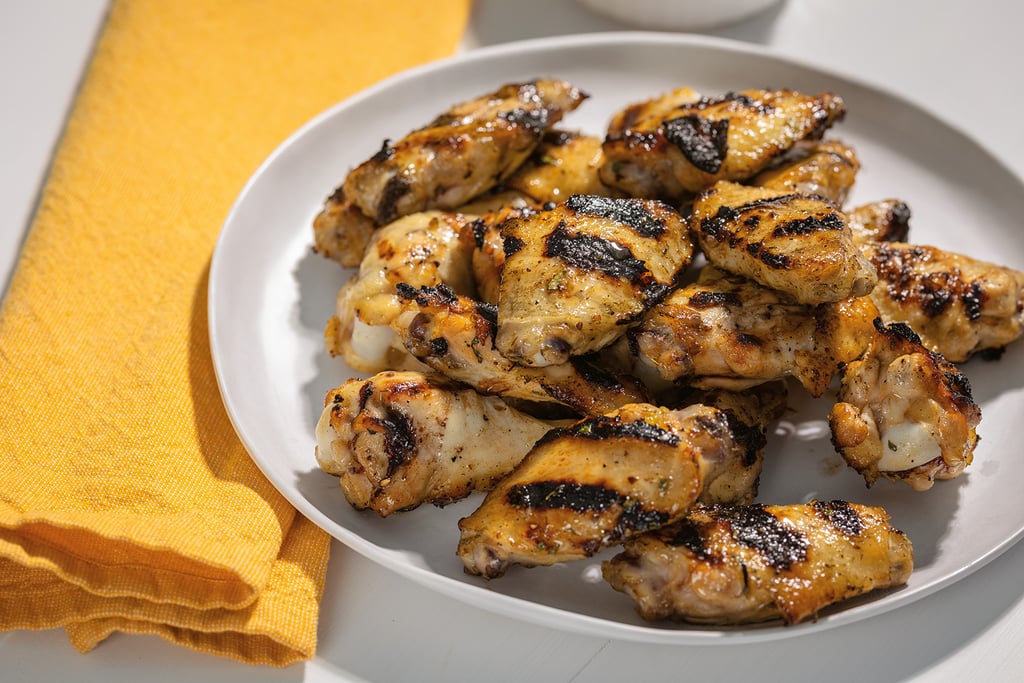 Image Source: Corona Premier
Prep:
1. In a mixing bowl, combine avocado oil, jalapeno, lime juice, zest, agave syrup, cilantro, salt and pepper. Mix well to combine.
2. Place chicken wings in a gallon ziplock bag. Add HALF of the jalapeno lime marinade. Toss well to combine. Press out the extra air and seal the bag. Place bag in the refrigerator for 30 minutes turning once.
3. Prepare the grill or grill pan for cooking over medium high heat (400º - 450ºF).
4. Remove the chicken wings from marinade and season with salt and pepper.
5. Grill the wings over direct medium heat, with the lid closed, until browned on both sides, 10 to 15 minutes, turning once or twice. Then move the wings over indirect heat and cook, with the lid closed, until the skin is crispy and the wings have reached 165ºF. Roughly 15 to 20 minutes more. Baste the wings every 5 minutes.
6. Remove the wings from the grill and baste 1 last time with marinade.
7. Serve warm.
Chili Lime Glazed Chicken Skewer
Image Source: Corona Premier
Yield: 8 - 10 each
Prep Time: 15 minutes
Grilling Time: 10 minutes
Ingredients:
½ cup Honey
4 each Limes, juice and zest
2 tbsp Olive Oil
1 tsp Garlic, minced
1 tbsp Soy Sauce
2 tsp Ancho Chili Powder
½ tsp Red Pepper Flakes
1 lb. Chicken Breast Tenderloins, boneless, skinless
As needed Kosher Salt
As needed Black Pepper
8 - 10 each 4" Bamboo Skewers, soaked in water 30 minutes
Prep:
1. In a mixing bowl, combine honey, lime juice and zest, oil, garlic, soy sauce, ancho chili powder and red pepper flake. Mix well to combine. Set aside.
2. Skewer 1 piece of chicken tenderloin lengthwise on each skewer.
3. Repeat until all the chicken is used up and skewered.
4. Prepare the grill or grill pan for cooking over high heat (500º - 550ºF). Allow grill to preheat for 15 minutes, or 5 minutes for a grill pan.
5. Brush the grill grate clean.
6. Season the chicken skewers with kosher salt and black pepper.
7. Grill the chicken skewers over direct high heat with the lid closed as much as possible until cooked to desired temperature. Roughly 8 to 10 minutes turning once.
8. In the last minute of cooking brush generously with the chili glaze.
9. Serve Immediately.
Keep the Good Vibes Comin'