Best Buy Tweets About Serial
Was Best Buy's Attempt to Chime In on Serial Offensive?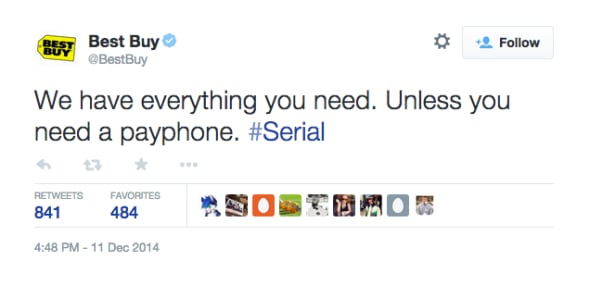 Best Buy received some seriously negative social media reactions after posting this tweet Thursday. The company's controversial post is referring to the podcast Serial, an incredibly popular program from This American Life that explores the murder of Hae Min Lee in 1999. If you're a Serial fan, you know that a pay phone in the parking lot of a Best Buy is a vital part of the story when it comes to the court's case against its suspect, Adnan Syed. The podcast explains that the court claims that Syed called a friend at that pay phone right after allegedly murdering Lee.
Now that you know the backstory, you can see where Best Buy is trying to go with its joke. Unfortunately for the company, many people were upset about the tweet because it tried to make a real-life murder humorous. Soon after tweeting the message, Best Buy took it down and issued an apology, stating that the post "lacked good judgment and doesn't reflect the values of our company." Let us know what you think about the Serial tweet below.
Front Page