Gmail Inbox App
A New Gmail App Gets Rid of Inbox Clutter For Good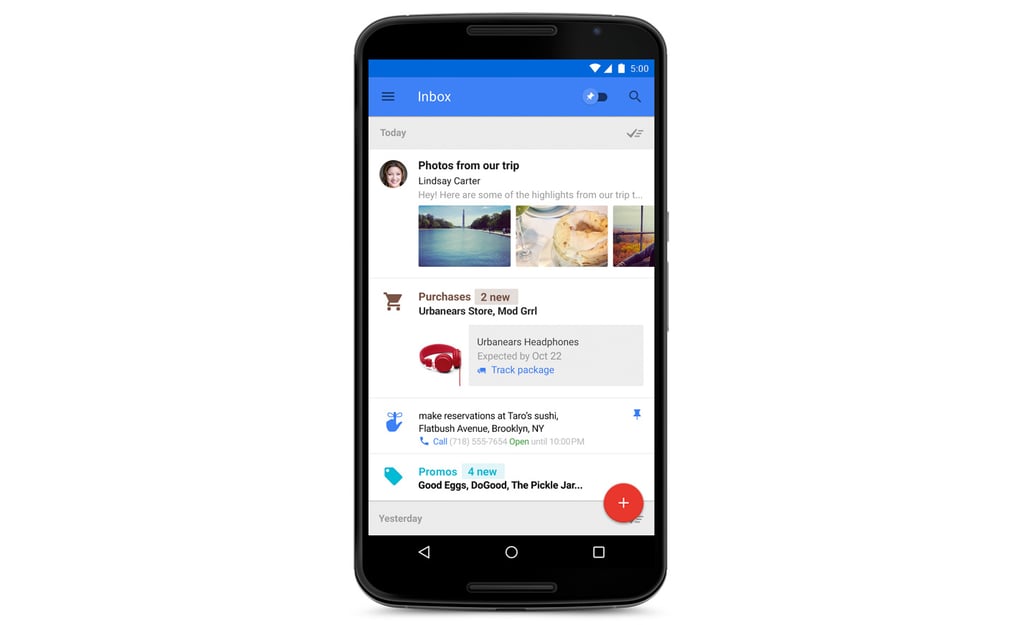 Google launched a new app that's going to change the way you look at email. Thank goodness, because our email is completely out of control. No, the new app is not a new version of Gmail. It's called Inbox, and it's an app for Android, iOS, and the web (inbox.gmail.com) that organizes your Gmail inbox in a completely different way. "Starred" emails are now "pinned" emails, and "labels" are now called "bundles."
Here's a simple breakdown of how Inbox by Gmail works. It sees each email as a task. You can snooze emails to go away and reappear in your inbox later. You can "pin" emails as a reminder to respond to them later. You can add reminders to call or email a contact (it's synced with your Gmail address book). You can even add mundane to-dos like "pick up the dry-cleaning" or "cancel gym membership." A thumbtack switch at the very top of the app allows you to see all your pinned emails and reminders in one place.
Yeah, we know; it's pretty confusing. We got early access to the app to see what it can really do. Here's a little preview.
As you can see, there's a little "+" button at the bottom. This is your shortcut to creating reminders and sending emails to your most-frequently messaged contacts. Checking emails also brings up the snooze feature. Click on the clock button and set the timer for when you want the emails to populate back in your inbox. If you need to see them right away, there's a tab on the left called "Snoozed" where you can access all your snoozed email conversations.
The app has other nifty features, like bundling emails in these categories: travel, purchases, finance, social, updates, forums, and promos, and you can also create your own. They don't clog up your email inbox, since they're tucked away. If an email has an attachment, you'll be able to access the photo, spreadsheet, or other media file right from the inbox without having to click through to the email.
Inbox by Gmail works a lot like another popular email app called Mailbox, which has similar snooze capabilities. But Google's new app has the advantage because it has so much information about what kind of emails are important to you. Gmail knows what flight reservation emails look like, so it can bubble up your boarding pass on the day of your flight to the top of your inbox. Similarly, it knows what packages are being delivered to you and will make tracking updates a priority in your inbox. That data is what allows the Inbox app to bundle all your related email together, intelligently. It's a smart idea, but it definitely takes some getting used to.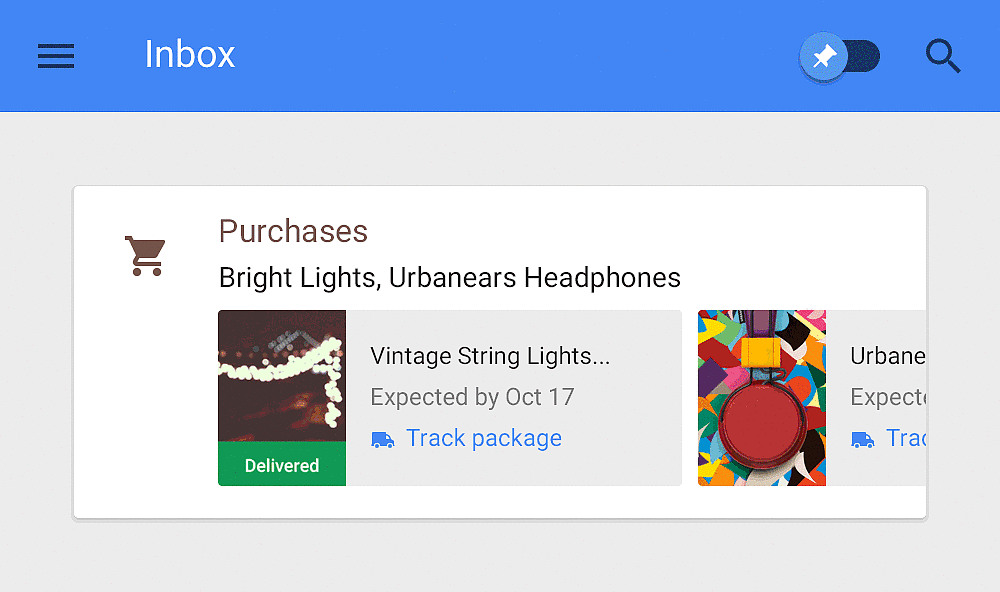 The design is very clean and beautiful. It incorporates a lot of the same elements we're expecting in Android Lollipop, a new mobile operating system for Android that's due to arrive any day now. If you want to give Inbox by Google a try, email inbox@google.com for an early access invitation. The app will roll out to all users soon.