Running Gadgets
How a Geek Trains For a Marathon
As POPSUGAR editors, we independently select and write about stuff we love and think you'll like too. If you buy a product we have recommended, we may receive affiliate commission, which in turn supports our work.
Gadget geeks and fitness mavens roll in the same circles now with the explosion of wearable fitness technology. Which is why Nike offered me the chance this Spring to train for the DC Women's Half Marathon and use the brand's mix of gadgets to get in running shape. (Note: since the initial half marathon training began, rumors have swirled that Nike will stop making its line of fitness hardwares later this year, but there's been no official word on exactly which gadgets the sports company is cutting back on.)
Though I ran the Nike Women's SF Half Marathon in 2013, I consider myself a beginner runner and used the 16-week training plan from POPSUGAR Fitness to jump-start my life as a verifiable marathoner. In addition to the weekly running plan, these are the gadgets and products I never hit the treadmill or the streets without.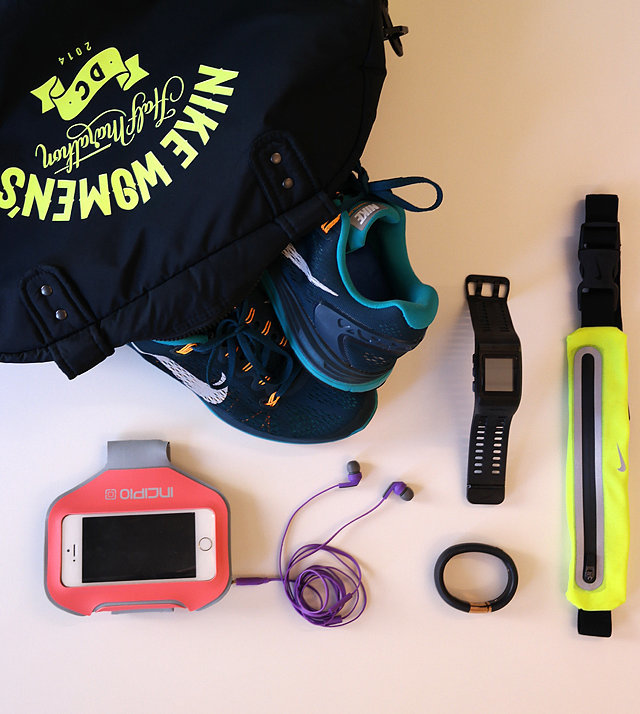 Running Watch
When training for my first half marathon, I relied on friends to keep us on pace and not overexert ourselves too early or start lagging when a run went into its fifth mile. Because I trained for the DC Half Marathon on my own, the Nike+ Sportwatch GPS ($139) was my lifesaver for every run. Almost too much of a lifesaver, since I would obsessively look down at the watch to check my current pace and distance. I have a tendency to start a run going way too fast, and monitoring my pace on the Sportwatch helped me to check myself before I wrecked myself and get totally winded. When it's plugged into a computer, recent runs are mapped out on the Nike+ website using GPS data from TomTom, showing exact routes and changes in elevation.
Activity Tracker
Like smartphones, choosing a fitness tracker has largely come down to personal preference — how you like the company's software interface and whether it's compatible with an Android or iPhone. Most of them all track steps, calories burned, and activity levels. Nike let me use a FuelBand SE Rose Gold ($169) during training to make sure I was still getting up and moving even on a rest or cross-training day. Aside from being fashionable (I have never gotten so many compliments on wrist wear), I loved that I could press a button and see instant updates on my steps, calories burned, and Fuel without plugging the device in to a phone or computer. I'm really hoping the user interface and experience of the Nike+ fitness software will make its way into whatever rumored Apple fitness collaboration is on the horizon.
Headphones
Secret fact of getting active: all that sweat you're working up ends up making it really hard to keep a pair of run-of-the-mill, generic headphones in place. I've liked Yurbuds in the past, but for this training cycle, I opted for a pair of Incipio f80 Hi-Fi Stereo Earbuds ($35) and was impressed by their ability to stay in place even during long (read: sweaty) runs. The tangle-free cord was the antithesis to every pair of earbuds I've used in the past.
Music
I nearly gave up on one early run after being driven crazy hearing the same commercial for the fourth time in 45 minutes. Music is my main motivator on any run, so purchasing Spotify Premium ($10 per month) was absolutely necessary. It's ad-free, there are unlimited song skips, and it offers offline playlists, which were crucial when my cell signal was weak at the gym. Plus, I didn't need to depend on my own playlists with Spotify, since plenty of Facebook friends, bands, and influencers (like POPSUGAR Fitness) share their mixes with the public.
Armband
Running with a phone in your hand gets old, and the Incipio Armband for iPhone 5S ($35) is a comfortable option thanks to the soft, water-resistant neoprene — no gross sweat buildup here. The plastic window registers touch, so you can skip through songs that aren't motivating your feet to hit the pavement.
Fanny Pack
Despite room in the armband for ID and a key, I don't pack light when it comes to running. I at least need storage for energy chews or gel and an inhaler. The Nike Running Waistpack ($20) stored everything that couldn't fit in an armband without adding any bulk to my body. Plenty of runner friends preferred packs that offer more room for personal items plus water, but in my experience running with a bigger band, I found myself fussing with it much more than the slimmer waist pack.
Source: Nike