Tweets About Kate Middleton Having Baby Girl
22 Perfect Royal Baby Tweets That Sum Up What We're All Thinking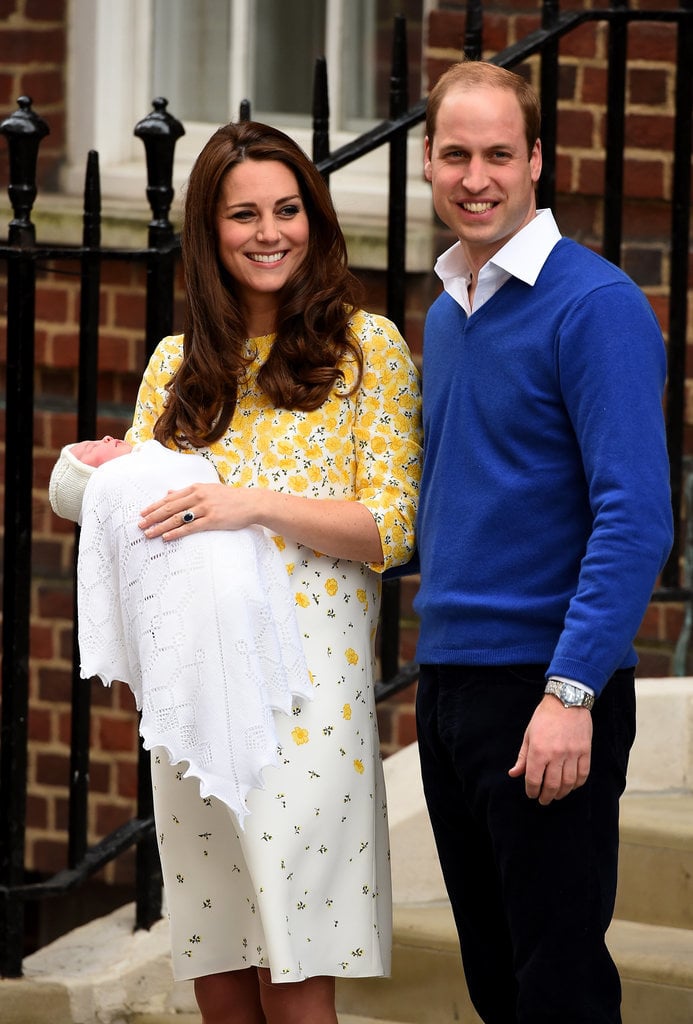 Kate Middleton gave birth to a girl over the weekend, and now we know her name: Charlotte Elizabeth Diana. Of course, the news wouldn't be complete without tweets that sum up exactly what we're all thinking.
On the name . . .
Charlotte is a fitting name for the Royal Baby because she's definitely not a Miranda or Carrie, and no way in hell she'd be a Samantha.

— Lauren Reeves (@laurenreeves) May 4, 2015
Baby Charlotte pic.twitter.com/WM7EejBX90

— BFF (@YrBFF) May 4, 2015
We're big fans of the name Charlotte. pic.twitter.com/dELiPCbdTw

— HarperCollinsCa (@HarperCollinsCa) May 4, 2015
So the royal baby will be called Charlotte. Not Princess Consuela Banana Hammock. I for one feel let down.

— BriBry (@BriBryOnTour) May 4, 2015
CHARLOTTE? I had so much money riding on A$AP Baby :(

— Erin Gloria Ryan (@morninggloria) May 4, 2015
On Charlotte's birthday . . .
all I know is Kate Middleton's still probably having a better hair day than I am

— Tess Koman (@tessie_the_mess) May 2, 2015
Text from Prince William: "Heir: DONE. Spare: DONE" #GoodLad #RoyalBaby

— Elizabeth Windsor (@Queen_UK) May 2, 2015
ROYAL BABY NAMES Wanky Bill Windsor Chilli con Windsor Paddy Power Windsor Barbara Windsor

— bob mortimer (@RealBobMortimer) May 2, 2015
British line of succession is now updated: Prince Charles Prince William Prince George #RoyalBaby Lady Mary Crawley Benedict Cumberbatch

— Paul Dunphy Esquire (@pauldunphy) May 2, 2015
Good thing is Will & Kate already have a pram & a cot & stuff from George so they'll save a little money there. #RoyalBaby

— rob delaney (@robdelaney) May 2, 2015
The Queen gets herself another horcrux #RoyalBaby

— TechnicallyRon (@TechnicallyRon) May 2, 2015
Prince George currently thinking of places to hide his Aquadoodle & Duplo Farm. #siblingprobs #RoyalBaby pic.twitter.com/7Ws2FAYR9R

— Helen Craven (@helencraven) May 2, 2015
David Icke has posted the first picture of the #RoyalBaby birth pic.twitter.com/dlRgAT67s2

— Katie Weasel (@KatieWeasel) May 2, 2015
My fav Princess, please call her She-Ra!!! #RoyalBabyName pic.twitter.com/cVoFeXJZQB

— Scott Nunn (@mrscottnunn) May 2, 2015
"Yes Your Majesty, I am serious. I want to hold it up outside the hospital like Simba from the Lion King" #RoyalBaby pic.twitter.com/8Tw447NRsl

— David Cameron (@DavidChameron) May 2, 2015
"It's a boy, and WHAT a boy!" "Uh, that's the umbilical cord, it's a girl." #RoyalBaby pic.twitter.com/rrSMJH8tlD

— SimpsonsQOTD (@SimpsonsQOTD) May 2, 2015
8lbs 3oz. They always announce the weight. What about useful stats like Magic, Dexterity or Armour? #RoyalBaby

— Dr Paul Coxon (@paulcoxon) May 2, 2015
@clairemsb @SuzanneSteedman ?..and a town cryer! You MUST have a town cryer to announce the birth, apparently! xxx pic.twitter.com/lsQt5ZZyah

— Faerie Callie (@EmeraldElphynne) May 2, 2015
Imagine camping outside a hospital because someone you don't even know is having a baby. Almost as bad as waiting for the Next sale.

— death_stairs (@death_stairs) May 2, 2015
THEY NEED TO NAME HER VICTORIA BC SHE'S BE BORN ON THE BATTLE OF HOGWARTS ANNIVERSARY AND HAS AN UNCLE CALLED HARRY #RoyalBaby

— mia (@clarasfairytale) May 2, 2015
Not long before we see the #RoyalBaby pic.twitter.com/fbwpNLASVb

— Michael Clarke (@Mr_Mike_Clarke) May 2, 2015
Checking out the dessert menu like pic.twitter.com/5KnPCLwnHv

— HannahJane Parkinson (@ladyhaja) May 2, 2015