The Landing App Will Help You Make Stunning Vision Boards For Anything You Can Think Of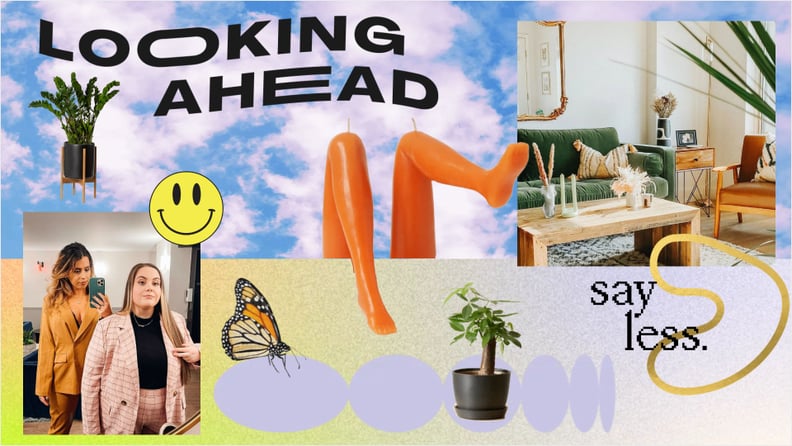 The Landing | POPSUGAR Photography / Theresa Massony
The Landing | POPSUGAR Photography / Theresa Massony
If you remember the days of Polyvore, an online platform that allowed its users to create collages of their favorite shopping picks, and mourned its demise, you'll be pleased to know a new app has essentially resurrected your favorite parts of Polyvore but also offers so much more. The Landing, a digital platform on which you can curate your dream vision board for, well, anything, is slowly picking up steam. Not only can you visually collage together your own mood boards, but you can "remix" other users' vision board designs with your own images and features, all of which are displayed on your profile. You can even follow other users, whose boards will aggregate in your own Landing feed.
Now pulling various features and inspiration from sites like Polyvore, Pinterest, Tumblr, and more, The Landing originated as a digital and physical interior design business, through which founders Ellie Buckingham and Miri Buckland would both design and assemble customers' desired spaces. Although the events of 2020 temporarily paused The Landing's plans to expand its physical design services, the platform adapted, leaning into its current state: a digital space to curate your most creative, aspirational vision board ideas, complete with the ability to add not only photos, but visual design elements and products to your creation.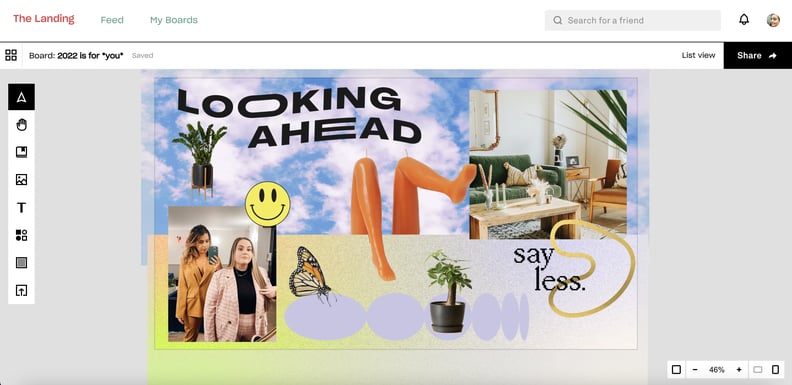 Using The Landing to make and share vision board ideas and collages is extremely intuitive, thanks to The Landing's user-friendly interface. When you click "New Board" you're able to choose from a blank portrait or landscape orientation, but you can also choose from a selection of pre-made board designs to put your own spin on. Once you've chosen your canvas, you can begin making your design using the toolbar to the left of your screen. You can add text and shapes, as well as products and designs already existing within The Landing to your own board, and you can upload your own images, doodles, and more. Clicking the "list view" button allows you to see a full breakdown of any products you've included in your design, with external links to purchase them. If you decide to share your design within or outside of The Landing, you can name and caption your board, categorize and tag it, share a public URL for it, publish it to The Landing's live feed of other users' published boards, or download the image you create just for yourself.
To get your own vision board inspiration, you can navigate to The Landing's Live Feed tab, which includes boards from people you follow and public boards. You can also narrow down the boards you see to reflect certain themes using the provided tag filters at the top of the page. The Featured tab, on the other hand, includes a more curated list of popular boards. On both pages, you'll see the option to save the boards you love, as well as the option to "remix" them, which allows you to create your own board based on the current design and layout of the original.
Overall, The Landing offers an aesthetically pleasing platform on which to collage and share everything from your 2022 vision board to your favorite beauty products to your favorite books. As you think on what 2022 looks like for you or your New Year's resolutions, allow your imagination to run wild with your very own vision board.