How to Style Baby Bangs
Copy Beyoncé's Blunt Baby Bangs in 3 Easy Steps
As POPSUGAR editors, we independently select and write about stuff we love and think you'll like too. If you buy a product we have recommended, we may receive affiliate commission, which in turn supports our work.
Inspired by Beyoncé's flawless new look? InStyle broke down the three steps you need to try out those bold baby bangs for yourself.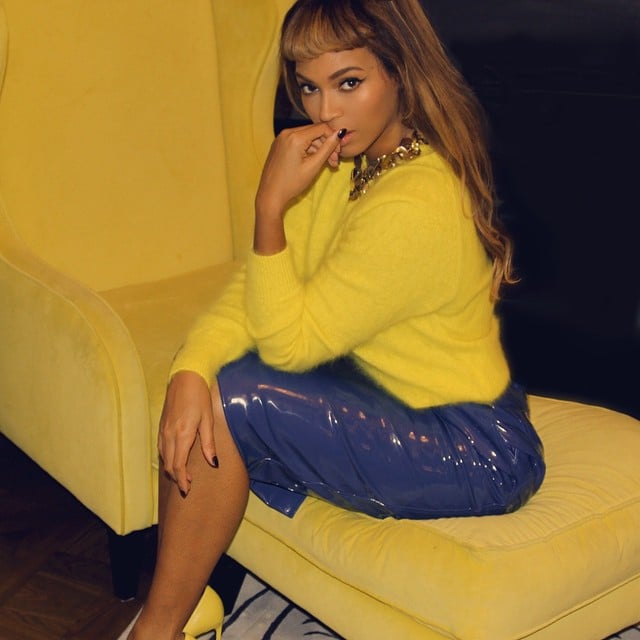 Baby bangs are definitely a risky look, but if anyone can pull off the trend, it's Beyoncé. Perhaps as a nod to pinup legend Bettie Page, the star took her wispy, brow-grazing fringe to new heights, and we admit, we're pretty tempted to follow suit. Though they may seem easy enough to chop yourself, we recommend seeing a professional to get the effect just right — trying your own hand at the look may result in an uneven cut, or a too-short length. Your hairstylist will be able to determine the most flattering version for your face shape, and as an added bonus, you'll get more wear out of these than their longer counterparts if you allow them to grow into blunt bangs. Ready to make the cut? Keep reading for our tips on how to get your baby bangs as flawless as Beyoncé's!
1. Beyoncé may be able to say she woke up like this, but if you tend to toss and turn at night, your bangs may end up a little out of place in the morning. Plus, unless your hair is naturally bone-straight, the ultra-short length will need some maintenance. Lock in a sleek texture with Sarah Potempa's mini flat iron ($35), or if you prefer a softer effect blow them out with a small-barrel round brush like Drybar's ($35) and direct the ends inwards. A few quick passes with a bristle brush like Bumble and Bumble's ($95) will help to break up the texture if you accidentally wind the curl too tight.
2. Unlike layered bangs, which can be worn to the front or pushed to the side, baby bangs lay against your forehead and have the tendency to look a little more slick than the rest of your layers — especially if you're constantly touching them and re-adjusting them throughout the day. Give your fringe a blast of dry shampoo like Suave's ($3) at the roots to absorb excess oil. Give them a quick tousle to evenly distribute the product, and comb them into place.
3. Though a Bettie Page–esque makeup look isn't always required, pay special attention to your eyebrows — baby bangs fall just above your arches, so any uneven areas could be further emphasized. To ensure yours are symmetrical, take a moment to measure where they should begin, rise, and end. Hold a pencil or brush vertically against the bridge of your nose to determine the starting point, then tilt it over the very center of your eye to find your arch. Finally, line it up with the outer edge of your eye to see where your brow should end. Fill in any sparse areas with a product like Billion Dollar Brows' Universal Pencil ($18), or groom the hairs into place with a tinted gel like Maybelline's ($8).
More from InStyle:
The Hottest Celebrity Bangs
Test Beyoncé's Glamorous Hairstyles With a Virtual Makeover
Get Inspired by Beyoncé's Best Hairstyles Ever
Source: Instagram user beyonce