Rihanna Fenty Beauty Purple Lipstick
Rihanna Just Revealed TWO New Fenty Lipsticks Coming — Including Lavender!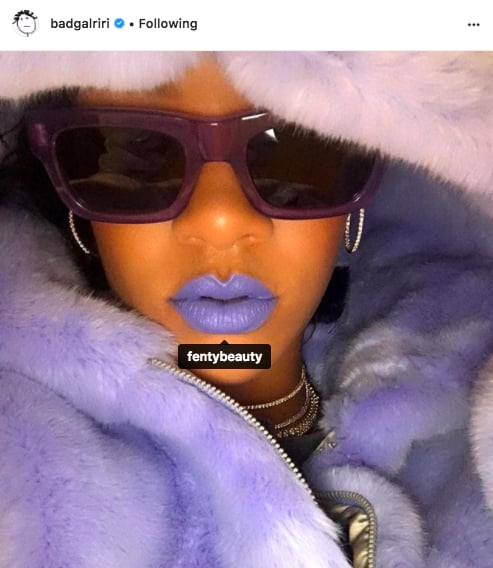 Image Source: Instagram user badgalriri
Now that we've all got our Trophy Wife highlighters and Stunna Lip Paints, we're eagerly waiting for Rihanna to reveal the next Fenty Beauty launch. She already previewed a navy lipstick. Now, it seems she may have a lavender purple and a hot pink one in the works as well.
On Dec. 9, the beauty mogul posted a selfie of herself in a pastel purple fur coat with a bright lipstick in the exact same shade. It's kind of reminiscent of her famous "Unicorn" Match Stix Shimmer Skin Stick, but a bit more blue and cool-toned. "Ya dig?!" she wrote, tagging Fenty Beauty on her lips.
Fenty Beauty reposted the same image and caption with the addition of a smirking face emoji — a playful hint. The following day, Rihanna reposted a paparazzi shot of her wearing a shocking pink color on her pout. Again, she tagged Fenty Beauty and it reposted, this time giving us a shade name: Candy Venom.
Given all the clues, it's clear Rihanna definitely has multiple new lipsticks on the way. Still, we have so many questions. Will there be a whole collection? Will they all be out-there colors like lavender, navy, and fuchsia? What will they be called?
Only time will tell. For now, we'll just keep admiring how the daring hues look on the queen.