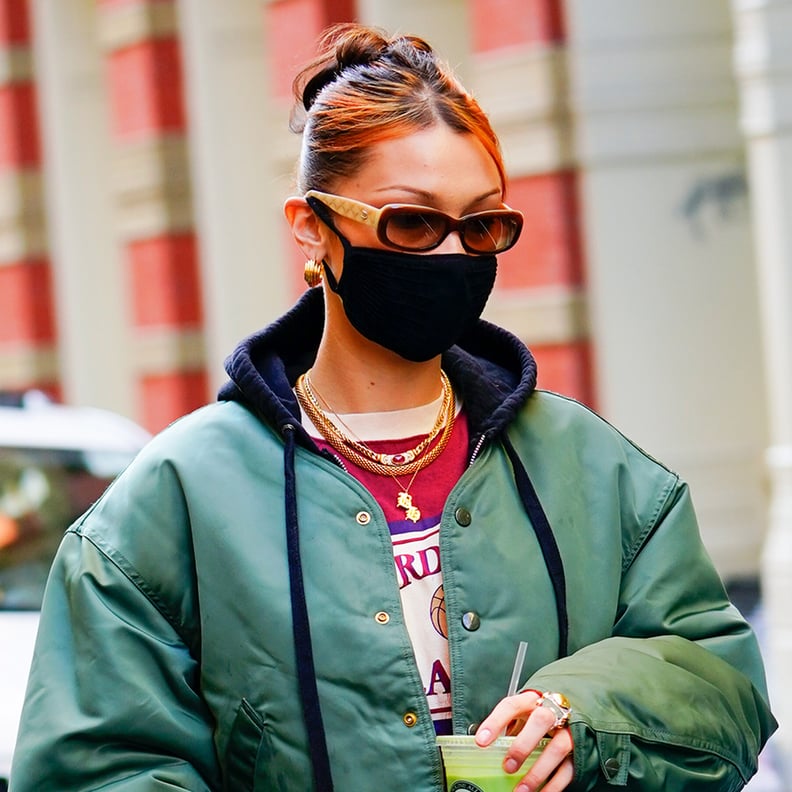 We all have a hairstyle that we go back to over and over again. For Bella Hadid, that style appears to be chunky money-piece highlights. The model recently debuted the '90s-inspired trend on Instagram, just eight months after she wore the face-framing highlights the first time in December 2020. Clearly, she was missing the bold look.
Unlike the first time, Hadid's new money-piece highlights are bluntly chopped and hit just past her chin, whereas the style from last year was seamlessly blended into the length of the rest of her hair. This new iteration makes for an even bolder high-contrast look that is reminiscent of Ginger Spice's signature hairstyle. Hadid captioned the carousel of photos, "A sweet dinner to celebrate our last job of the season before a few weeks off for summer!"
The first time Hadid tested out chunky highlights, she was in New York City and tucked them into her signature sleek updo. At the time, the model's fresh color was the work of celebrity hairstylist Evanie Frausto, who's also responsible for many of Hadid's '90s-inspired 'dos. Hadid shared a glimpse of the dye process on her Instagram Stories and debuted the finished look the following day. She had most recently played around with another very trendy style — the shag haircut — so it was no surprise when the model changed up her look once again.
Money-piece highlights made a huge comeback at the end of last year, and since then, celebrities like Beyoncé, Dua Lipa, and Zoey Deutch have all rocked the nostalgic trend.
Ahead, take a closer look at Hadid's love for money-piece highlights.
Bella Hadid's Money-Piece Highlights in August 2021