Tiny Details You Missed From the Best Manicures at the 2021 Oscars
When it comes to award show beauty, sometimes it's all in the details — which is especially true if we're talking about celebrities' nails. Oftentimes, the manicures can be one of the most exciting and beautiful aspects of a beauty look, and luckily for us, the 2021 Oscars didn't disappoint on that front.
Although award season looked a little different this year, the celebrities in attendance decided to make up for it by serving all of the glamour with their nail art. There were plenty of modern updates on the french manicure, proving that the design is staying put, and also lots of sparkly accents that glistened on the red carpet.
Our favorite designs include Andra Day's classic french manicure with a V-shaped twist and Maria Bakalova's "french moonlight" nails created by Betina Goldstein. And we have to shout-out Glenn Close, who even had an on-trend manicure hiding underneath her gloves on the red carpet.
Zoom in on some of the best manicures of the 2021 Oscars ahead.
Andra Day's V-Shaped French Manicure at the 2021 Oscars
Andra Day's Oscars nails look simple until you zoom in closer and see her long '90s-inspired french manicure with a twist. Manicurist Jolene Brodeur used a base color of Movie Buff from the OPI Hollywood collection and created the V-shaped tip with the classic OPI shade Alpine Snow.
Glenn Close
You might be wondering why we're talking about Glenn Close's manicure when she wore gloves on the red carpet, but it's because she had an epic secret nail design hiding underneath. Close shared this pre-Oscars shot with her glam squad helping her get ready and we couldn't help but notice the neon yellow pop of color, which was one of 2020's biggest nail art trends. Her nails were equally as incredible as her dance moves to "Da Butt" during the ceremony.
Maria Bakalova
Maria Bakalova's really wowed us with her glitzy nail art. Manicurist Betina Goldstein shared that she wanted something "elegant yet young," so she created this design that combined a classic french manicure with a half-moon design. She called it "french moonlight," which we absolutely adore. To create the look, she used a sheer neutral-pink base with silver glitter over the top in the moon and french design using Doublemoss Arte brushes — which were designed by Goldstein.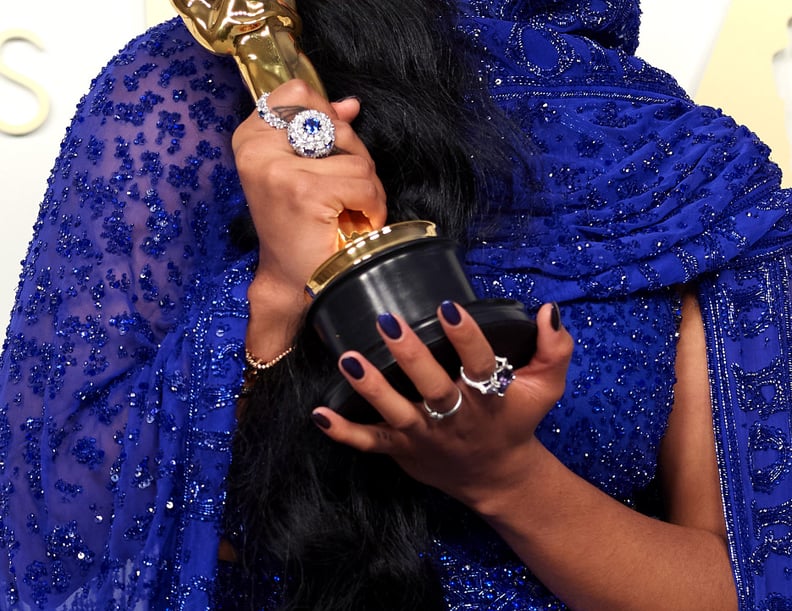 H.E.R.'s Midnight Blue Manicure at the 2021 Oscars
H.E.R. just found our new favorite manicure shade — a midnight blue that glistened in the light and matched her outfit perfectly. Oh, and of course it looked even better next to her Oscar.
Margot Robbie's Diffused French Manicure at the 2021 Oscars
Margot Robbie's Oscars nails proved that simplicity makes for a great manicure. Manicurist Tom Bachik was the perfect person for the job because he's the master of elegant, minimalist designs with immaculate cuticles (yes, we even pay attention to cuticles). Her natural, long nails with Chanel's ultra sheer pink shade Ballerina over the top created this beautiful diffused french manicure look.
Carey Mulligan's Reverse French Manicure at the 2021 Oscars
Classic with a modern twist is how we describe Carey Mulligan's nails for the big night. Manicurist Queenie Nguyen called this design the "gold micro reverse french." She used OPI in the shades Samoan Sand, Glitzerland, and This Changes Everything.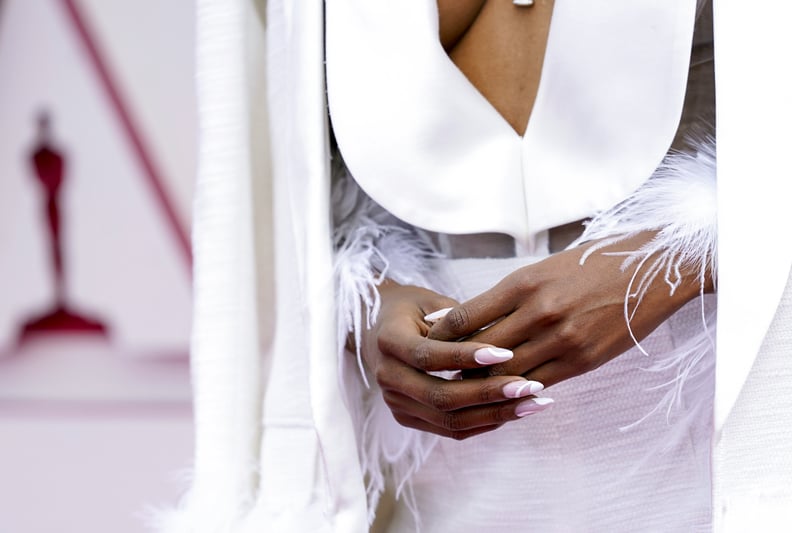 Tiara Thomas's Graphic White Manicure at the 2021 Oscars
Tiara Thomas's manicure looked like it was pulled right from our Instagram feed. The design, which has been referred to as the "Pucci" manicure, is everywhere at the moment. There are so many ways to wear it and we love that Thomas chose to match her all-white outfit with the crisp white swooping lines on her nails.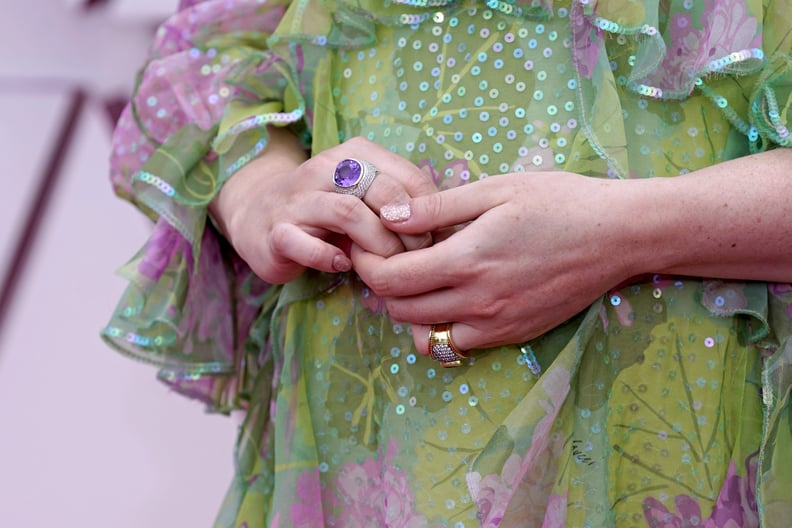 Emerald Fennell's Pink Glitter Nails at the 2021 Oscars
Emerald Fennell matched her dress with her nails by wearing a solid rosy pink glitter hue painted by manicurist Yoko Sakakura. We'll never get tired of glitter nail polish, especially when it's this sparkly.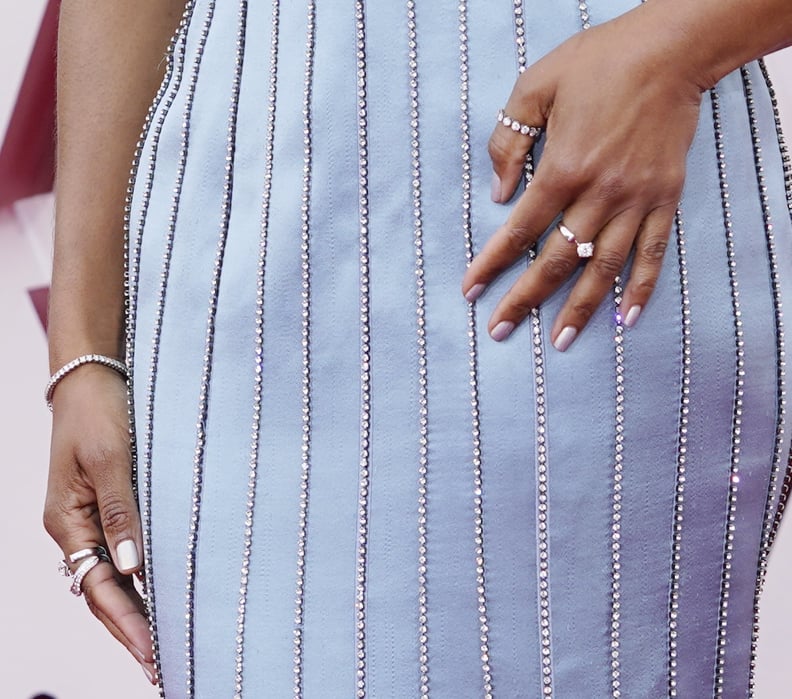 Regina King's Silver Manicure at the 2021 Oscars
Regina King's metallic blue Louis Vuitton column gown was the star of the show at the 2021 Oscars, but her manicure complemented it. This cool-toned shade of silver was the perfect choice for the occasion and reignited our love for metallic silver.