Briogeo Scalp Revival MegaStrength Dandruff Shampoo Review
This Shampoo Fights Flakes and Feels Like a Spa Treatment All at Once
As POPSUGAR editors, we independently select and write about stuff we love and think you'll like too. If you buy a product we have recommended, we may receive affiliate commission, which in turn supports our work.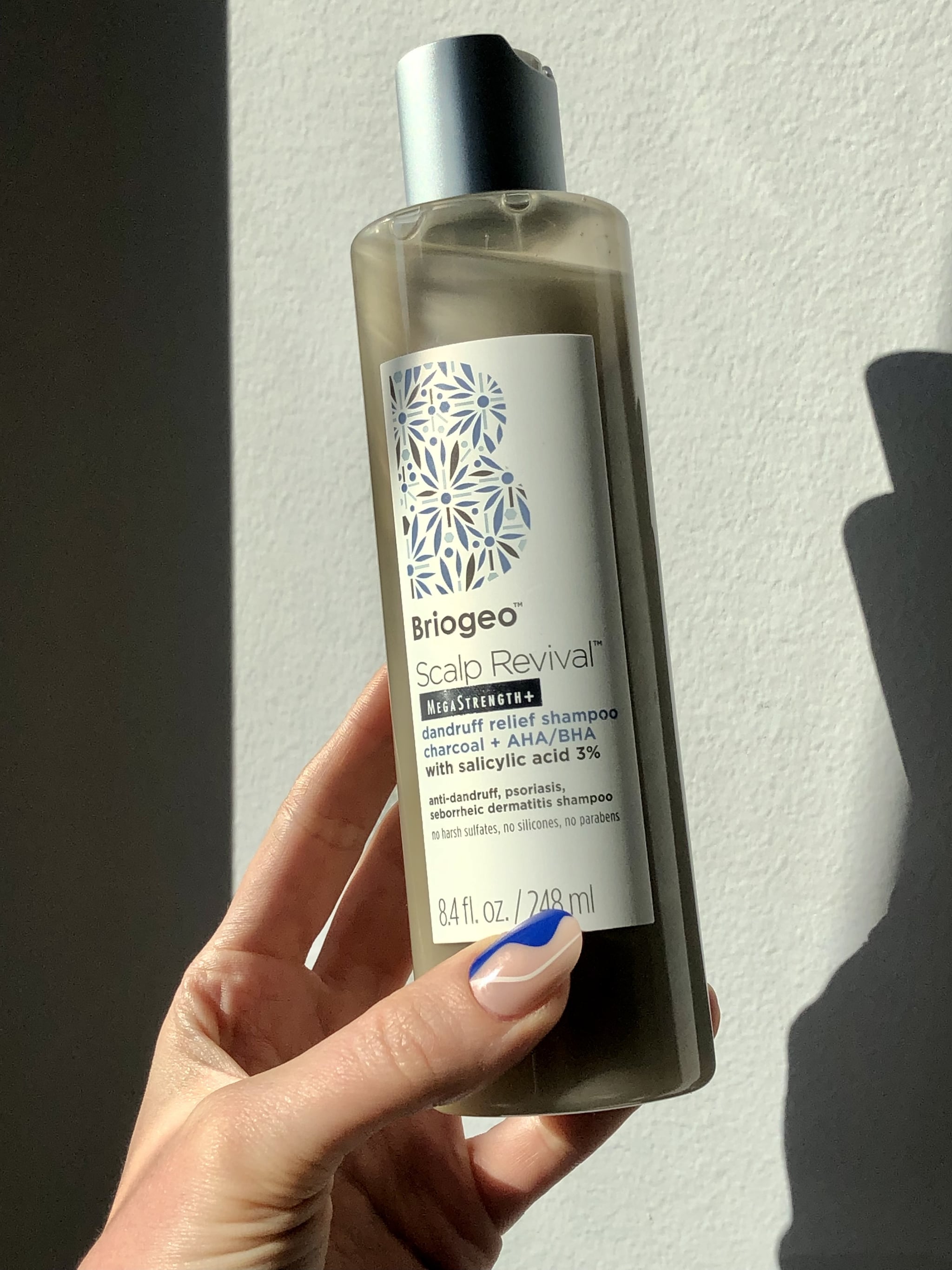 I'm prone to a dry, itchy scalp, especially in the colder months. In the past, I've tried to wash my hair less frequently, thinking over-shampooing was to blame. But after skipping a few wash days, I didn't see a difference (except for the fact that my hair looked incredibly greasy). Sick and tired of seeing white flakes nestled at the roots of my dark-brown hair, I decided to enlist the help of a hair-care line that would tend to my scalp issues without throwing it totally off balance.
After hearing tons of rave reviews from friends, I took a leap of faith and tried out the entire Briogeo Scalp Revival line. The Charcoal + Coconut Oil Micro-Exfoliating Shampoo quickly stood out from the rest because of the way it gently removed the buildup on my scalp without causing irritation, but after a while, I wanted something a little stronger. In what felt like divine timing, the brand recently announced the arrival of the latest addition to the Scalp Revival line: the MegaStrength Dandruff Relief Shampoo ($42). Right away, I knew I had to give the newest dandruff shampoo a try.
I'm not sure if it's the formula's potent ingredients, the fulfilled promise of a flake-free scalp, or the ultrafresh fragrance of tea-tree oil, but I'm in love with this shampoo. It's perfect for someone who, like me, needs a little extra help in the dandruff department. It contains just the right amount of salicylic acid and lactic acid to exfoliate away the flakes — in addition to the line's hero ingredients, detoxifying binchotan charcoal and soothing tea-tree oil — and offers a sudsy cleanse.
If you've ever tried the brand's exfoliating shampoo, which contains coarse naturally derived microbeads cased in a circular twist-off tub, it's worth noting a few differences. The MegaStrength Dandruff Relief Shampoo is housed in a clear cylindrical bottle, is lighter in consistency, has a silvery color, and transforms into a translucent milk-like texture when it comes in contact with water.
The first time I used it, I squeezed a quarter-size amount of the shampoo onto my palm and rubbed my hands together, taking a moment to appreciate how quickly the shampoo changed from a silvery gel to a white frothy lather. Because it gets so foamy, a little bit of product goes a long way. I made a mental note to use a dime-size amount next time.
After massaging it onto my scalp and bringing the excess down through my lengths, I could not only feel my whole body relax in the presence of the tea-tree oil scent, but I could also tell that the blend of natural and active ingredients was working. What I loved most, though, was the cooling sensation that kicked in after about 30 seconds. It made my scalp feel rejuvenated without any irritation or burning.
Once I rinsed the shampoo out of my hair, my scalp felt clean but not stripped of its natural oils. I completed my hair-washing session with a moisturizing conditioner and hopped out of the shower. The entire experience was spa-like, leaving both my mind and body — or scalp, in this case — invigorated yet simultaneously soothed.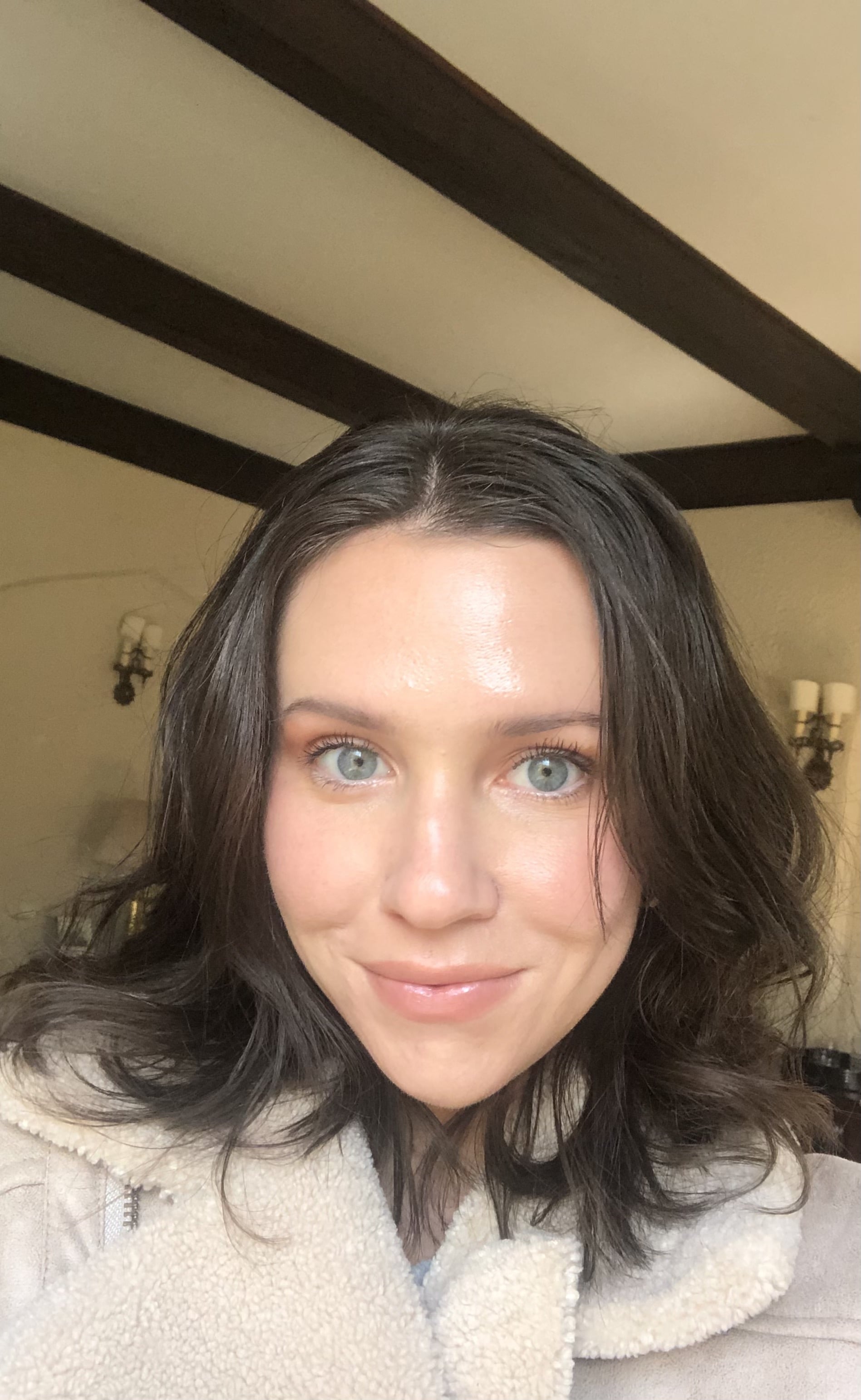 After letting my hair air-dry, I was thrilled to find that my scalp wasn't itchy or riddled with flakes. Initially, I was worried that the active ingredients in the shampoo would instead dry it out, but that wasn't the case here; my hair still had its normal bounce and shine. After continual use, I've noticed that my scalp has been producing less oil, so my hair feels less greasy as a result.
The shampoo can be used every time you wash to keep the scalp (and hair) looking and feeling fresh — and flake-free. I can't recommend it enough if you deal with dandruff or dryness. Between the smell, the efficacy, and the clean, naturally derived ingredients, you won't regret giving it a try.
Rating:

Image Source: Caitlyn Martyn