I Tried the Chrome-Nails Trend — and I Can't Get Enough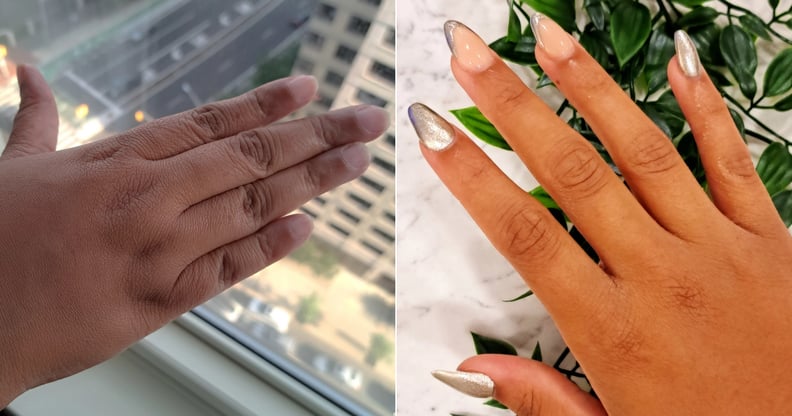 POPSUGAR Photography | Emerald Elitou
POPSUGAR Photography | Emerald Elitou
I am a huge fan of press-on nails. No, seriously. I've even been coined the "Press-On Princess" by my friends, who were shocked by my treasure trove of unique designs located in the drawer of my vanity. Despite my fascination with temporary manicures, I was ready to explore a semipermanent option when it occurred to me that there was a good chance I could lose a nail (or two) during my upcoming vacation.
With the chrome-nails trend buzzing on the red carpet and getting the seal of approval from celebrities like Dua Lipa, Zendaya, Megan Fox, and Machine Gun Kelly, to name a few, I decided the look was exactly what I was going to request for my first-ever set of acrylic nails. If you're not familiar, chrome nails have become all the rage because of their unique metallic finish. A nail tech achieves the reflective, mirrorlike sheen by dusting a special powder onto the nail.
Eager to try the trend all over my social media feeds, I scheduled a nail appointment with Resort Nails, a new nail salon in Ardmore, PA, that will officially open to the public later this year. Here's how my chrome nail experience went.
The Chrome-Nails Manicure Process
When I sat at the table, manicurist Diamond Tiarrah Walton immediately started the grooming process, clipping, filing, and buffing my nails. She then sized my fingers for nail tips by placing each tip on the edge of my nail. After finding the perfect size for all 10 nails, she applied the tips with glue. Shortly after the application, Walton began creating my requested almond shape. For a more natural look, Walton turned to a buffer drill bit to flatten the rise of the nail tips before applying the acrylic powder onto my nails.
As a first-timer, the application of the acrylic powder was a bit unexpected, as I was not familiar with the heated feeling felt during the process. Before panic set in, Walton assured me it was normal and sprayed a bit of alcohol on my nails to cool the warming sensation. Shortly after, she turned to her buffer tool again to smooth any unevenness. Before painting my nails, Walton scrubbed them clean of residual powder with soap and water.
After a brief drying break, Walton began painting my nails with jet-black paint, which she said helped the chrome powder not show up clear. The final step of the process was to apply the chrome powder, which isn't actually made with chrome particles but rather a mix of finely milled metal and pigment. Honestly, this part went much quicker than I expected — it was applied finger by finger, just like regular polish — so it felt like a normal nail appointment to me. Once the powder was applied, Walton then swiped on a special topcoat before putting it under a UV lamp to cure it.
My Results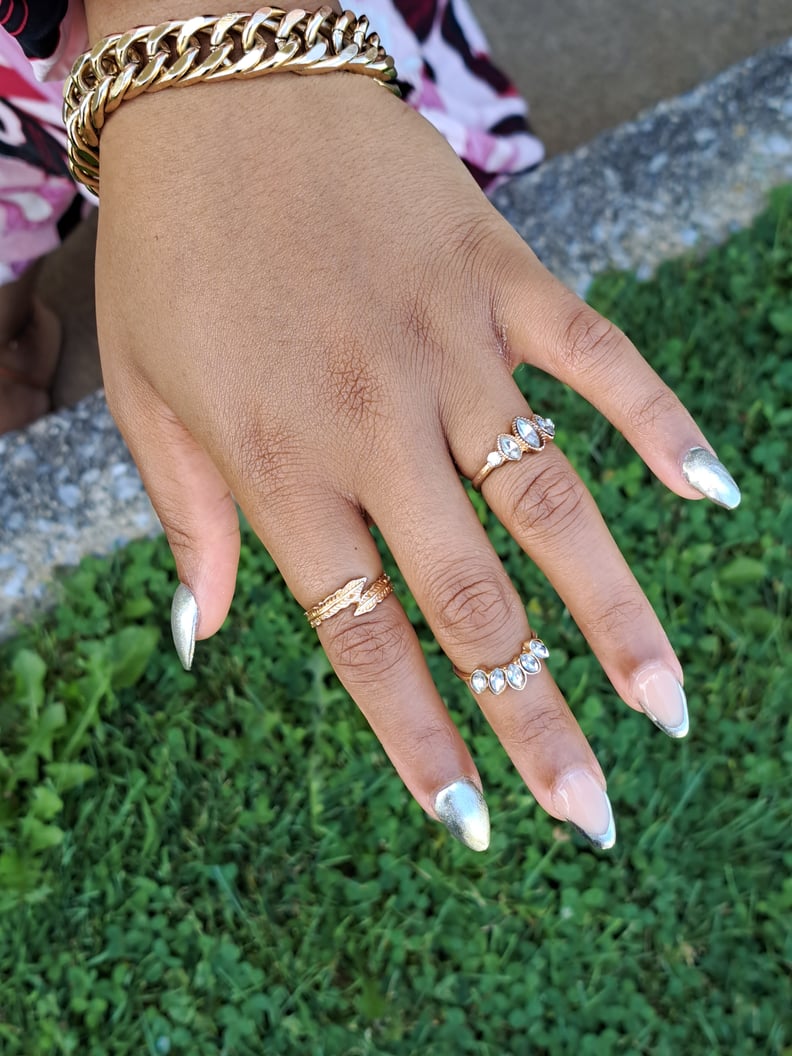 Although I could get almost any hue in a chrome finish, I leaned toward the widespread appeal of silver. I personally wanted the style to be versatile with my resort wardrobe during my summer trip, so I opted for a mixed set of full chrome nails and french-tip designs.
The end result was exactly what I was looking for. Not only was the manicure fun and fresh, but it also showcased my personal style. While I will definitely try chrome nails again, next time I will go for rose-gold french tips, which I believe will take it to the next level. Looks like my press-ons will be spending a little more time in my vanity dresser after all.