This Curl Routine Helped Me Love My Coils; Now, They're My Trademark
Like most Afro-Latinas and Black women, my relationship with my natural coily hair is complex and ever-evolving. As a Dominican and Puerto Rican, I grew up an active participant in Dominican hair culture, spending most of my Friday afternoons in hair rollers, under a hair drier, or in the chair for my bi-monthly visits to retouch my relaxer treatments.
Growing up, my tight 3C to 4A curls were a deep source of shame, especially since Latinx communities have historically embraced Eurocentric standards of beauty. For years, my straight hair was an extension of my conformity. I wanted so badly to measure up, to meet the beauty standard, and to look "Latina enough," but I was also curious as to my own definition of beauty — and how my curls would look if I allowed them to exist and learned to love them in their natural form.
It took me 20 years and lots of intentional unlearning of tight curl stigma and toxic beauty standards to reconnect to my roots and take a step toward embracing my Black ancestry and hyphenated identity. I had no patience for transitioning, so five years ago, I did the big chop and immediately felt free.
To those around me, it seemed as though I'd made it, I'd accepted myself, I'd taken the plunge and loved myself enough to allow my curls to exist in their natural form. Still, I struggled. I hadn't realized how much of my femininity and ethnic identity I'd tied into my hair, and meeting my natural curls, while freeing and beautiful, came with new conflicting feelings I needed to navigate. As my hair grew in, I couldn't get a grip on what products to use, which curl methods worked for me, or where to seek guidance.
Since my curls are incredibly dense and thick, watching YouTube videos of other people with similar hair textures never cut it for me. The products I was using were drying and weighing down my hair, my wash-and-gos were only lasting me one day, and I was spending way too long detangling in the shower. I was losing hope in my natural hair journey, and wondered if maybe I just wasn't cut out for it.
Last summer, I moved to Syracuse for graduate school with little hopes of finding a stylist to aid me in caring for my hair amid the busiest work load I've ever had. Miraculously, I met Shakera Kemp (also known as Cuse Curlfriend), a stylist and curly hair educator, one month into my move, and she's taught me everything I now know about what my curls need, introduced me to new products, and set me up with a new routine to get them to their healthiest form.
My hair was incredibly dehydrated on my first visit to Cuse Curlfriend, as my greatest difficulty has been retaining moisture, especially through the winter months. If you're also struggling to maintain curl moisture, keep reading for some product suggestions and my hair routine.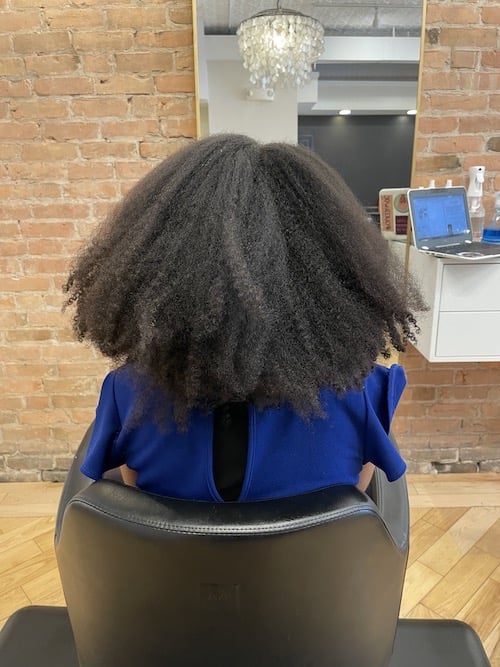 Step 1: Drench Curls in Water Before Shampooing
I have way too much hair to fully do this in the shower, so I spray my curls before getting in and start putting them in sections, letting the water set in to each one. After I get in the shower, I just let the water run down my scalp and through my hair for about 3-4 minutes. Through each step in my routine, I incorporate lots of water to lock in the moisture, especially if I want my wash-and-go to last. I don't start shampooing until each section has been completely drenched.
Step 2: Suds Up With a Moisturizing Shampoo
I love using AG Balance Apple Cider Vinegar Shampoo
($32) and its accompanying conditioner, the Boost Apple Cider Vinegar ($32). I take my time and massage it through my scalp and gently run it through my hair.
Step 3: Section Hair and Apply Conditioner
A common misconception with tight curls is that they need heavy products. On the contrary, I've discovered my hair prefers light (but still dense) products so that the curls aren't bogged down, but still heavily moisturized. Also, oils are not your necessarily your friend. Water can also be hydrating.
To condition, I carefully section my hair — the smaller the sections, the better — to streak conditioner into it and detangle. Before I run the conditioner through each of my small sections, I re-drench that section with water, then lock it in with the conditioner. I take my time with this part, dropping a dollop of conditioner into my hands and repeatedly smoothing it through the section of hair until it's fully moisturized (note: when smoothing, make sure you're not squeezing the product out of your hair). I also focus a lot on smoothing the product on my ends, since they're the oldest part of my hair and the part that needs most care. Once this is done, I'll detangle the hair section with my fingers first, then run a brush through it — working my way up from the ends to the root — to detangle.
Step 4: Let the Conditioner Set
I sit under a hooded dryer to let the conditioner do its thing, but in the instance I don't have access to a hooded dryer, sometimes I'll use my heat cap from Thermal Hair Care ($35) for about 10 to 15 minutes instead.
Step 5: Rinse, then Apply Leave-In to Dripping Wet Hair
After I've washed out all the product, I again part my hair into small sections and comb the conditioner through my curls with my fingers. My favorite deep conditioner currently is Mielle's Pomegranate Honey Leave-in Conditioner ($13).
Step 6: Apply Your Hair Gel
For me, gels are the only products with a strong enough hold to permanently lock in my wash-and-gos. Currently, I love using Uncle Funky's Daughter Curly Magic Curl Stimulator ($25) and Innersense I Create Hold ($26), which provide the perfect combination of hold and shine while still leaving my curls looking soft.
Step 7: Add Heat
If I have access to a hooded dryer, I'll sit under it until my hair is completely dry. If not, I'll use my diffuser. Some people don't like diffusers because they feel it frizzes up their hair, but I personally prefer the extra volume it gives me. See my results from when Cuse Curlfriend walked me through this routine.