As POPSUGAR editors, we independently select and write about stuff we love and think you'll like too. If you buy a product we have recommended, we may receive affiliate commission, which in turn supports our work.
I'm a big fan of micellar waters to make sure my face is truly clean when I've worn budge-proof makeup, and most of the time, they look as their name would suggest . . . like water. For something that's main purpose is to remove dirt and other impurities without any additional liquid from the faucet, that texture makes sense. I sweep one on with a cotton pad and can see my success the minute I pull the pad away.
Even though that cleansing power automatically makes them a success in my book, my skin doesn't often feel as moisturized as it would after I've put on a serum or cream. However, this new Drunk Elephant version was not only able to remove stubborn eyeshadow, but it also left my face feeling softer than after any other micellar water I've used in the past — and looked totally different coming out of the bottle, too.
See the product in full for yourself ahead, and learn about all the other ingredients packed inside that make it so much more than just a micellar water.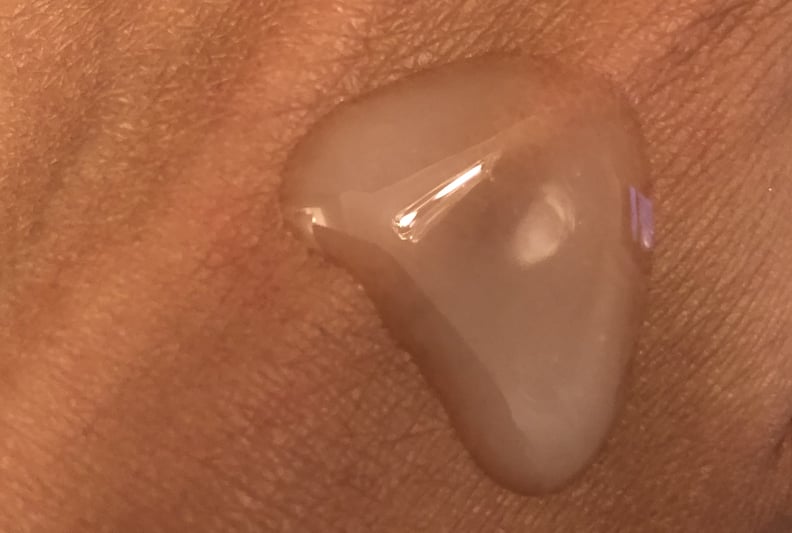 First Impressions of the Drunk Elephant E-Rase Milki Micellar Water
The first, very obvious difference about this Drunk Elephant E-Rase Milki Micellar Water is the texture. It's called milky, but it's not as fluid as milk (or water). It's more like a watery serum; it's not as runny as a squirt of water would be on skin, but it's not so substantial that it stays in one place after it's applied (like a thicker serum would).
The next most obvious change is the way it feels. It's creamy to the touch and fairly opaque at first so it's clear — pun intended — there's more than just water inside.
As it turns out, this version stands out because in addition to those micelles to clean dirt and pollution from skin, there's also a plant-derived ceramide blend, which protects against water loss by mimicking the wax-like moisturizers that naturally occur in skin. That, along with wild melon seed oil (to also hydrate and support skin's barrier), leaves my face softer and more soothed afterward, which was immediately obvious after my first application.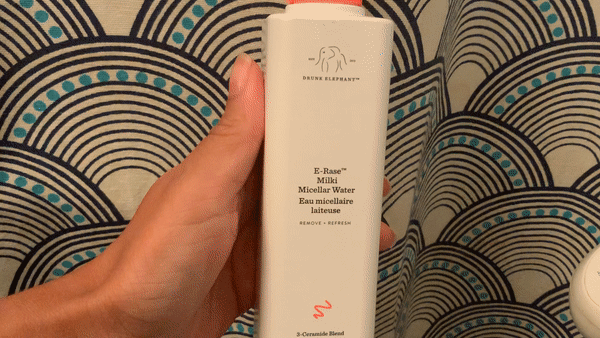 How Drunk Elephant's E-Rase Milki Micellar Water Goes On
As with other micellar waters, this product is meant to be used with a cotton pad. And when using it in this traditional way, it removed the hints of leftover eyeshadow and mascara my regular cleanser missed, and its thicker consistency didn't get as soaked into the cotton so there was much less wasted product.
However, I also really enjoyed applying this directly with clean fingers on a clean face (other than in the eye area). I'm obviously demonstrating with a large amount on my hand here, but when applying that same amount over my full face, there was less visible wetness when I was done, and I liked the sensation of physically feeling it seep into my skin.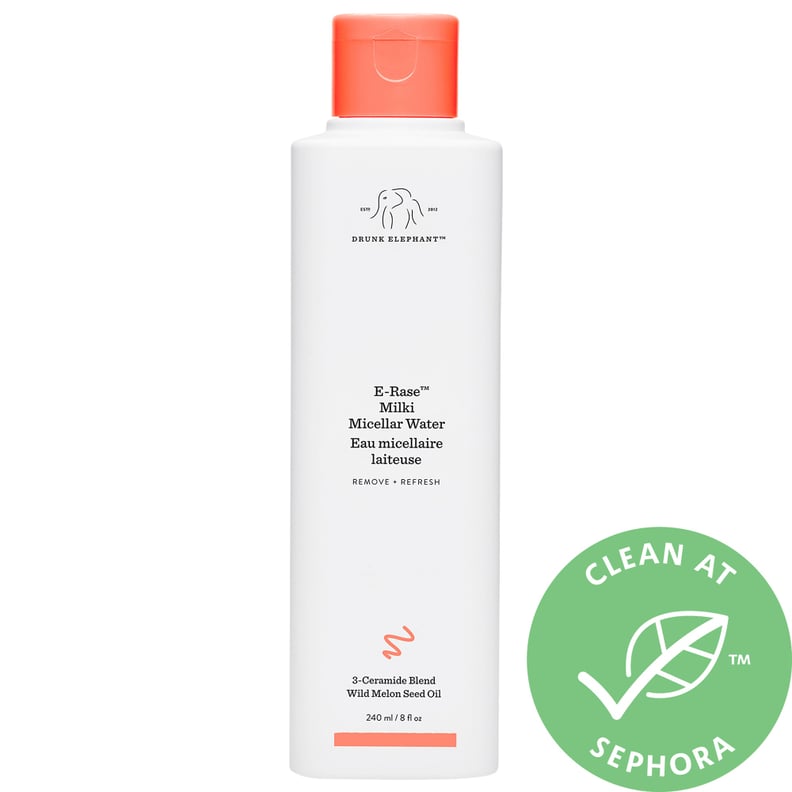 Final Thoughts on the Drunk Elephant E-Rase Milki Micellar Water
While this Drunk Elephant E-Rase Milki Micellar Water ($28) works well as a double-cleansing step, I also use it in the mornings to remove overnight masks and eye cream. It's not that I'm lazy necessarily, but I was told that excess washing and exfoliating was disrupting my acid mantle, and I've clung to that ever since, only washing my face with proper cleanser in the evenings.
But, without a doubt, my new favorite way to use this particular micellar water is in the middle of the day. It's as soothing as a face-mist spritz after I've been out in humid weather, and it cleanses where my protective mask was touching, too. There's zero greasiness, dry feeling, or film left afterward, and my face feels softer to the touch as if I've also applied a moisturizer or a serum. Best yet, my skin is refreshed as if I just splashed my entire face with water . . . but without any potential hairstyle-ruining risk in the process.