This Alpyn Beauty Eye Balm Is the Only Eye Cream I'm Wearing Under Makeup From Now On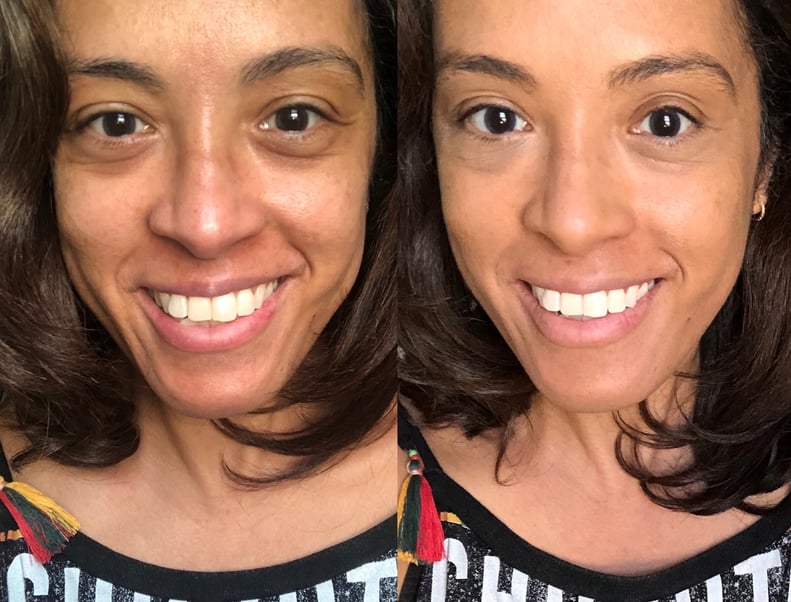 POPSUGAR Photography | Morgan Ashley Parker
Sephora
As POPSUGAR editors, we independently select and write about stuff we love and think you'll like too. If you buy a product we have recommended, we may receive affiliate commission, which in turn supports our work.
For as long as I can remember, I've had circles under my eyes. (Seriously, I remember fixating on them in my high-school graduation pics.) I know I'm not alone in this, and I've tried so many products over the years to try to make this dark situation a bit brighter. While there are some that have reduced puffiness and filled in lines, I had not found a single one where I could also wear makeup at the same time.
Whether these other eye treatments made my skin too oily (so the makeup slid right off), or caused concealer to settle into the lines even more dramatically, I had pretty much given up on a daytime eye cream. However, I recently got into Alpyn Beauty products, and this brand's balm not only didn't make my concealer pill or run, it left my undereye area even smoother, like a primer would.
Learn how I applied the Alpyn Beauty PlantGenius Line-Filling Eye Balm With Bakuchiol ($62), and why it's now a permanent step in my mornings and evenings, ahead.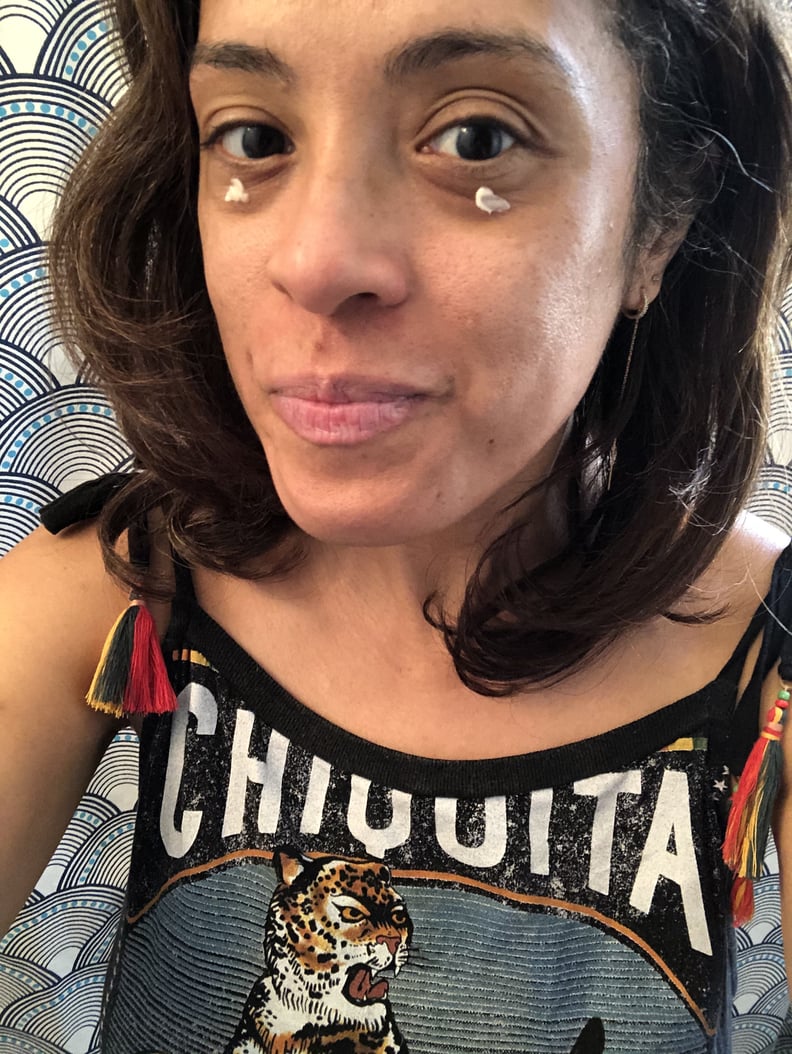 How to Apply Alpyn Beauty's PlantGenius Line-Filling Eye Balm
You only need a dab of this eye balm as it's fairly thick and a little goes a long way. I gently tapped it in with my ring finger from just below the lower lash line down to the orbital bone.

The trick is to spread it out evenly and to let it dry completely before applying any makeup on top. (Since I'm impatient, I stood in front of my a/c for a minute to speed this along.) I've been using this product for a week now and barely see a dent in the jar so it will definitely last, even when applying twice a day.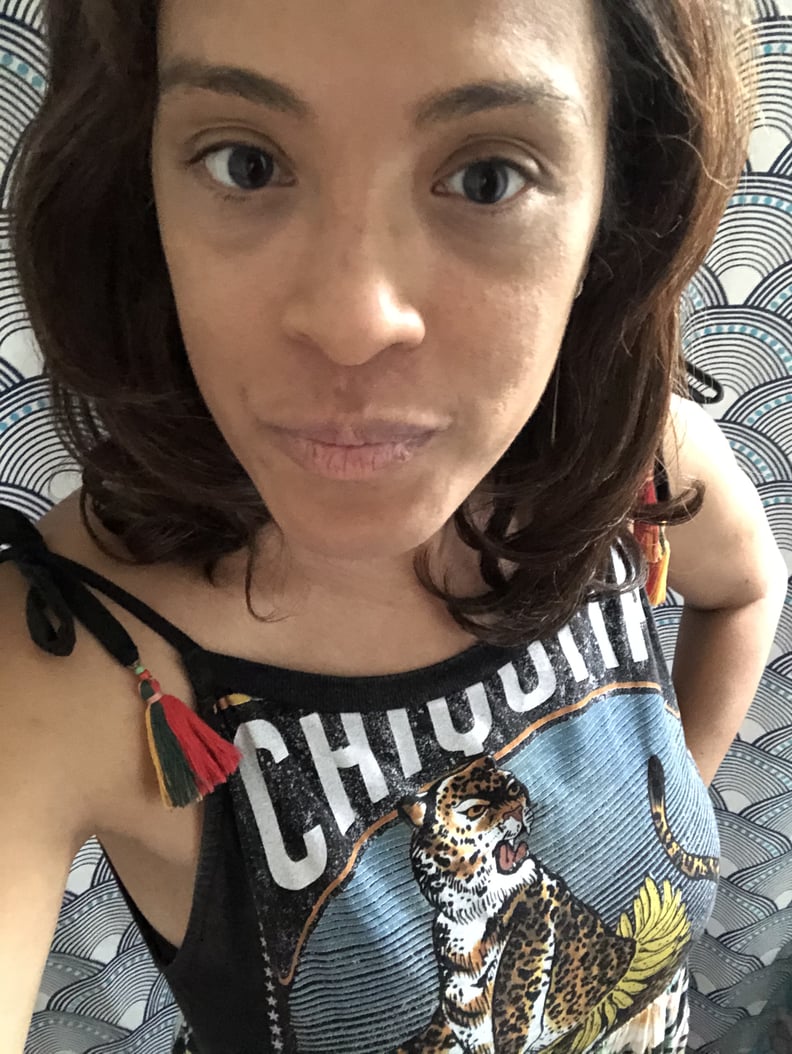 After Applying the Alpyn Beauty PlantGenius Line-Filling Eye Balm
This eye balm has caffeine and algae to reduce puffiness, the eyebright plant to brighten dark circles, and natural retinol alternative bakuchiol to reduce the appearance of fine lines over time.

As you can see, it sinks into and fills lines immediately. Not only that, it smooths out skin texture overall so concealer simply doesn't have as many wrinkles to settle in. It's the only time I've put on an eye cream with makeup on top and been pleased with the results both right after applying and at the end of the day, too. And, even if I'm not putting any makeup on, I still add this eye balm along with my regular moisturizer with SPF during the day and my regular lotions at night.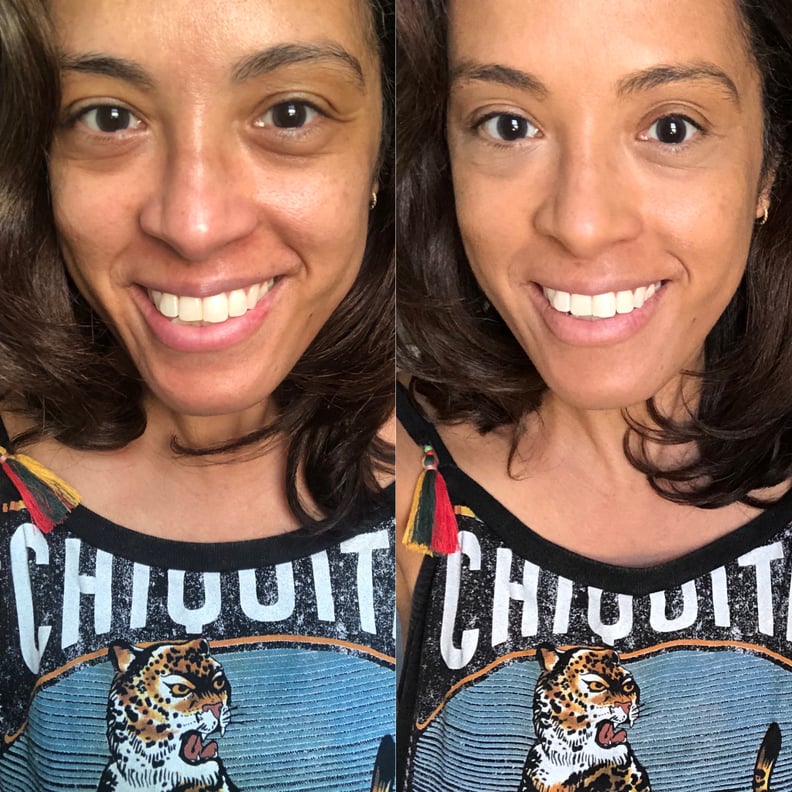 Side-by-Side Results
In my "before" picture on the left, I'm not wearing any makeup or skin-care products and, in my "after," I'm only wearing this Alpyn Beauty PlantGenius Line-Filling Eye Balm with Bakuchiol ($62), their Alpyn Beauty PlantGenius Brightening Survival Serum ($68), Hourglass Vanish Airbrush Concealer ($34), and a touch of Smashbox Camera Ready BB Cream SPF 35 ($42), buffed on with a Sephora Collection Pro Foundation Brush #70 ($30).

Of course, my lines are more visible when I'm smiling . . . but, boy, does this eye balm make me smile. After all, I've already found my new summer go-to look (plus eyeshadow when I'm inspired), and I'm so happy my under-eye area is now getting some extra daytime love at the same time.
Want to see more reviews like this? Join our beauty Facebook Group, Real Reviews With POPSUGAR Beauty, a space for our community of beauty enthusiasts to solicit advice about beauty products and share honest feedback about products they love (or hate).