Fable & Mane Hibiscus Hydrating Hair Oil Mist Review
This Hydrating Oil Mist Is My Secret to Shiny "Glass" Hair
As POPSUGAR editors, we independently select and write about stuff we love and think you'll like too. If you buy a product we have recommended, we may receive affiliate commission, which in turn supports our work.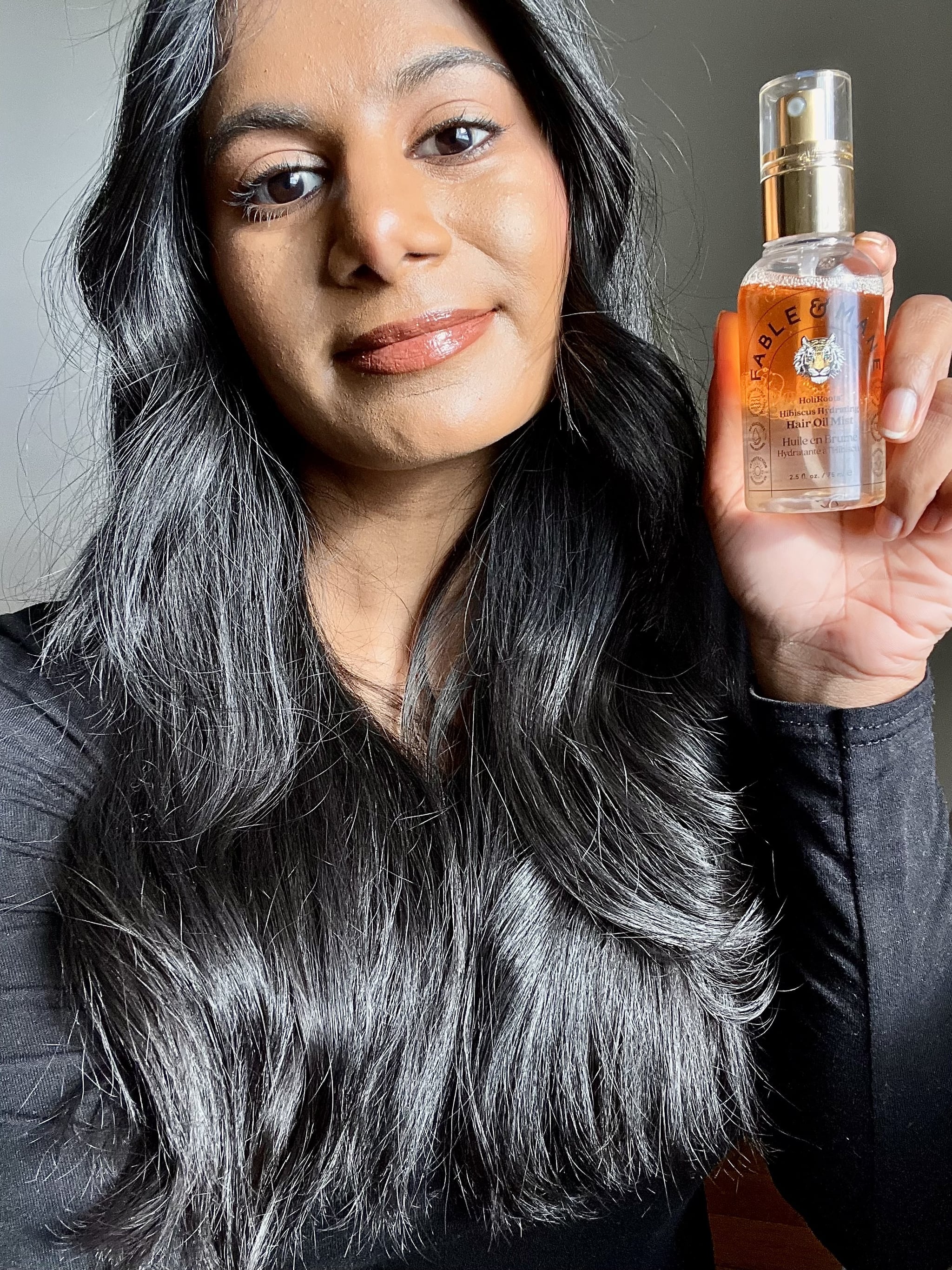 It's no secret that I'm a huge fan of Fable & Mane's hair care. From its SahaScalp Amla Soothing Serum for my scalp to its hair-softening and hydrating core collection, the brand's products have done wonders for my hair. When I learned that they had a new hair-oil mist meant for dry ends, I knew I had to try it out — I rely heavily on heat styling, so dry, dehydrated ends are inevitable.
The Fable & Mane HoliRoots Hibiscus Hydrating Hair Oil Mist ($29) is a biphase oil- and water-based formula that enhances shine while adding hydration to your hair. Plus, it's the brand's first ever post-wash leave-in product. I was intrigued by the unique biphase formula and eager to see whether it could revive my dehydrated ends, which were in dire need of a chop.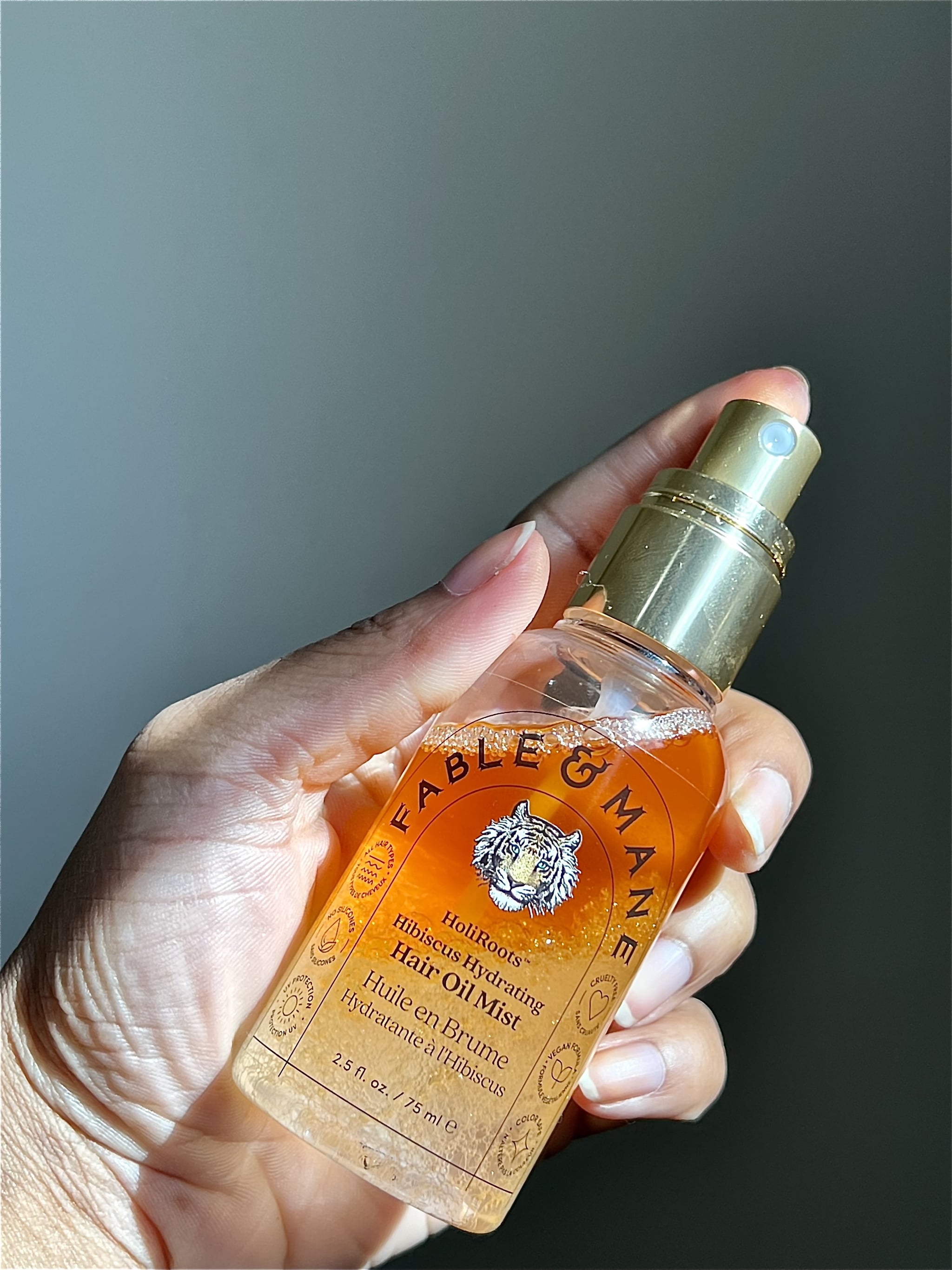 The new hair-oil mist contains red hibiscus, amla (or Indian gooseberry), rosemary-leaf extract, ginger-root extract, and plant-derived squalane, which deeply hydrate and nourish the hair for softer and silkier ends. It also doubles as a hair perfume. In true Fable & Mane fashion, the hair-oil mist contains the divine signature scent of red champaca and Jasminum sambac. I adore the alluring scent so much that I also use it as a perfume — I truly can't get enough of it. Plus, it's not overpowering with this formulation, so you can layer it with other seasonal scents. I use it as the last step in my hair routine after styling in order to add shine, tame flyaways, and diminish frizz. I even use it to revive dry ends on second- or third-day hair.
To activate the biphase formula, just shake the bottle to blend the oil and water phases together. Quickly mist about five inches away from your dry, styled hair and comb through to disperse the product. The spray nozzle delivers a very fine mist, so the droplets are weightless and won't leave patches of wetness or oiliness. Instead, it evenly coats and hydrates your hair. It's so lightweight that you can even use it to tame flyaways at the crown of your head. You can use the product multiple times a day without having it weigh your hair down.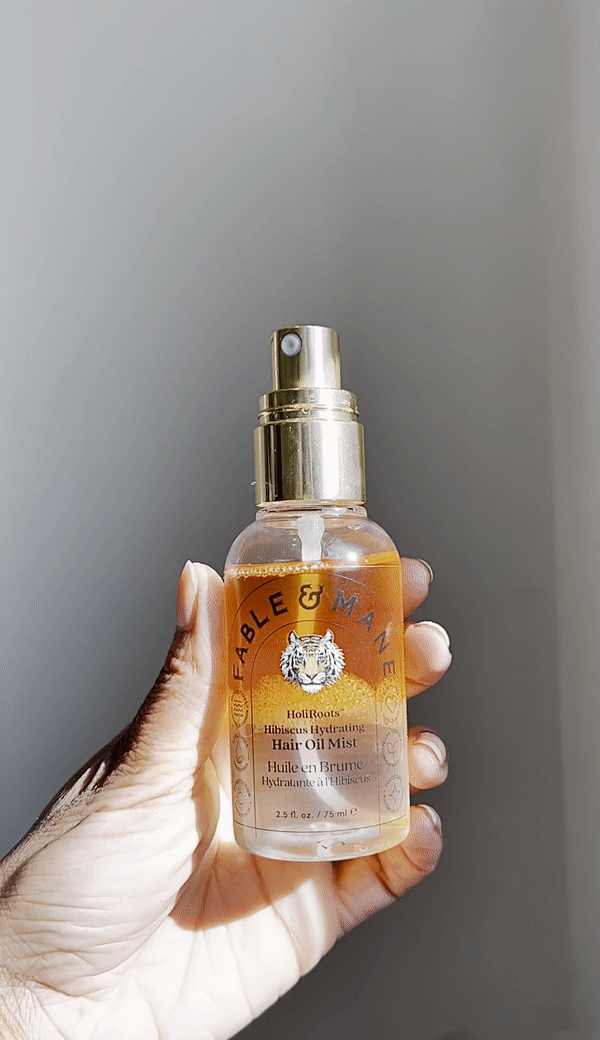 After several spritzes of this hair-oil mist, my ends instantly felt softer and looked healthier. My ends didn't feel dehydrated and straw-like anymore; it even looked like I'd just gotten a haircut. But the one thing that truly caught my attention was the shine. The HoliRoots Hibiscus Hydrating Hair Oil Mist delivers that glossy, mirror-like shine that glistens in the sun — it makes me feel like I'm in a hair commercial. My hair had the same shine quotient as my silk robe, and it felt just as soft.
I highly recommend the Fable & Mane HoliRoots Hibiscus Hydrating Hair Oil Mist's for anyone who has drier hair. It's an absolute dream to use: a few quick spritzes can instantly revitalize your hair, leaving it with a high-shine, healthy-looking finish. If you use dry shampoo, this is the perfect partner-in-crime for keeping your ends hydrated and looking freshly washed and styled. The scent is absolutely divine, and the shine it delivers is incomparable. The hydrating hair-oil mist is a great finishing product that can take your hair from cute to bombshell in seconds.
Ratings:

Image Source: POPSUGAR Photography / Anvita Reddy