Face Gym Pure Lift Skin Device Review With Photos
If You're Going to Spend Money on an At-Home Facial Tool, It Should Be This One
As POPSUGAR editors, we independently select and write about stuff we love and think you'll like too. If you buy a product we have recommended, we may receive affiliate commission, which in turn supports our work.
Image Source: Face Gym
Face Gym's new Pure Lift device is an at-home facial-toning tool.
Unlike microcurrent devices, the Pure Lift targets the facial muscles using electrical muscle stimulation.
We put the tool to the test and were blown away by the results.
I hate to break it to you, but the reason your favorite celebrity or beauty influencer has such perfect-looking skin isn't because of their skin-care products — it's a result of access to the best professional services on offer. Sure, all those serums, masks, and moisturizers in your cabinet are invaluable tools for skin upkeep, but the best way to get the complexion of your dreams is by seeing a pro.
Don't worry, it's not all bad news. Innovation is the name of the game in the beauty industry, especially in the last few years where we didn't have the option of even stepping foot in a spa. So it's no wonder at-home, professional-level tools are starting to take center stage.
Now, let me introduce you to the cream of the crop: the Face Gym Pure Lift ($520) facial-toning device. This tool may not look like anything groundbreaking, but the tech behind it certainly is. Keep reading to learn more about the Pure Lift and see it in action.
How Electrical Muscle Stimulation Can Benefit Skin
The Pure Lift is the only skin-care device on the market that uses electrical muscle stimulation (EMS), which is typically found in devices used in physical therapy or strength training. If you've ever had a sports injury or gotten PT, you'll recognize the muscle contractions that EMS causes. You may have also experienced it (on a very different intensity level) in other cosmetic procedures like Emsculpt or with an at-home fat-burning/muscle-building device.
The concept is the same with the Pure Lift — just like any other muscles in the body, the ones in your face can become weak and lose elasticity as you get older. This tool gives those muscles the same type of workout we'd apply to the rest of our body, only through energy currents that get below the epidermis and dermis to target the 42 muscles in the face. The device uses a patented Triple Wave technology — a pulsing, randomized current that causes muscles to contract and relax. This particular technology (which is unique to the Pure Lift) opens the permeability of the skin, allowing the frequency to penetrate deeply — encouraging a healthy flow of oxygen and circulation to the muscle.
All in all, the objective is to strengthen your muscle fibers, tone your skin, boost circulation, and improve firmness.
How EMS Differs From Microcurrent Technology
The major difference is that microcurrent only works at the epidermis level (i.e., on the skin itself), and the Pure Lift works at the skin level and the muscle level. If you get into the nitty gritty, microcurrent frequency usually delivers around one to eight Hz (a very low level), whereas the Pure Lift frequency ranges from 1,300 to 1,700 Hz.
TLDR: the results of EMS last longer than microcurrent, since you're strengthening the underlying muscle.
Who Shouldn't Use the Pure Lift Device?
Since the device uses EMS, there are a few more warnings that go along with the use of the product. You should not use the Pure Lift if you are pregnant, have a pacemaker or any metal plates or pins, have had skin cancer in the last year (you must have gotten the all-clear for 12 months), currently have cancer or diabetes, or have experienced loss of skin sensation.
If you have vitiligo, use on the low setting. If you have PDO threads, use on the low setting after four weeks. Wait two weeks after getting Botox and four weeks after getting dermal fillers to use the device on any setting.
How to Use the Pure Lift Device
Like any other tool that uses a current, you'll need a conductive serum (note: if you have any oil or oil-based products on your face, the device won't work). The Pure Lift comes with a bottle of its own serum, but TBH, it's pretty small and you need to use a lot at a time, so you'll likely need to stock up on something else. Luckily, the device will work with any conductive serum or gel — I like this one from NuFace, but there are also plenty available on Amazon.
The diamond probes (another patented piece of tech) use what's called a "knuckling" motion — just think of the shape you'd make with your middle and pointer fingers if you were going to give yourself a facial massage. I'd suggest keeping the conductive serum handy since you'll need to keep reapplying it as you go (the device will make a low beeping if there's not enough present).
The idea is to go one area of your face at a time for five minutes each. The device will stop and beep loudly at the five-minute mark so you know when to switch. Apply the conductive gel or serum in sections (so it doesn't get sticky while you're concentrating on one part of your face), then glide the probes along your face. There's a handy guide that comes with the device that shows you the best directions to use it in, but it's pretty intuitive — I like to use it going in upward motions along my jawline, over my smile lines, contouring my cheekbones, around my eyes, and pushing up on my forehead.
The most important thing to pay attention to is the frequency level you're using. Each level will give a very different sensation and cause your muscles to contract to varying degrees (which you can see below). Start on a low setting (under 5) and see what you think, gradually increasing to where you feel comfortable. I'm not going to lie — the highest setting feels truly bizarre. Not in a bad way — it's not painful or uncomfortable, it's just intense.
Pure Lift on the Medium Setting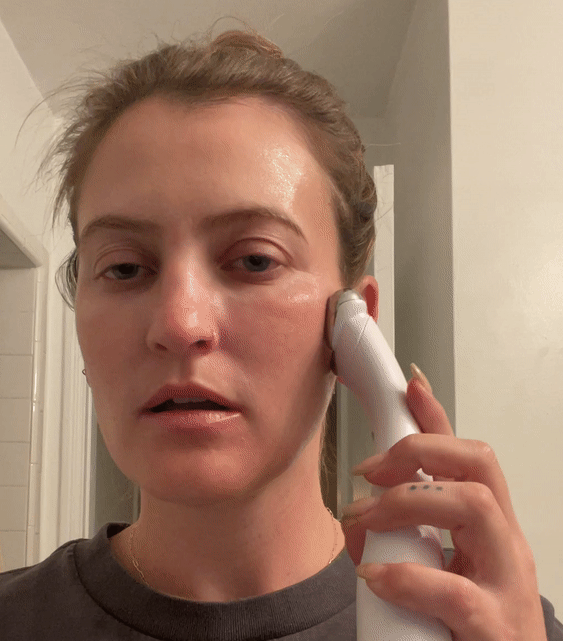 Image Source: POPSUGAR Photography / Aviel Kanter
I started on the medium setting, mostly because on the low setting, I couldn't feel much or see much of the muscle tightening happening. That said, you'll still get results (just milder) if you stick to the low setting. As you can see above, on the medium setting, my eye starts twitching a bit and my lips move when I pass the Pure Lift by them. Like I said, it feels weird, but personally, I like feeling when something is working. I left it on the medium setting for the first minute or two before bumping it up to the highest level.
Pure Lift on the Highest Setting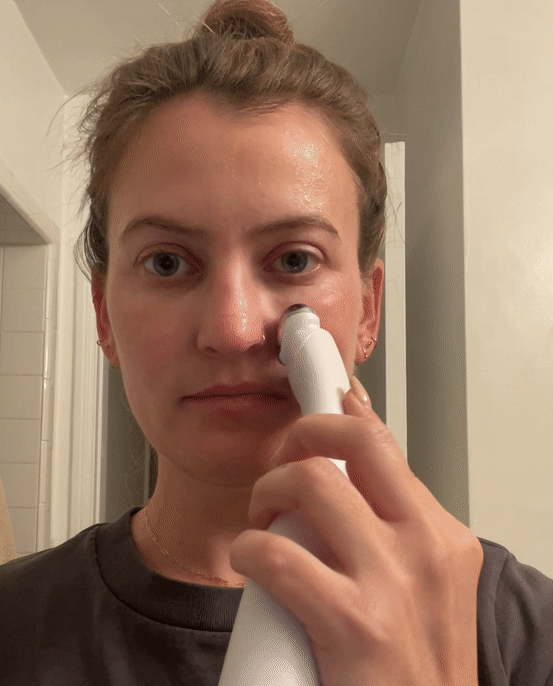 Image Source: POPSUGAR Photography / Aviel Kanter
On the highest setting, you can really see my eye and brow twitching and my mouth and chin getting pulled in different directions. What you can't really see is the tightening sensation I got when I moved the probes over my forehead, like you're making a big angry face. On this setting, the device kind of buzzes and there are a lot of sensations your skin feels — it might not be right for everyone, and that's fine. Again, it's not painful at all — just weird. I kept it on the high setting for the rest of the five minutes on this side before snapping a pic and then moving to the other side.
After Using Pure Lift on 1 Side of My Face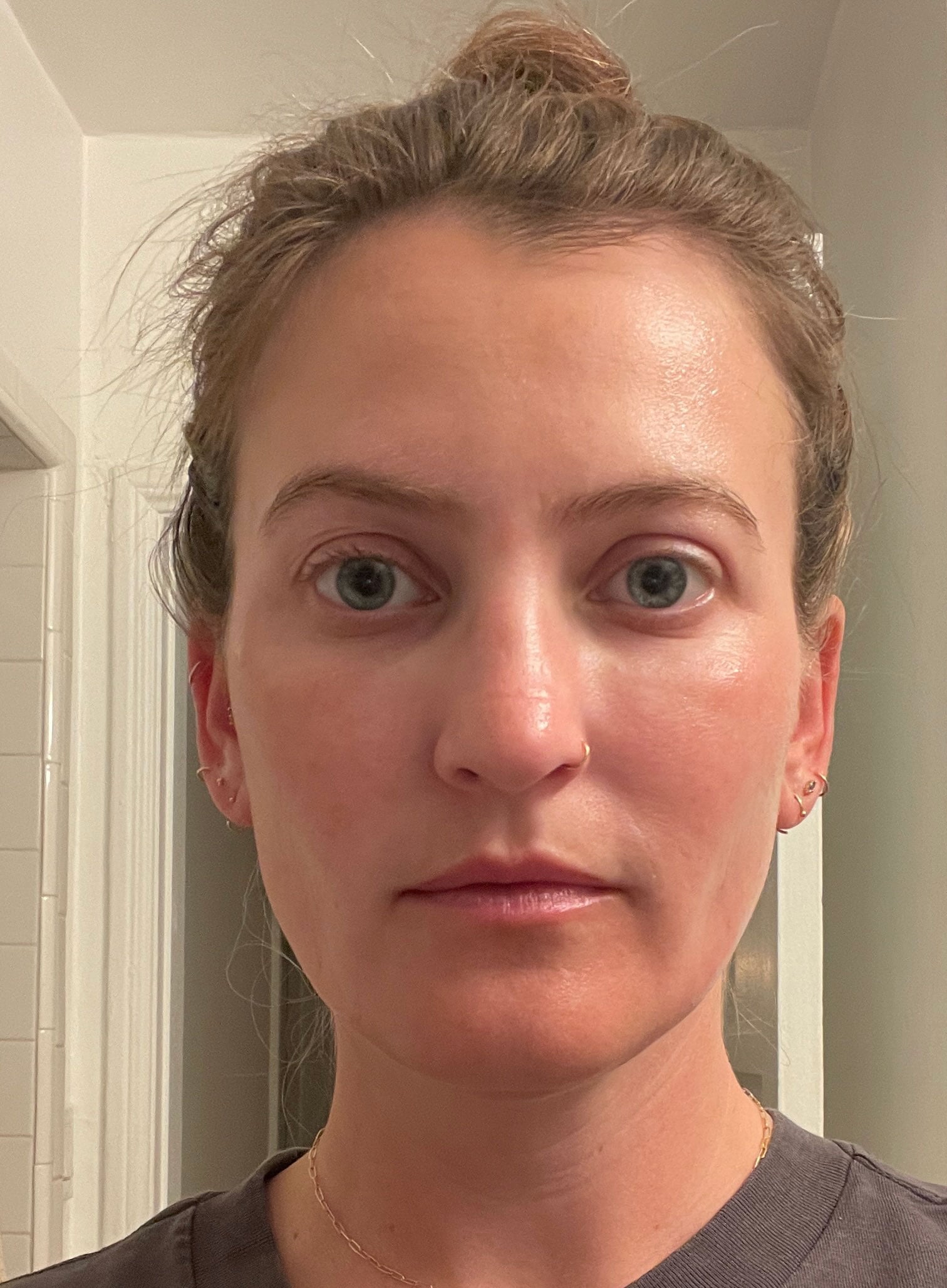 Image Source: POPSUGAR Photography / Aviel Kanter
OK, I know it's subtle, but really look at the right side of my face for a moment. The first thing I notice is that the right corner of my mouth is resting in more of an upward place (meaning, closer to a smile than a frown). My right eye also looks slightly higher than my left, and the contour of my right cheekbone and jaw are more defined. To me, this is essentially the same result I get from a top-tier facial, which is exciting to see when using an at-home device.
1 Day After Using Pure Lift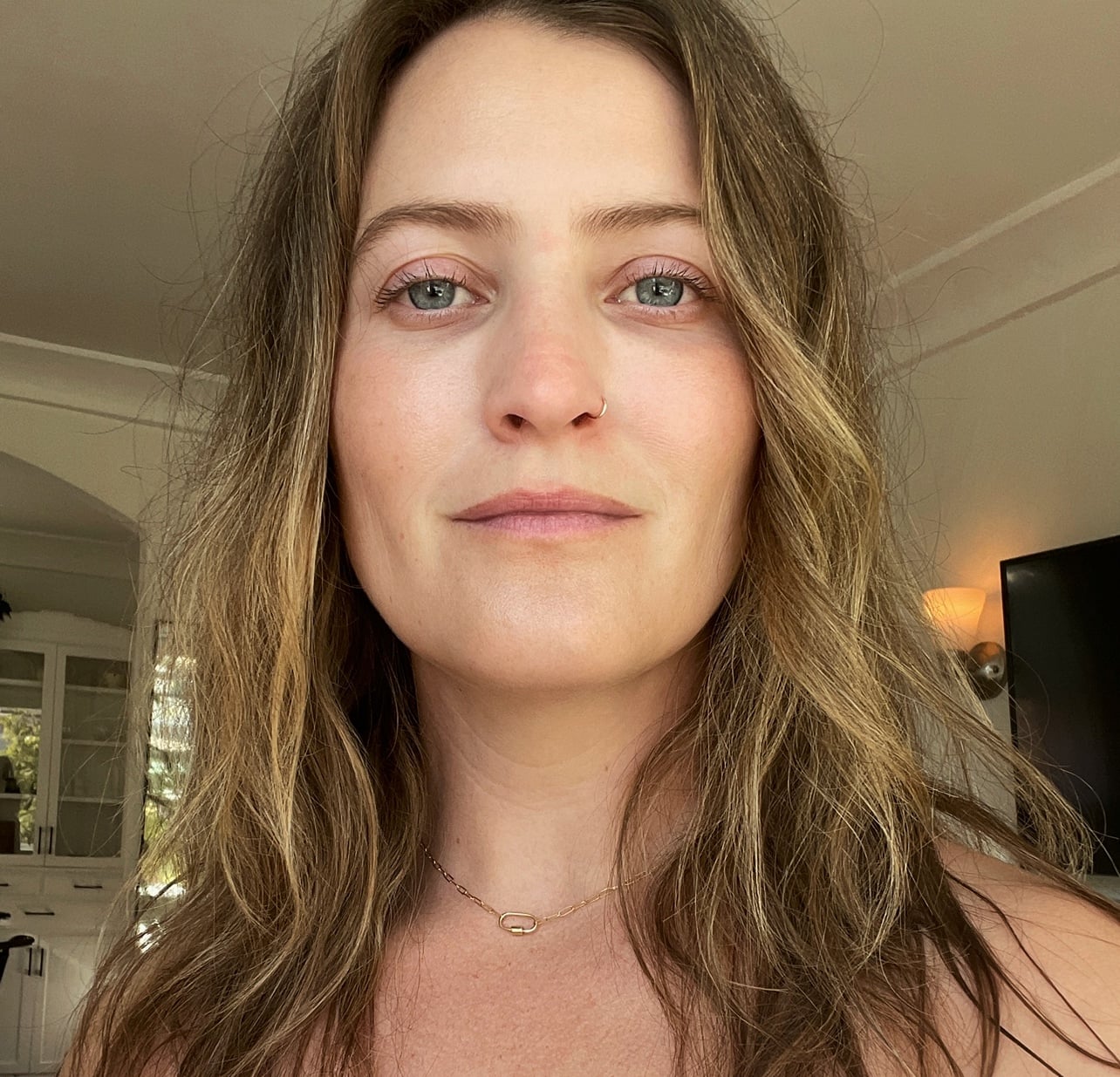 Image Source: POPSUGAR Photography / Aviel Kanter
Jaw contour? Check. Diminished crow's feet and smile lines? Check. Overall feeling of lift, tone, and improved elasticity? Check, check, check. FaceGym says the results can last for a week, but I'll probably use it every couple of days to keep the momentum going.
I know dropping more than $500 for a beauty tool feels a little over the top, but truly, this device works. So much so that I'll be skipping my facial appointment this month.
Rating: